Extract and #Giveaway! The Silent Kookaburra by Liza Perrat @LizaPerrat @TriskeleBooks
I'm delighted to be posting today about The Silent Kookaburra by Liza Perrat, which sounds like a fantastic read.
All eleven-year-old Tanya Randall wants is a happy family. But Mum does nothing besides housework, Dad's always down the pub and Nanna Purvis moans at everyone except her dog. Then Shelley arrives –– the miracle baby who fuses the Randall family in love for their little gumnut blossom.

Tanya's life gets even better when she meets an uncle she didn't know she had. He tells her she's beautiful and could be a model. Her family refuses to talk about him. But that's okay, it's their little secret.

Then one blistering summer day tragedy strikes, and the surrounding mystery and suspicion tear apart this fragile family web.

Embracing the social changes of 1970s Australia, against a backdrop of native fauna and flora, The Silent Kookaburra is a haunting exploration of the blessings, curses and tyranny of memory.

Unsettling psychological suspense blending the intensity of Wally Lamb with the atmosphere of Peter James, this story will get under your skin.
I'm really looking forward to reading this one. If the blurb has whetted your appetite then here's an extract to really get you interested.
Chapter 1

2016

Knuckles blanch, distend as my hand curves around the yellowed newspaper pages and my gaze hooks onto the headlines.

HAPPY AUSTRALIA DAY. January 26th, 1973. 165-year anniversary of convict ships arriving in Sydney.

Happy? What a cruel joke for that summer. The bleakest, most grievous, of my life.

I can't believe my grandmother kept such a reminder of the tragedy which flayed the core of our lives; of that harrowing time my cursed memory refuses to entirely banish.

Shaky hands disturb dust motes, billowing as I place the heat-brittled newspaper back into Nanna Purvis's box.

I try not to look at the headline but my gaze keeps flickering back, bold letters more callous as I remember all I'd yearned for back then, at eleven years old, was the simplest of things: a happy family. How elusive that happiness had proved.

I won't think about it anymore. I mustn't, can't! But as much as I wrench away my mind, it strains back to my childhood.

Of course fragments of those years have always been clear, though much of my past is an uncharted desert –– vast, arid, untamed.

Psychology studies taught me this is how the memory magician works: vivid recall of unimportant details while the consequential parts –– those protective breaches of conscious recollection –– are mined with filmy chasms.

I swipe the sweat from my brow, push the window further open.

Outside, the sun rising over the Pacific Ocean is still a pale glow but already it has baked the ground a crusty brown. Shelley's gum tree is alive with cackling kookaburras, rainbow lorikeets shrieking and swinging like crazy acrobats, eucalyptus leaves twisted edge-on to avoid the withering rays.

But back in my childhood bedroom, behind Gumtree Cottage's convict-built walls, the air is even hotter, and foetid with weeks of closure following my parents' deaths.

Disheartened by the stack of cardboard boxes still to sift through, uneasy about what other memories their contents might unearth, I rest back on a jumble of moth-frayed cushions.

I close my eyes to try and escape the torment, but there is no reprieve. And, along with my grandmother's newspaper clipping, I swear I hear, in the rise and dump of its swell, the sea pulling me back to that blistering summer of over forty years ago.
So, sounds great, right? How would you like to win one of two e-books that I have to offer you today? Just enter below – it should all be self-explanatory but it's my first time posting a giveaway so if there are any glitches please do let me know so I can put them right!
Two Ebooks of The Silent Kookaburra by Liza Perrat

---
About the Author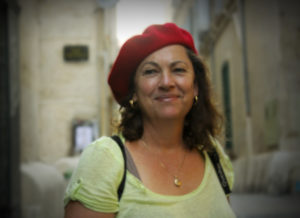 Liza grew up in Australia, working as a general nurse and midwife. She has now been living in France for over twenty years, where she works as a part-time medical translator and a novelist. She is the author of the historical The Bone Angel series. The first, Spirit of Lost Angels is set in 18th century revolutionary France. The second, Wolfsangel is set during the WW2 Nazi Occupation and the French Resistance, and the third novel – Blood Rose Angel –– is set during the 14th century Black Plague years.
Her latest novel, The Silent Kookaburra, is a psychological suspense, set in 1970s Australia.
Liza is a co-founder and member of the writers' collective Triskele Books.
Liza reviews books for Bookmuse.
You can find her in the following places: