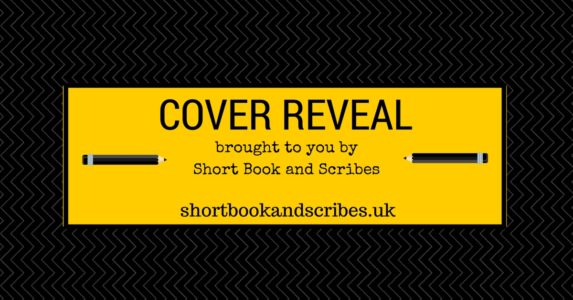 #CoverReveal x2!! Pot Love 1 and 2 by Sylvia Ashby @bysylvia_a @jennymarston_xo
When the information came round about these cover reveals I was really keen to take part as I already have book one, Pot Love, on my TBR pile. I liked the original covers but wait until you see the fab new covers for both Pot Love and the sequel, The Sinking Chef. First of all let's see what the books are about.

Pot Love

Ashley Burkе is your average next-door girl. She lives with her boyfriend, loves her work and secretly fancies her boss.

When Ashley loses it all through no fault of her own, well, apart from snogging her boss and getting caught by his fiancée, she needs to act fast to find a new job. A lucrative vacancy comes her way – a spot on a popular day-time TV – but there is a catch. It's a cookery spot and Ashley can't cook to save her life.

PRAISES FOR POT LOVE
"I feel like exploding with how much I love this book. I almost didn't want to read the last few chapters because I wasn't ready for it to be over. I feel like I made a new best friend and visited England, without ever leaving my house.
If this book were a movie, it would be the biggest romantic comedy of the next five years, and I'd be first in line to pay my $10 for a ticket and $20 worth of popcorn and soda."

BestChickLit.com
"Like a late night, post-pub cheeseboard or the final few drops of Rosé, it will prove mighty hard to resist."

"Great characters, interesting plot line and wonderful writing bringing it all together! Well worth the read. Kind of hoping for a sequel."
The Sinking Chef

Ashley has a YouTube channel, The Sinking Chef. It's filmed right in her kitchen, so she doesn't go out much. When James calls with an offer to take her to lunch – the same James that got her fired from her dream job three years ago – she accepts. Against her better judgement, of course.
Now Ashley has all kinds of secrets and things are only going to get worse.

The Sinking Chef (Pot Love 2) is a light, enjoyable and easy to read romantic comedy. With Sylvia Ashby's gift of humour there is plenty to laugh and smile about, but the book does have its serious moments.
PRAISES FOR POT LOVE
"Oh wow – what a fabulous ending!  I actually had tears pricking my eyes.  I'm so happy for Ashley.  After all she's been through in the course of the book, all the problems and insecurities… the ending was just perfect."

Heather Belleguelle

"Captivating read!! I found myself charmed by Ashley- all her flaws and insecurities kept me reading page after page."

Celeste Rogers

And now for those covers. They are going to make your mouth water, especially if you're mad for cake like me.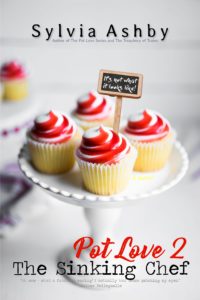 Aren't they just delectable? I love them!
If you want to try the books for yourself then here are the links you will need:
---

Three random facts about me
I graduated university with a Graphic Design degree and spent my twenties working in advertising. Never did it occur to me that my degree would come in handy when I start publishing books.
In my early thirties, I was a shop owner. I owned four shops, one of which was in St. Christopher's Place London W1. I was doing everything from buying the collections to submitting monthly PAYS. It was madness. I'm so glad the economy crashed in 2008 and I had to give up retail.
Then I started writing. It felt like the first conscious decision I've ever made in my life. I felt a sense of belonging. The thought "I could be doing this for the rest of my life" didn't scare me half to death. Four years and four books later I still feel the same way. This is love, home and vocation wrapped in one.
My first book, Pot Love, was about food and love.
My second, The Treachery of Trains, is about finding love in unlikely places.
The third book I wrote is actually Pot Love's second instalment. It's called The Sinking Chef (Pot Love Book 2) and in it my eponymous heroine Ashley is in even bigger trouble then she was in Pot Love. The two books are standalone and you don't have to read them in order.
My fourth is The Official Pot Love Series Cookbook and you can get it completely FREE.
Currently, I live in Leuven, Belgium with my family.
LINKS