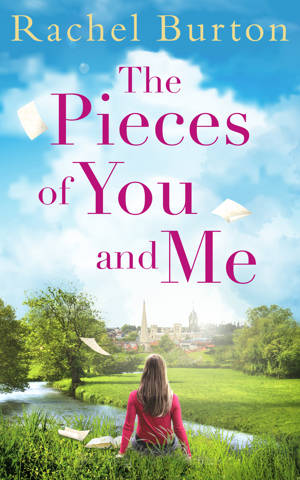 ShortBookandScribes #PublicationDay Push #GuestPost by Rachel Burton, Author of The Pieces of You and Me @bookish_yogi @rararesources
I'm delighted to be helping with the publication day push for The Pieces of You and Me by Rachel Burton. Happy publication day, Rachel! Thank you for the fabulous guest post about the writers of Highgate Cemetery.
My thanks to Rachel Gilbey from Rachel's Random Resources for the place on the tour.
---
They say time can heal all wounds…

When Jess and Rupert parted ways, it was the end of a great love story that might have been. Now ten years later, the very different paths they have taken in life will bring them back together for a chance meeting.

But with so much left unsaid about the break up neither ever recovered from and with each keeping their own devastating secrets, will they finally be able to make the fractured pieces of their love for one another whole again?
---
The Writers of Highgate Cemetery by Rachel Burton
The Pieces of You and Me is set in three different places, Cambridge, Highgate (in North London) and York.
To celebrate the release of my new book I'm taking a look at Highgate and specifically the writers who are buried in its famous cemetery.
Highgate cemetery was founded in 1839 after Parliament passed a statute stating that seven new private cemeteries should be opened in the countryside around the capital for the burial of London's dead. It consists of two cemeteries – The East and West – and is probably most famous for being the burial place of Karl Marx, Malcolm McClaren and George Michael. The East cemetery is open daily and costs £4 to go in – visitors are free to wander and it is a surprisingly peaceful place that feels as though it is a million miles from the hustle and bustle of north London. The West cemetery can be visited by guided tour only – the tour is well worth it if you ever find yourself in the area!
Many writers are buried within the cemetery walls including:-
Douglas Adams (1952 to 2001) – Adams is best known for his Hitchhikers Guide to the Galaxy series and the Dirk Gently series. He was born in Cambridge and died in California and is buried in the East Cemetery.
George Elliot (1819 to 1880) – George Elliot (real name Mary Anne Evans) is buried in the East Cemetery. She was one of the foremost writers of the Victorian age and wrote books such as Middlemarch and The Mill on the Floss which were praised for their psychological insight. Unlike many writers of her era, she was not buried at Westminster Abbey because of her denial of Christianity and her adulterous affair with the philosopher George Henry Lewis. There is, however, a memorial plaque dedicated to her at Westminster which reads "The first condition of human goodness is something to love; the second something to reverence."
Christina Rossetti (1830 to 1894) – Christina Rossetti was a poet who is probably most famous for writing the lyrics to In the Bleak Midwinter, as well as Goblin Market and Remember. She was part of the pre-Raphaelite Brotherhood set up by her brothers, Dante Gabriel and Charles – a group of artists who believed that academic teaching was a corrupting influence on the essence of art. Christina modelled for several of Dante Gabriel Rossetti's famous paintings including The Girlhood of Mary Virgin. She died of breast cancer and is buried in the Rossetti family grave in the West Cemetery.
Beryl Bainbridge (1932 to 2010) – Bainbridge was a Liverpudlian author most famous for her works of psychological fiction (domestic noirs, before they were really a thing!). She wrote twenty novels, five of which were nominated for the Booker Prize, although she never won it (Injury Time won the Whitbread Prize in 1977). Her 1989 novel An Awfully Big Adventure was adapted into a film starring Hugh Grant and Alan Rickman. She had three children, the youngest of whom is the actress Rudi Davis. Beryl Bainbridge died of cancer and is buried in the West Cemetery
Stella Gibbons (1902 to 1989) – Most famous for writing Cold Comfort Farm, Stella Gibbons wrote a total of 23 novels although none of them got quite the acclaim of her debut (I personally think this is unfair as Nightingale Wood, The Woods in Winter and Starlight are all wonderful books). Gibbons attended University College London and worked as a reporter for The Evening Standard and The Lady. Her writing is full of charm and humour and has been compared to Jane Austen. She is buried in the West Cemetery.
It sounds like such a fascinating place, Rachel. I'd love to visit it some day.
---
---

Rachel Burton is the author of the international ebook bestseller The Many Colours of Us.
Rachel spent most of her life between Cambridge and London but now lives in Yorkshire with her fiance and their three cats. The main loves of her life are The Beatles and very tall romantic heroes.
Find her on Twitter & Instagram as @bookish_yogi or follow her blog at rachelburtonwrites.com. She is always happy to talk books, writing, music, cats and how the weather in Yorkshire is rubbish. She is mostly dreaming of her next holiday….