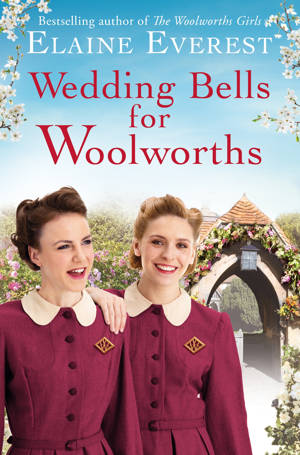 ShortBookandScribes #BlogTour #GuestPost by Elaine Everest, Author of Wedding Bells for Woolworths #WeddingBellsforWoolworths
I'm delighted today to welcome Elaine Everest back to Short Book and Scribes with a guest post about being an author with a book to launch during the strange times we are currently living through. I am determined to start this series at the beginning (I have all the books ready) as I'm certain I will enjoy them. My thanks to Megan Denholm from ED PR for sending a gorgeous and glossy copy of the book and for asking me to be part of the tour.
---

---
Wedding Bells for Woolworth is the latest feel-good novel in former Woolies girl Elaine Everest's bestselling Woolworths Girls series. It sees the return of her well-loved characters in another heartfelt and gripping story.

July 1947. Britain is still gripped by rationing, even as the excitement of Princess Elizabeth's engagement sweeps the nation…

In the Woolworths' canteen, Freda is still dreaming of meeting her own Prince Charming. So far she's been unlucky in love. When she has an accident on her motorbike, knocking a cyclist off his bicycle, it seems bad luck is still following her around. Anthony is not only a fellow Woolworths employee but was an Olympic hopeful. Will his injured leg heal in time for him to compete? Can he ever forgive Freda?

Sarah's idyllic family life is under threat with worries about her husband, Alan. Does he  still love her?The friends must rally round to face some of the toughest challenges of their lives together. And although they experience loss, hardship and shocks along the way, love is on the horizon for the Woolworths girls.
Wedding Bells for Woolworths by Elaine Everest is out now, published by Pan Macmillan, priced £6.99 as paperback original and eBook.
---

---
An Author with a Book to Launch in Lockdown by Elaine Everest
As I write these words, we are well into our fifth week of lockdown, and along with many authors who have book launches in April and May we have seen big changes to our working life. To be able to stop researching and writing a book at home and to step out of my home to visit libraries and bookshops, meet readers, chat about books is a really important part of my work. It is always a joy to say hello face to face with readers and answer questions about my books and memories of Woolworths, Butlins, or Lyons Teashops. However, the lead up to the launch of Wedding bells for Woolworths will be different to all my other books.
Like you all I am at home for the foreseeable future and trying to stay focused on my work and not dwelling on daily news. I have baked, started my crochet project – this could take some time, and remind myself to relax and try not to become stressed. I smile when the sun comes out, I hide away watching an old film when the rain falls. I natter with my mates on Messenger, and also read whatever takes my fancy. I'm trying my utmost to find joy from each day. I'm failing with my diet …
So what will I be doing leading up to publication day?
On social media you will see me chatting about Wedding Bells for Woolworths on Facebook and Twitter and sharing news of my blog tour. I'm so grateful to the book bloggers who are sending me questions to answer and supporting me through the tour. On my website and blog (www.elaineeverest.com) I will be writing about memories of weddings and woolies and will be running a competition. I may even share a photograph of my wedding from many years ago! None of this will change during the lockdown!
Going out
I always spend an exciting day at BBC Wogan House in London where I am interviewed by many regional radio station presenters. Sadly, my trip to London is not possible. Instead I will sit at home and be interviewed down the line – that is jargon talk for on the phone – and chat to the lovely presenters who ask me all kinds of questions. So, a few changes there!
Talks and signings have been cancelled. My diary is full of scribbled out pages which makes me sad as I know libraries are closed and this affects the workers as well as readers. Visits to WI groups, book groups are a big no! However, amongst all the scribbled pages in my lovely 2020 diary there is a glimmer of hope. I am being contacted for further in the year so hopefully I will get to meet readers.
Celebrating
My launch is usually a get together at a tearoom or a bookshop. This is more of a celebration of the book venturing out into the world and waving it on its way. It is a time for cream teas and bubbly with fellow writers, and a meal out with friends. Sadly, none of this will happen. However, I will celebrate at home with my husband and Henry the dog – I will not be cooking!
Buying a book
I know that paperbacks will appear in supermarkets but pray people do not make a special trip to purchase a copy – buy one with your essential shopping but stay safe I beg you all!
Pre orders on Amazon, Hive and other online selling sites are good although it may mean buyers have to shop around if stocks run out. Books are not as essential as medical equipment at this time so perhaps now is the time for readers to try reading on a kindle, or on their phone or computer? Be assured Wedding Bells for Woolworth, along with other books will be available somewhere.
I've enjoyed writing Wedding Bells and taking the girls into post war 'Austerity Britain' little knowing we would all be stepping into an unknown future just like our parents and grandparents. Let us be as brave as they were and see this through to the end.
Stay Home and Stay Safe
With love,
Elaine xxx
Thank you so much, Elaine. I do hope your launch plans went/are going well. I'm sure lockdown publication won't affect the success of your book one bit.
---

---
---
---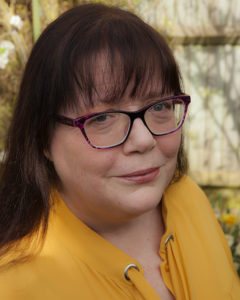 Elaine Everest is from North West Kent and she grew up listening to stories of the war years in her home town of Erith, which features in her bestselling Woolworths Girls series. A former journalist, and author of nonfiction books for dog owners, Elaine has written over sixty short stories for the women's magazine market. When she isn't writing, Elaine runs The Write Place creative writing school in Hextable, Kent. She lives with her husband, Michael and sheepdog Henry.