ShortBookandScribes #BlogTour #Extract – Other People's Husbands by Elizabeth Noble
Today I have the pleasure of kicking off the blog tour for Other People's Husbands by Elizabeth Noble. I love this author's books and am really looking forward to reading this one. In the meantime I have an extract from chapter 1 to share with you today.
My thanks to edpr and Michael Joseph for the review copy of the book.
Other People's Husbands is out 21st July, published by Penguin Michael Joseph in hardback, priced £14.99.
---

---
Sometimes friendship crosses a line . . .

A group of close friends, their bonds forged at the nursery gates two decades ago, have celebrated, commiserated and grown together: they thought they all knew each other so well.

Until the affair.

Now a crack appears in everything.

Could one betrayal really destroy it all?

Other People's Husbands is a story of friendship and love, crossing boundaries and breaking vows, of trying to fix what you believed could never be broken.
---

---
May bank-holiday weekend 2002

Perfect, golden days. How many of them do you truly live in a year? Or a lifetime?

This had been one.

Georgina pulled her sweater around her and leant her head on the ticking cushion reflecting that, in this moment, she felt so happy she could sob. After everything that had happened to her in the last few years, everything she and Phil had been through, to be here, now, with these people, feeling this way, seemed absolutely miraculous. She had never thought she'd be so contented – that life would feel so… right. She looked around the firepit at the others, taking it all in, determined to remember every detail – a snapshot of joy for her memory.

She was drunk, of course. Well, tipsy, at least. She hardly drank these days, so three decent glasses did the trick. Georgie felt delightfully woozy. And woozily delighted. She was a lightweight compared to the others, as the growing army of empty bottles beside the bin in the big kitchen testified.

Someone had pulled a CD player to the open window behind them, and there was music now. 'Dancing in the Moonlight'. And they were.

The whole day had had a filmic quality – like they were all stars in a wholesome movie about happy families and good friends. Georgie had thrown herself into it wholeheartedly, but also kept finding herself on the periphery, watching, soaking it in. She'd brought the clever digital camera Phil had bought her and taken hundreds of pictures, the lens lending her that precious distance. The weather had been spectacular – the May bank holiday showing off, in the twenties all day, and staying warm into the evening. There'd been rounders on the beach, the kids like a Boden catalogue in their stripy towelling hoodies, sandy sandwiches and fizzy drinks, kept cool, Enid Blyton style, in rock pools, crabbing and sandcastles in the afternoon, adults snoozing in turn, unread Saturday papers blowing in the breeze. And then a straggling, sun-​kissed parade to the old-​fashioned ice-​cream van halfway up the hill towards home, twenty 99s with a Flake for simplicity. Splashy, giggly, bubbly baths for the kids, and enormous gins for the parents, while someone fired up a rusty old barbecue and the men got serious about the business of grilling sausages and burgers. And then, sated, pink-​nosed and sleepy, the kids had sprawled in various degrees of consciousness in front of a Disney film, and eventually were marshalled into beds or settled top to toe on sofas and piled cushions.

And now the grown-​ups were sitting around the firepit, lolling on rickety teak loungers and plastic deckchairs, sharing scratchy blankets that smelt of mildew and mothballs. In the absence of light pollution beyond the embers of the fire, someone who knew about stars was pointing out the constellations, and a few people pretended, good-​naturedly, to listen.
---

---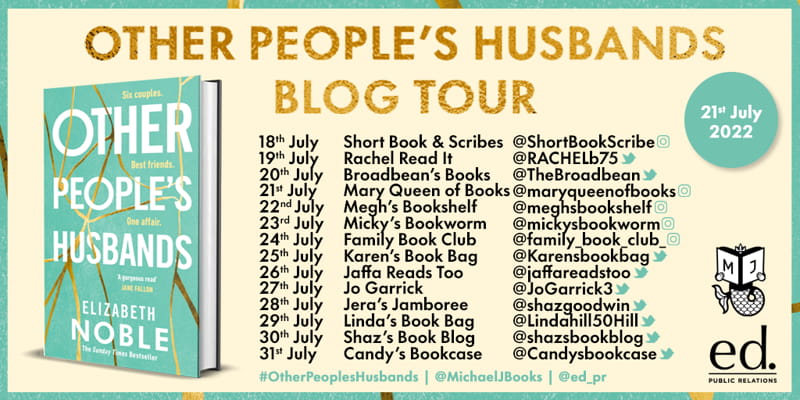 ---
---
Elizabeth Noble lives in Surrey with her husband and two daughters. Her previous Sunday Times bestsellers include: The Reading Group, which reached Number One, The Friendship Test (formerly published as The Tenko Club), Alphabet Weekends, Things I Want My Daughters to Know, The Girl Next Door, The Way We Were, Between a Mother and her Child, Love, Iris and The Family Holiday.
Between a Mother and her Child and Love, Iris were both Richard & Judy Book Club picks. Other People's Husbands is her tenth novel.