ShortBookandScribes #BlogTour #Extract from The World at My Feet by Catherine Isaac
Welcome to my stop on the blog tour for The World at My Feet by Catherine Isaac which sounds absolutely wonderful. My thanks to Megan from ED PR for asking me to be a part of the tour. I hope you enjoy the extract from the book.
---

---
A story about the transforming power of love, as one woman journeys to uncover the past and reshape her future.

1990. Harriet is a journalist. Her job takes her to dangerous places, where she asks questions and tries to make a difference. But when she is sent to Romania, to the state orphanages the world is only just learning about, she is forced to rethink her most important rule.

2018. Ellie is a gardener. Her garden is her sanctuary, her pride and joy. But, though she spends long days outdoors, she hasn't set foot beyond her gate for far too long. Now someone enters her life who could finally be the reason she needs to overcome her fears.

From post-revolution Romania to the idyllic English countryside, The World at My Feet is the story of two women, two worlds, and a journey of self-discovery that spans a lifetime.
The World at My Feet by Catherine Isaac is out now, published by Simon & Schuster in Paperback Original, priced £8.99.
---

---
EnglishCountryGardenista

650 posts 56.6k followers 938 following

ELLIE HEATHCOTE

Ramblings and photographs  from my English country garden. If you're a lover of plants, vintage gardenalia and gardening inspiration, you're in the right place.

The sight of tulips on a spring day always makes me feel nostalgic. They were the first flowers I ever bought to give to someone else. I was nine and had counted up my meagre savings in one and two pence pieces, before I went to the florist with my dad to pick out a bouquet for Mother's Day (it was amazing what you could get for 23p when he was around). Mum was brought to tears, though that might have been hay fever, and I insisted she keep them in a vase on  our  kitchen  table  until  THE  BITTER  END, refusing to let her dump them, even after their stems started to ferment. The varieties in the picture – goblet-shaped 'Ballerina' and 'Burgundy' – will grace my garden with colour for a few more weeks yet. I planted the bulbs in November, keeping them close together in trenches before adding a  mixture of compost and soil, plus a layer of sand, which helps with drainage. The ones at the front are 'Montreux', which begin as a light cream with a delicate blush of pink that deepens as the flower matures, like a

My fingertips hover over the keyboard as I try and think of something poetic but, after a full day of digging, I'm running out  of  steam.  What else would make a blush deepen?   A   medieval   maiden   beholding   a   handsome nobleman? Too long on a sunbed?  I sigh, defeated, and delete the last sentence before adding some hashtags  –  #gardenersofinstagram   #Englishcountrygarden   #tulips   #femalegardener #thisgirldigs #Englishgardenstyle – and scheduling the post.

You can't be poetic every day, though I do go to great efforts  to  ensure  the  quality  and  consistency  of  everything  I put on here. I am also a social butterfly, engaging with as many people as possible; basically, I talk to anyone. Despite this, no Instagram influencer could tell you a  guaranteed  formula  for  success.  If there was one, everyone would be at it. Certainly, when I started on here two years ago, I never in my wildest dreams thought that I'd end up with nearly 57,000 followers and earn actual hard cash from it. This has left me with raging imposter syndrome, which I'm trying to overcome on the basis that we all accept when we visit social media that what we're seeing can't possibly be as good in real life. We scroll through a polished version of reality, life through a filter, a world in which blemishes are Photoshopped and less than perfect images are dumped straight in the Trash. Visitors to my account wouldn't want to see the stacks of rubbish that languish behind my shed, or photos of poorly drained patches of lawn. They don't want to know about the stink under my arms after a day of hard toil, or the dirt that clings to my cuticles.  They don't want ugly or messy, and why should they? 'We live in a nasty enough world as it is, don't we, Gertie?' My dog tilts her head, a gesture that gives the appearance that she finds everything I say riveting. It's a nice quality in any pet, especially when they are the only other living thing her owner has to talk to on some days.
---

---
---
---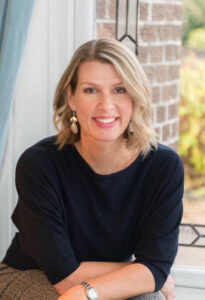 Catherine Isaac was born in Liverpool and was a journalist for many years before she wrote, Bridesmaids, her first of nine bestsellers under the pseudonym Jane Costello. You Me Everything was published under the name Catherine Isaac in 2018. It was selected by the Richard & Judy Book Club, has been translated into 24 languages and a movie is in development. In 2019 she won a Romantic Novelists' Association award and Messy Wonderful Us was published. She lives in Liverpool with her husband and three sons.