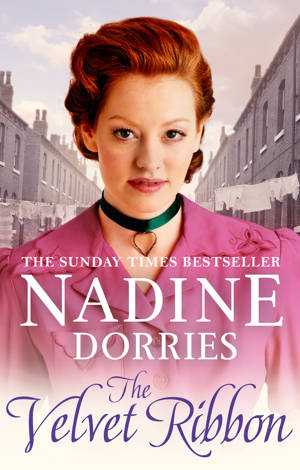 ShortBookandScribes #BlogTour #Extract from The Velvet Ribbon by Nadine Dorries @NadineDorries @HoZ_Books @ed_pr #TheVelvetRibbon
I'm so pleased to be taking part in the blog tour for The Velvet Ribbon by Nadine Dorries today. I'm sharing a fabulous extract from the book with you today. My thanks to Megan from ed pr for the place on the tour and for sending a finished copy of the book.
---

The heartbreaking final novel in the Tarabeg trilogy, from million-copy bestseller Nadine Dorries.

Mary Kate Malone has come to Liverpool from Ireland to seek her fortune, but from the very beginning things have gone wrong.

Now she is living secretly with her great love, Dr Nicholas Marcus, while his wife Lavinia, mother of his two sons, plots her revenge on the girl who she believes has destroyed her marriage.

When disaster strikes, Mary Kate's first instinct is to flee to her family in Ireland. But back in Tarabeg, a charismatic American stranger has set among the pigeons and it isn't the place Mary Kate remembers any more.

To add to her problems, Dr Gaskell and Matron from St Angelus Hospital have come to Tarabeg to recruit nurses – and Mary Kate's Liverpool life is about to come back to haunt her with a vengeance.
---

Shona and Jay Maughan were no longer as welcome in Tarabeg as they had been not so many years before. Back then, villagers had wanted to buy their pots and pans, have their fortunes told, get their knives sharpened or ailments healed. But the Maughans been driven out by the Malone store, built on Shona's land, and by the priest who wrapped a band of prayer around the village as he strode around the periphery with his Bible each night after Mass, chanting as he walked. It was a force she could not break. Father Jerry blamed her for all the ills that had befallen locals, including the death of Sarah Malone in childbirth many years before, and he was right, Sarah had been cursed, but it was not enough. Sarah Malone's daughter, Mary Kate, must pay the final price.

Dark sins cast long shadows as the memory her ancestors had returned to her played out before her eyes. She watched the ghostly tableau of the eviction: not one villager lifted a finger to help, as with sticks and dogs the Maughans were driven from the seven acres, Daedio and the old man Carter beating from the front. She strained her eyes until she could see her young self, huddled there with her mother, her grandmother wailing, her father cursing, the wind howling. It was those same people, her own loved ones, whose voices were calling her now, their cries piercing the night air, carried on the wind. It was time for her to slip across to the other side and she felt the shame she would take with her. She had let them down and would die an outcast, hovering on the edge of the land she had never reclaimed. She had failed them.

The villagers had been right to blame Shona. Their ills had been her doing and if it had not been for Bridget McAndrew, the village seer and holder of powers almost as strong as her own, she would have completed her task long ago. But the priest and Bridget had been too much for her now she was an old woman, and they plagued her still. She'd seen in her crystal ball as they'd come into Tarabeg the all-knowing face of Bridget watching them arrive.

Shona's shoulders drooped and as she slipped a few inches down the wooden frame, the willow as sharp as a knife against her spine, the wind lifted the tarpaulin and she saw her mother on the steps. The night was clear, but her mother's hair was dripping down her face, just as it had on the day they were driven off the land, when a fierce rain had pelted the sorry band of evictees. There was no mistaking the message as her lips moved and her eyes burnt with a fire deep within.

'Come, Shona. It's time.'

'I can't, not yet.' Shona gasped, lifting her hand towards her mother and wanting to look to see had Jay woken. But there was no turning back. She felt a shift in her core, a lifting of the pain, a lightness, and she knew that the passing over had begun. It was all beyond her now.

That old fool Daedio, he had outlived her. The image of his great-granddaughter, Mary Kate, came to Shona and it occurred to her just what her last curse must be. She smiled. Bridget could not reach her here; it was her parting gift from the twilight.

She closed her eyes and felt death envelop her. The icy hand of her mother slid into her own. 'Wait,' she whispered. 'I am not done.' And with the rattling wheeze of her last breath, she uttered her final, deadliest curse.
The Velvet Ribbon by Nadine Dorries is out now, published by Head of Zeus, priced £18.99 in Hardback.
---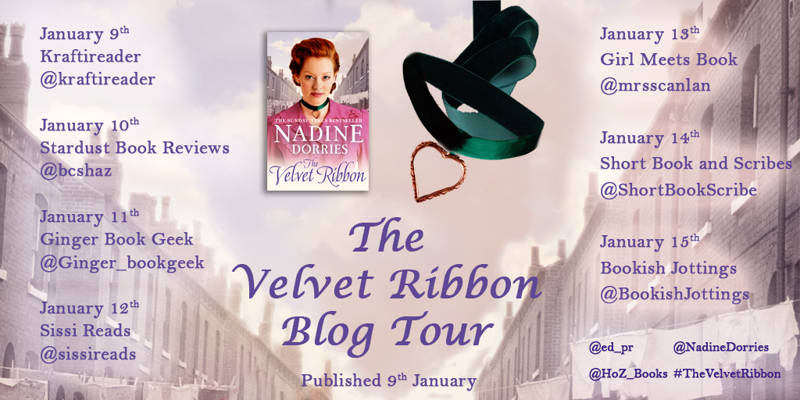 ---

Nadine Dorries was born and raised on a council estate in Liverpool in the 1950s and 60s; the dawn of the Mersey beat. Her family were part of a close-knit Irish Catholic community, most of whom came to work on the docks of Merseyside from rural Ireland.
Nadine trained as a nurse, working in hospitals in Warrington and Liverpool. After qualifying she moved to Zambia for a year and ran a school for local children. On her return to the UK, she founded, ran, and sold her own business, Company Kids Ltd, which provided childcare services for working parents.
Determined to give something back, Nadine entered politics. In the 2005 general elections she was elected as the MP for Mid-Bedfordshire, a position she continues to hold. One of the most well-known politicians in Britain, she is renowned for her determination to push her chosen causes to the top of the political agenda. In 2012 she was a star of ITV's 'I'm a Celebrity, Get Me Out of Here'.
A successful businesswoman and passionate Member of Parliament, in 2013 Nadine achieved another lifelong ambition and wrote her debut novel, The Four Streets. She has since become a No. 1 bestselling author with sales in excess of a million copies.
Nadine was made Under-Secretary of State for Health in 2019.