ShortBookandScribes #BlogTour #Extract from The Mothers by Sarah J. Naughton @TrapezeBooks #TheMothers #CompulsiveReaders
I love Sarah J. Naughton's books. You can read my thoughts on her previous books, Tattletale and The Other Couple, by clicking on the titles. I'm really looking forward to reading The Mothers when it comes out in paperback in April but for now I'm sharing an extract and if you're an ebook reader then you'll be pleased to know that you can get the book in that format from this Thursday!
My thanks to Tracy Fenton of Compulsive Readers for the place on the tour.
---
Five Women.

They meet at their NCT Group. The only thing they have in common is they're all pregnant.

Five Secrets.

Three years later, they are all good friends. Aren't they?

One Missing Husband.

Now the police have come knocking. Someone knows something.

And the trouble with secrets is that someone always tells.

For fans of Big Little Lies, The Rumour and I Invited Her In, this is first class psychological suspense from the critically acclaimed Sarah J Naughton.
---

Mothers Club

3 Years Previously

Bella opened the door with a beaming smile that had been somewhat helped along by a large glass of Chardonnay.

At least the house looked nice. She had put up the Christmas decorations early, just for tonight, and with the snow falling, and candlelight sparkling in the windows, the effect made her proud. She could still make things pretty.

Her heart sank a little when she saw who stood there, flowers in one hand, a bottle of something that was bound to be expensive in the other.

Tall, slim, glamorous, with a high-flying career as a lawyer, a huge house in the best part of Chelsea and a handsome husband, nothing ever went wrong for Chrissy. Her daughter had been born by elective caesarean section in a private hospital and her only birth horror story was about how a last-minute change of consultant meant Chloe was delivered by someone she went to university with.

One of the other mums had asked Chrissy once why she chose to have antenatal classes with the hoi polloi when she could have gone privately with the cast of Made In Chelsea, but Chrissy had just laughed and said she was hoi polloi herself. Which was bollocks, of course. Tonight she was in beige cashmere and white jeans and a pair of jewel-encrusted loafers that probably cost more than Ewan's car.

'Hello, darling.' Chrissy enclosed her in a bubble of expensive perfume. 'How are you?' She pulled away and held Bella at arm's length.

'Good. Really good.' Bella smiled, feeling sweat prickle under her hair.

'And how's that gorgeous boy?'

'I'm fine, thank you.' Ewan had come out into the hall.

'Not you,' Chrissy laughed. 'Teddy!'

'Oh.' Ewan put on a pretend pout.

'Teddy's fine,' Bella said. 'Sleeping like a—'

'Baby?' Ewan completed, and they all laughed. Bella's face was starting to hurt.

'Close the door, Bells, you're letting all the heat out.'

Ewan poured the drinks and they chatted inconsequentially about the babies' sleeping patterns. Chrissy's announcement that Chloe had been sleeping through the night from a month old made something akin to panic close around Bella's throat. Was there something wrong with Teddy? Was she not feeding him enough during the day? He seemed to be latched on for hours.

'Are you still breastfeeding?' Bella said lightly.

'No. I did it for a couple weeks, which is hopefully enough to have some benefit for her immune system. How about you?'

'Still going. I'm going to try and carry on for six months.

Only another quarter of a year of bleeding nipples and crushing exhaustion to go.' She laughed awkwardly, wondering if she'd made a vulgar faux pas.

'Well done you,' Chrissy said.

Bella glanced at Ewan to see if he had been listening, but he was fiddling with the iPod speakers and when he'd finished he went off to the kitchen. The conversation dried up. Had her comment sounded bragging? Had she annoyed Chrissy?

'I love your shoes,' Bella said desperately.

'Thanks. I've had them years. I like your dress.'

'I haven't worn it since I gave up work. It's a bit tight, to be honest.'

'It's so hard to lose weight when you're breastfeeding,' Chrissy said.

Bella bit her tongue. Chrissy had been back in her size 10 jeans the day after she gave birth while, nine weeks down the line, Bella still looked pregnant.

The doorbell rang.
---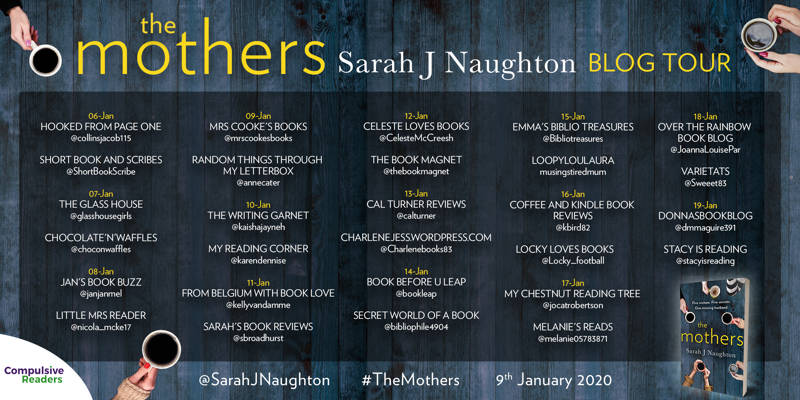 ---

Sarah Naughton's debut novel, The Hanged Man Rises, was shortlisted for the Costa children's award. It was followed by a second young adult thriller, The Blood List. Her thrillers for adults, Tattletale and The Other Couple (Orion) are Amazon bestsellers. Sarah lives in London with her husband and sons.