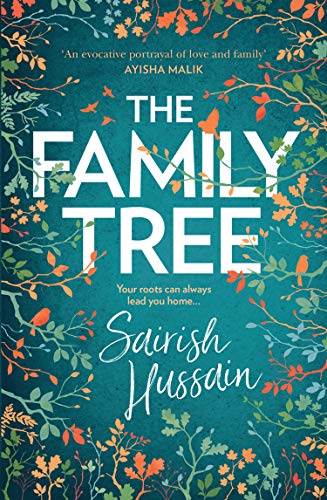 ShortBookandScribes #BlogTour #Extract from The Family Tree by Sairish Hussain @HQstories
Welcome to my stop on the blog tour for The Family Tree by Sairish Hussain. First of all, can we all take a moment to admire that beautiful cover? I had hoped to read this book for the tour as it's one I've been looking forward to but with other commitments and half term I knew I wouldn't be able to read it without rushing through it, so for today I have an extract to share with you and I'll read and review it as soon as I can. My thanks to HQ for the place on the tour and for sending a gorgeous finished copy of the book for review purposes.
---

Your roots can always lead you home…

Amjad cradles his baby daughter in the middle of the night. He has no time to mourn his wife's death. Saahil and Zahra, his two small children, are relying on him. Amjad vows to love and protect them always.

Years later, Saahil and his best friend, Ehsan, have finished university and are celebrating with friends. But when the night turns dangerous, its devastating effects will ripple through the years to come.

Zahra's world is alight with politics and activism. But she is now her father's only source of comfort, and worries she'll never have time for her own aspirations. Life has taken her small family in different directions – will they ever find their way back to each other?

The Family Tree is the moving story of a British Muslim family full of love, laughter and resilience as well as all the faults, mistakes and stubborn loyalties which make us human.
---

[CH]One
February 1993

He clutched the tiny bundle in his trembling arms, rocking gently back and forth, careful not to make a sound. The streetlamps were glowing outside. He could see the dull orange light burning through the misted window. It was 4 a.m. and Amjad wondered if he would get any sleep now. He doubted it. Sleep provided a merciful cover and it had been blown only a few moments before. The sound had travelled ruthlessly down the hallway, determined to trouble him. He considered turning over on the couch and placing something over his ears. His arm throbbed as he eased it from under his weight, and his fingers twitched longingly as he contemplated reaching out for a cushion.

Minutes later, Amjad plodded up the stairs. He dragged his feet, step by step, one arm using the banister to pull himself up, the other still throbbing and limp by his side. He paused for a moment, balling up his fist in determination. He needed all the strength he could muster, all the resolve in the world to reach the top of those damn stairs.
Five little fingers were now wrapped tightly around his pinky. His daughter's face rested peacefully against him, her tiny chest rising and falling. Amjad had wrapped her up in his wife's shawl and tried not to think of the disgraceful thoughts he had entertained just moments before. The ones where he'd wanted to block out Zahra's frantic wails with a beige corduroy cushion.

Amjad held Zahra close. Even then, amidst all the pain, he could not help but smile as he looked at her. He had managed to soothe his newborn baby, despite desperately needing consolation himself. It was the first of a series of 'moments'. For the next few weeks, Amjad would find himself comparing his two lives. The previous one, in which he could simply call out and his wife, Neelam, would come rushing into the room to assist. And this new one, where his voice would reverberate against the dark walls and disappear into nothing. They would never stand together over Zahra's cot and exchange tired smiles, fingers interlocked as Neelam's head rested on his shoulder. They would never shush each other as they eventually tiptoed back to bed, Neelam telling Amjad off for stepping on a creaking floorboard.

Amjad wiped his eyes. It had all changed. The mud under his fingernails proved that. Only yesterday he had thrown the earth into his wife's grave and cried silently at the mosque beside her body. Now it was just Amjad. Amjad, rocking back and forth in a darkened room, clinging on to Zahra.

She would never know her mother. Her little face would never be cupped by Neelam's hands. The tips of their noses would never touch. The injustice of it all crushed him and Amjad wanted to fight against it. Was there no one he could protest to or demand an explanation from? No complaints form, no senior institution he could persuade to overturn their decision, to let his wife live?

Amjad thought he saw a pair of eyes peeking through the bedroom door. It creaked open and ten-year-old Saahil teetered into the room. His long, uncombed hair shrouded his tiny face and his big, doleful eyes looked to Amjad, desperately.

'Come here,' Amjad whispered, arm outstretched.

Saahil walked closer and leaned into his father. His shaky little hand gently stroked Zahra's head. Amjad felt his heart break.

'My beautiful little boy,' he said as he enveloped his son. They all huddled together for some time. Zahra, wrapped in the silky smoothness of her mother's shawl, and sleeping soundly against her father's chest. Saahil, small and as fragile as a baby deer, struggling to take his first steps in a new world, a world without his mother. And Amjad, holding them all together. He must stop feeling sorry for himself, he thought. He was determined to protect his children from anything. Pain would have no place in his household. He would fling it out the door at its first appearance.

The dull orange glow shed light on the family's silhouette in the darkened room. A raindrop slid down the window.
---

---

Sairish Hussain was born and brought up in Bradford, West Yorkshire. She studied English Language and Literature at the University of Huddersfield and progressed onto an MA in Creative Writing. Sairish completed her PhD in 2019 after being awarded the university's Vice-Chancellor's Scholarship. The Family Tree is her debut novel and she is now writing her second book.