ShortBookandScribes #BlogTour #Extract from Some Kind of Wonderful by Giovanna Fletcher @MrsGiFletcher @MichaelJBooks #BlogTour
Welcome to my stop on the blog tour for Some Kind of Wonderful by Giovanna Fletcher. I have a lovely extract from chapter 2 to share with you and would like to thank Katie Ashworth from Michael Joseph for asking me to be a part of the tour and for sending me a copy of the book.
When the love of your life says you're not The One, what next?

After celebrating a decade together, everyone thinks Lizzy and Ian are about to get engaged.

Instead, a romantic escape to Dubai leaves Lizzy with no ring, no fiancé and no future.

Lizzy is heartbroken – but through the tears, she sees an opportunity. This is her moment to discover what she's been missing while playing Ian's 'better half'.

But how much has Ian changed her, and who is she without him?

Lizzy sets out to rediscover the girl she was before – and, in the meantime, have a little fun . . .
---

As much as I'm trying to avoid thinking about the reality of Ian not proposing, it seems the outside world wants to keep reminding me of the possibility. Yet again the sound of my phone bleeping cuts through the music, although this time it wakes me up too. Thanks to my sodden chin I can tell I've been dribbling. Attractive.

Glancing beside me and then out to sea I notice that Ian hasn't come back. Or maybe he took one look at me with my droopily drooling mouth and decided to sit elsewhere.

I look at my phone and see that this time it's Connie, my best mate. Part of me wants to blank her call too, as though the lack of Ian 'putting a ring on it' has turned me into a failure of life. But she hasn't phoned the whole time we've been away and I miss her voice.

'Babes!' I say quietly, aware of the other sunbathers catching cheeky naps, having consumed copious amounts of cocktails in the midday heat. Thankfully the sun's getting lower now and it's a tiny bit cooler as a result. It also casts a gorgeous orange glow over everything in its reach. It's a great time of day, when everything starts to wind down and feel calm. There's a lull in the air, as though the temperature drop has allowed everyone to truly relax. The scent of coconut suntan cream fills the

air – or maybe it's simply another cocktail being delivered to a lucky hotel guest.

'All right, Doll?' she replies, her husky voice unable to conceal a smile. It's a sound that has always soothed me and I can't help but dissolve as I hear it.

'Just about,' I sigh, rearranging the black triangles of my bikini so that my boobs sit more evenly. Evidently they've tried to escape while I was snoozing, and decided to give passers-by a right eyeful.

'Whoa!' she gasps at my lacklustre tone. 'Anyone would think you were the one sat at your desk with a ridiculous hangover while pretending to get shit done.'

'I heard that,' booms a voice in the background, presumably her boss Trevor.

'I'm on my lunch. Don't make me complain to HR for harassment!' she heckles back. If I spoke in that manner at work I'd get sacked, but that's Connie for you – endearing, blunt, bold and kind all at once. 'Anyway,' she says, her voice becoming soft once more as she turns her attention back to me. 'Hit me with it. What's up?'

'It hasn't happened?'

'Yet,' she says firmly, instantly knowing what I'm talking about – she's the one person I have spoken to (at length) on the topic. I might want Ian and everyone else to think I'm chilled out about it, but Connie has always been my sounding board. I need her. She makes me less neurotic.
---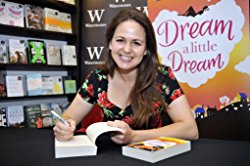 Giovanna grew up in Essex with her Italian dad Mario, mum Kim, big sister Giorgina and little brother Mario, and spent most of her childhood talking to herself (it seems no one wanted to listen) or reading books.
At thirteen she left Essex behind to attend the full-time Sylvia Young Theatre School, where she met her husband Tom Fletcher. Following SYTS she completed an acting BA (hons) at Rose Bruford – since then she's been acting, chaperoning mini actors and dabbling in a spot of freelance journalism for heat, Bliss and Recognise magazines. She currently writes a weekly blog for Hello! Online and posts weekly vlogs on her YouTube channel.
Giovanna is a firm believer in the power of magpies and positive energy. To see what makes Giovanna smile, view her blog or her Twitter page.
Author bio and photo taken from Amazon