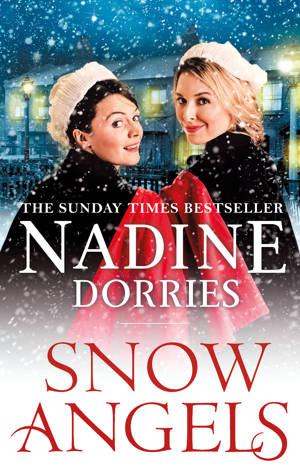 ShortBookandScribes #BlogTour #Extract from Snow Angels by Nadine Dorries @NadineDorries @HoZ_Books
I'm delighted to be able to share an extract from Snow Angels by Nadine Dorries with you today as part of the blog tour. My thanks to Vicky Joss from Head of Zeus for the place on the tour.
---

Spend Christmas with the nurses of St Angelus Hospital.

Christmas is coming, but will the doctors and nurses of St Angelus get a chance to enjoy it?

Sister Emily Haycock and her husband are anxiously counting the days until the signing of final adoption papers for their precious baby Louis. But someone has got it in for them and Emily is about to get caught out in a dangerous lie.

Nurse Victoria Baker is heavily pregnant. But as the snow begins to fall, has she made a big mistake about her dates and put the life of her unborn baby at risk?

And who is the figure obsessively watching St Angelus from the shadows? Or the mystery woman who turns up one dark, windy evening, begging for a room?

In Snow Angels only one thing is certain. Christmas will be anything but peaceful.
Buy links:
---

'Bleedin' hell. I hope not. God forbid they stay a minute after ten,' said Elsie. 'I'm half dead on me feet. I've been here since half seven this morning and I've barely sat down. My veins are killing me and I can't even feel my feet now. I daren't take my shoes off because I won't get them back on again.' Despite her obvious tiredness, Elsie was as concerned for Matron, the only other woman she knew who worked as hard as she did. 'Is Matron having a nice time out there? I can't believe I was the one who said this was a good idea when she said she wanted to have all the doctors and their wives over for Christmas drinks. That was ten years ago and I should have known it would be a load of hard work. But it sounded such a good idea at the time. Trust me and my big gob. Soft girl, I am.'

Madge reached over to the tray of food cooling on the side and popped a steaming devil on horseback into her mouth, taking a sharp breath and wafting her hand in front of her mouth. Madge was the 'glamorous lady of a certain age' at the hospital. In terms of status, her area of responsibility, the switchboard, was as good as having her own office and she had made it so: a small carpet offcut on the floor, to stop her stool on wheels from wandering back; a spider plant on the top of the switching unit, where it caught the light from the arch window above the office door; the kettle and tea caddy, with four matching Queen Anne Ivy-leaf cups and saucers on a side table in the corner. Not the usual national hospital issue for Madge, because Madge was not your usual hospital employee. She was not one of the army of domestics, nor of the medical secretaries or departmental clerks who enjoyed their own rank and status. Madge was alone, both in life and in work, but her switchboard was, in effect, the nerve centre of the hospital and thus afforded her a special status, given that she was first with all the news.

Madge, as the purveyor of important information, was also queen of the high heels, new hairstyles and fashion. She was the unofficial nod to glamour amongst her peers. Helping Elsie host Matron's drinks party was no reason to reduce her standards of footwear as she slipped her red high heels back on and clattered across the kitchen floor to pick up a tea towel and begin drying glasses as Elsie rinsed them in hot water under the tap. Biddy moved over to the sink and began to tip the contents of the glasses into a bucket on the floor. And so, side by side the three graces of St Angelus stood, one with her arms in the sink, one with a fag in her mouth, the last with a tea towel in her hands. All three lifted their heads to the window before them, one bleached blonde, one dyed black and the other a proud and untouched steel grey, a red tip glowing in her lips. Their reflections mirrored back at them and Madge leant forward to take a better look and rubbed an imaginary smudge of blue eye shadow from the side of her eye.

'I've got that much make up on, there'd be an avalanche on my face if I cried,' she said as, leaning back, she picked up another glass.

Elsie nodded in agreement. 'You go too heavy on the tutty you do Madge, all that to catch a fella. I don't know why you bother, it's a bit late now.'
---

---

Nadine Dorries is the author of three bestselling novels about St Angelus Hospital and of The Four Streets trilogy, now available in one volume. She grew up in Liverpool and trained as a nurse in the 1970s. She has been MP for Mid-Bedfordshire since 2005.
Follow Nadine:
Follow Head of Zeus: