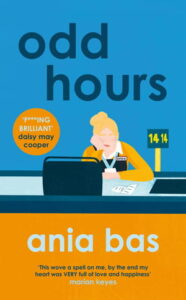 ShortBookandScribes #BlogTour #Extract from Odd Hours by Ania Bas
It's my stop on the blog tour for Odd Hours by Ania Bas and I'm sharing an extract with you from the very beginning of the book. My thanks to Margarida Ribeiro from Welbeck for the place on the tour and for sending a copy of the book.
---

---
Meet Gosia.

She's a sensitive soul with a filthy mind and problems with intimacy.

Between shifts in a well-lit budget supermarket and nights in a badly lit Zone 3 flatshare, she spends hours inside her own head. That is, until a chance encounter snaps her out of her reverie.

Propelled into a series of mediocre jobs, lousy dates and even worse sex, the prickly yet warm-hearted Gosia begins her excavation of the 'perfect' life so many dream of.

After all, could there be more to it than she imagined?

Raw, funny, mean and moving, Odd Hours is a razor-sharp social comedy about human connection, unexpected happiness, and the many forms of love.
---

---
A large, 24/7, unethical supermarket, late on Friday night. Gosia Golab sits at checkout number fourteen; she is three hours and seventeen minutes into her shift. The next tea break is forty-three minutes away. Strip lighting melts her make-up. She is thrilled. The man of her dreams is choosing her lane again for the fourth time this month. He looks nothing like Andy, her cheating ex. Even the way he fidgets while waiting in line is striking. Oh my god, he is speaking to her.

'Why don't you have more checkouts open?'

She responds with a bright smile that she hopes won't be mistaken for corporate politeness.

'It's our policy to encourage customers to use the self-checkouts late at night.'

He glances at his phone.

'It's barely eleven o'clock.'

She leans over the conveyor belt, exposes her breastbone, picks up a bottle of upmarket bubbly, scans it.

'Forty-two pounds and thirty-five pence, please. Do you happen to have your loyalty card?'

He produces a neatly folded plastic bag from under his armpit and starts to pack his shopping away while she gives him his green points. Always the same amount, sixty-nine. One day he will understand the deep hidden meaning and it will make him fall in love with her instantly. He will go through all his receipts just to be certain of her devotion. He will gallop to the checkout with at least two bunches of £5.99 roses. He will go down on one knee and express himself in the most straightforward English: 'Marry me.'

Then he will go down on her in the staff toilets and they will live happily ever after.

That fat guy with the loud voice is here tonight too. He is exposing his hairy belly while piling reduced-price potatoes onto the conveyor belt next to a double line of fizzy drinks. But then he clasps his hands together, makes smooth arm-waves and proficient
wrist-flexes and speaks to the man of her dreams.

'Ooh, champagne! Someone's having a party. Any spare invites?'

The man of her dreams shoots him a quick, puzzled look and walks away, his white headphones nestled firmly in his ears. There must be international news on, a thought-provoking interview with a heart surgeon, or possibly one of the greatest arias (according to a Google search), 'La Forza del Destino', playing.

'Fancy-pants, always too busy to chat,' says the fat guy.

'Pardon?' Gosia is not impressed.

'Look at him. Look at that posh nelly!' He points his sausage finger in the direction of the exit. The double doors close and the man of her dreams is swallowed by the darkness of an inadequately lit car park.

Gosia sighs.

'Why would you have a go at him?'

'Me?' The man spits a little onto her weighing area, leans over attempting to clean up with his sleeve. She is quicker and removes his saliva with a cloth. He straightens his back and pulls his jeans up. 'He's the rude one. Didn't say thank you to you, didn't notice me, and acts like we've never met. But you know what? We use the same showers at the gym. I can't look that different with my pants on.'

'Five seventy-two. Do you have your loyalty card?'
---

---
---
---
Ania Bas is an artist and writer. She grew up in Poland and moved to the UK in 2004 to pursue a career in the arts. She has worked with Tate, Whitechapel Gallery and others as an artist and arts organiser. She began writing 'Odd Hours' on the Faber Academy 'Writing a Novel' course.