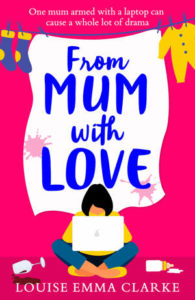 ShortBookandScribes #BlogTour #Extract – From Mum With Love by Louise Emma Clarke @mumofboysmabel @aria_fiction
I'm so pleased to have an extract to share with you today from From Mum With Love by Louise Emma Clarke. My thanks to Vicky Joss from Aria for the place on the tour.
Full-time mum Jess has had enough, and her husband, Chris, has just the solution to vent her frustrations – a blog.

Jess loves her daughter more than anything, but sometimes she just wants a little bit of freedom – some time for herself. Queue a laptop, a glass of wine and the beginning of a life-changing journey.

Overnight Jess's inbox is full of notifications and before long she is officially a 'mummy blogger' but this new life comes with its own set of rules and regulations. With Queen of the Bloggers, Tiggy, blanking her in public, people recognizing her on the street and her life decisions suddenly judged by strangers Jess's idea of 'me time' is slowly becoming a full-time job.

Will Jess be able to find the right life/work balance? Or will she wish she'd never turned to a world online?
Buy links:
---

Dear Bella,

This is my first letter to you, and as I write it, you are asleep next to me. Tiny, and curled, and peaceful – which is a relief after the night we have just had. You are three weeks old and I think it's time to start writing. When you were born, I promised to tell you everything – and I don't know whether these letters will make much sense, given how groggy I feel with lack of sleep, but I will try. I will keep writing.

And where better to start, but at the beginning? I am Jessica, and I am your mummy. I grew up in South East London with Granny, Grandad and your Auntie Fran. Grandad worked on the railways and Granny made curtains, filling our living room with giant swathes of fabric that we all had to tiptoe around. Auntie Fran is ten years older than me, but she has always been my very best friend in the world, even when I was a goofy teenager with my head buried in books and she was a cool, sassy student with boyfriends who rode motorbikes and smelt of cheap aftershave and musty leather.  Our family didn't have a lot of money, but I don't think we ever noticed. We were close and very happy. And that's exactly what I want for you.

I always wanted to be a writer, Bella – so everyone was so proud when I packed my suitcase and headed to Leeds University on the train to start a degree in English Literature. My dream was to graduate and start a job as a journalist in a bustling newsroom, with my own desk and a slimline laptop, rushing out of the office when a story broke. But I soon came to realise that life doesn't always follow the course we imagine – and after a year of rejection letters landing on our doormat with depressing thuds, Granny turned to me and said: 'Apply for something different Jess! Anything! Just get out there and earn some money. You can still write one day, but you need to do something now!'

I gave her the silent treatment for a few days after that, but I knew she was right. I quickly accepted a job as an office manager at an insurance company in the middle of Blackheath Village. There were only fifteen of us in the office and I enjoyed my job. I made cups of tea, I ordered stationery, I processed invoices, and I managed diaries. Gradually, my dream of being a writer fizzled, faded, and disappeared without so much as a pop.

I was careful with my money and before long, I had enough to move into a small flat in the centre of the village, where I wandered back every evening after a drink or two with the team. And it was on one of those nights out that the course of my life changed forever. The whole team were out celebrating Tom McGee's fiftieth birthday – and I had definitely drunk too many glasses of white wine (and definitely not eaten enough nibbles to soak it all up) when I quite literally bumped into a tall, dark, and handsome stranger at the bar. And as he looked down at the crotch of his suit trousers, which were now drenched in the contents of my wine glass, the world stopped spinning. Just for a second, it stopped. He was older than me, I guessed around forty at the time, but he was very handsome. About 6-foot-2, with tanned skin and dark hair, a few greys at his temples, and eyes a bright, surprising green.  'I'm Chris', he said, offering his hand.  'And I'm Jessica,' I replied, shaking it. And since that moment in that bar, your daddy and I have been inseparable.

He worked in the city by day – and by night, he came home and we snuggled under fleece blankets and watched TV boxsets, whilst taking it in turns to knock up feasts in the kitchen. He soon decided to sell his flat in North Greenwich, given it was pretty much always empty, and we started looking for places to buy together. And when we stepped through the door of a house in Westcombe Park on a sunny autumn afternoon, with its duck-egg blue front door and lavender bushes scenting the path, we knew we'd found our forever home. We moved three months later – and as the sun set over our new garden on a crisp December evening, Daddy got down on one knee, opened a small turquoise box, and asked me to be his wife. 'Thank God I poured that wine over you!' I cried, as I fell into his arms and cried happy tears.

That was the beginning, Bella.

That was the beginning of us.
---

---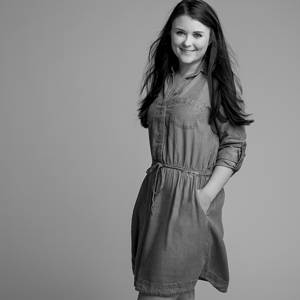 Louise's blog, Mum of Boys and Mabel has over 100k followers. Having moved to Dubai with her family she's now back in the UK and is enjoying writing. From Mum with Love is her debut novel.
Follow Aria