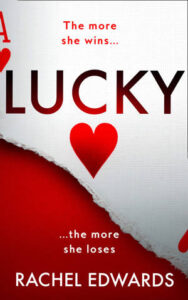 ShortBookandScribes #BlogTour #Extract from Lucky by Rachel Edwards
I'm delighted to be kicking off the blog tour today for Lucky by Rachel Edwards which sounds fantastic and what a cover! My thanks to Liv Marsden and Aneesha Angris from Fourth Estate for the place on the tour and the tantalising extract I'm sharing with you today. Hope you enjoy it.
---

---
Etta wants to get married. Ola, her partner, says he does too, but he's also allergic to making concrete plans and keeps insisting that they save enough for a house deposit before they even think of marriage.
So Etta finds a way to start secretly making money: online gambling. And how lucky that she just happens to be so good at it.

Soon she's playing quite a lot. She doesn't like lying to Ola, but it's all for the good of their relationship. She's even made a friend on the site, StChristopher75, and she's invited to a special VIP party. And even if she is losing a little money here and there – or even quite a lot – she'll win it back eventually. In the mean time, perhaps StChristopher75 can help her out with a little loan, once she's met him in real life. He's just won big, and he's been so friendly and helpful.

And he says her photo's hot. Why wouldn't he want to help her?
---

---
Etta tapped on her phone. Into her upturned hands fell a windfall of websites: Vixen Bingo, Leggsy Heaven, Celebration Bingo, Winners.com, Bingo Chat, Heavenly Bingo, Clickety Click, 24/7 Bingo, Happy Jackpots . . . She licked her lips; she needed a bigger screen and some privacy. She went upstairs to where her laptop waited, in the spare room.

She clicked and scrolled.

Cozee Bingo, with its brassy homepage and swollen prize pools, had a certain tarty appeal; you hunched closer to breathe in its heady blend of over familiarity and otherness. Cozee was stacked with an eye-catching Welcome Bonus, doubled today as an Easter Special; the homepage danced with white rabbits and beribboned eggs, Christ's resurrection celebrated with capitalist gusto. The site did look welcoming for a certain strain of true believer (God Helps Those Who Help Themselves), or the sort of people who had wet dreams about Las Vegas fountains. Etta stared at the hot pink styling and flashing graphics. Was she really going to go there?

She stared into the screen as it pumped out its jingles and its dancing lights, as mad-bright as the gleam in her eye. The laptop was speaking to her and to her alone:

    Come and play.

    Come play.

    Come.

Etta looked down at her hands on the keyboard. This was it. At last, the answer.

What if you could consider this sort of gambling to be low-rent and embarrassing, if you could see through all the snazzy tricks and do it anyway? You could study the odds, research, insulate against losses, cogitate, calculate, speculate, win. Had to be worth a try. Each win would inflate their savings and confirm her cleverness, someday, to her grateful husband. How Ola would praise her foresight! Her slaying of snobbery to gain the spoils. Her impeccable judgement. Her devotion. Even if it all went tits up, this would simply be her mistake. He'd had his. He'd had Zagreb.

Joining took seconds. Etta was assured that she could register any normal debit card, so she chose the one tied to her personal account, not their joint household funds. Other banking methods were cited as acceptable, many of which she had never heard of. You had to admire the democratic principle: everyone deserved a chance to win, even if they lived off luncheon vouchers and benefits cheques.

Cozee asked you to choose a username, essential for using the chat rooms which appeared in boxes on the main screen, bottom right. There, members typed in their feelings as they played; boasting, begging, bargaining with fate, wishing each other luck. That side of Cozee held no interest for her, but anonymity was non-negotiable. If anyone were to discover her scrabbling around in the underbelly of online entertainment, no Netflix this . . . No. This was a whole world you were joining; your familiar-other place. You signed up, they protected you, and no one need ever know.

She clicked 'Join Now!'

From here on, she only needed luck. There seemed to be plenty to go around on Cozee: banners shrieked '£10,000 Full House Special!' and 'New Games, Bigger Prizes!' and '54,716 jackpot winners this year!' All going to plan – abracadabra! – Etta's winnings would fly through the air with the greatest of ease and into her overdraft, turning red to black. Ta-da!

She would win.

She would conjure up success.

She would work like an alchemist, in secret and alone.

At least now they had a bloody chance.
---

---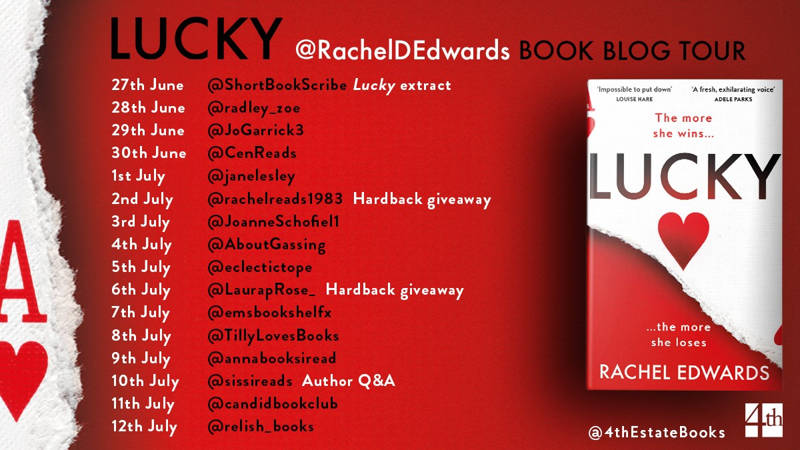 ---
---
Rachel Edwards is an alumna of King's College London where she read French with English BA (Hons). She won an Arts Council award for her fiction and worked as a freelance writer for over 12 years prior to publishing her debut novel 'Darling' with Fourth Estate, HarperCollins. Her articles feature in the national press, including The Guardian and The Sunday Times, and she is a regular guest at literary festivals and on BBC radio. Her second novel, 'Lucky', is out on 24th June 2021.