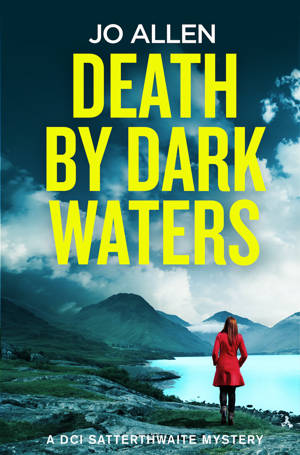 ShortBookandScribes #BlogTour #Extract from Death by Dark Waters by Jo Allen @JoAllenAuthor @Aria_Fiction
Welcome to my stop on the blog tour for Death by Dark Waters by Jo Allen. I have a fabulous extract to share with you today. My thanks to Vicky Joss from Aria Fiction for the place on the tour.
---
The charred remains of a child are discovered – a child no one seems to have missed….

It's high summer, and the lakes are in the midst of an unrelenting heatwave. Uncontrollable fell fires are breaking out across the moors faster than they can be extinguished. When firefighters uncover the body of a dead child at the heart of the latest blaze, Detective Chief Inspector Jude Satterthwaite's arson investigation turns to one of murder.

Jude was born and bred in the Lake District. He knows everyone…and everyone knows him. Except his intriguing new Detective Sergeant, Ashleigh O'Halloran, who is running from a dangerous past and has secrets of her own to hide…

Temperatures – and tension – in the village are rising, and with the body count rising Jude and his team race against the clock to catch the killer before it's too late….

The first in the gripping, Lake District set, DCI Jude Satterthwaite series.
Buy links:
---

Joe Stevenson, firefighter, ran a gauntleted hand across his forehead at the conclusion of what had been a neat, quick job. The fire was out, barely four hours after it had been reported. It had flared up somewhere on the fell above Haweswater, ripped its way through a mix of heather and bracken and leapt into the belt of trees at the lakeshore before the water stopped it going any further. Then it had burned its way steadily through the trees until it had reached a natural break, before running on back up the hill. The alarm had been raised rapidly and reasonably easy access, plenty of water to hand and a timely, intense thunderstorm had contributed to make this, if not an easy fire, certainly more of a Sunday afternoon stroll than most of the ones they'd become used to dealing with. Joe was quietly satisfied.

'D'you reckon that's it out?' he called across to his colleagues, and was rewarded with a thumbs up. It was all over then, bar a bit of damping down, and someone else would appear soon to keep an eye on that. He checked his watch. It was time for them to get off shift and have a break while they waited for the next one to flare up. Sometimes he thought the enveloping damp of the Cumbrian winter couldn't come soon enough. He ran a parched tongue over dry lips, almost tasting the beer waiting in his fridge.

Pulling his mask off, he strode across the sodden, blackened ground towards the fire appliance that was parked a hundred yards up the track. A tumbledown barn, half ruined before the fire had overtaken it, had lost what was left of its roof and the smoke marked interior walls testified to the way the fire had roared over and through it.

In passing, he peered through the doorway. A pile of rubble and charred wood, stacked against the wall, looked strangely out of context. With no more than the tired curiosity of a man on his way back home, Joe took a few steps inside the blackened shell, his eyes fixed on the gaping window with its view of a blackened hillside. He didn't see the charred mass just inside the doorway until he'd stumbled over it. In irritation, he kicked it away, turning it over.

That was when he knew the beer was going to have to wait.

*

Mikey had drained his pint of Jennings and Jude was rattling the ice in his empty glass of Coke by the time the waitress made it across with their meal. The thunder that had been threatening all afternoon had broken over them just as they'd reached the pub and the rattle and patter of solid raindrops flung down on the slate roof drowned out the sound of Sunday evening.

'That's been a while coming,' the young woman said, setting the two plates down on the tables. 'The rain, I mean, not your meals. Though they could've been a bit quicker. Sorry. We're short staffed.' She gave Jude an apologetic look and Mikey a more flirtatious one before she whisked off to the next customer, ready to serve up a side order of apologies alongside the steak.

'I'd have asked her for another pint.' Mikey, back inside and with the distant prospect of food finally made real, had resumed his natural cheerfulness. 'But I don't think she'd thank me for hassling her.'

'Run over to the bar.' Jude dug in his pocket for a ten pound note. Along with the role of surrogate father came the requirement to pick up the tab, but at least it meant he didn't have to stir himself to go over and fetch the drinks. 'I'll have the same again.'

'Have a pint. You could leave the car and walk.'

'I could. It's only five miles back home. But even if I wanted to, I can't. I'm on call.'

Mikey's eye roll was surely an ironic one, because he'd have been counting on Jude as his taxi back home to Wasby. Though Jude made a note to keep a very careful eye out for Becca the next time, and every time after that that he was back in his home village, and make sure he took avoiding action.
---

---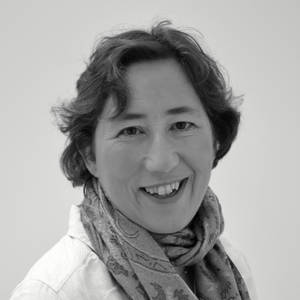 Jo Allen was born in Wolverhampton and is a graduate of Edinburgh, Strathclyde and the Open University. After a career in economic consultancy she took up writing and was first published under the name Jennifer Young in genres of short stories, romance and romantic suspense. In 2017 she took the plunge and began writing the genre she most likes to read – crime. Now living in Edinburgh, she spends as much time as possible in the English Lakes. In common with all her favourite characters, she loves football (she's a season ticket holder with her beloved Wolverhampton Wanderers) and cats.
Follow Aria