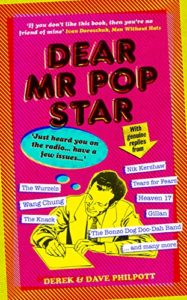 ShortBookandScribes #BlogTour #Extract from Dear Mr Pop Star by Derek Philpott and Dave Philpott @DerekPhilpott
Welcome to my stop on the epic blog tour for Dear Mr Pop Star by Derek Philpott and Dave Philpott. I have an extract to share with you today and would like to thank the authors for asking me to be a part of the tour. I'd also like to thank the authors for giving me a Chirpy Chirpy Cheep Cheep earworm!!!

For more than a decade, Derek Philpott and his son, Dave, have been writing to pop stars from the 1960s to the 90s to take issue with the lyrics of some of their best-known songs. But then, to their great surprise, the pop stars started writing back… Dear Mr Pop Star contains 100 of Derek and Dave's greatest hits, including correspondence with Katrina and the Waves, Tears for Fears, Squeeze, The Housemartins, Suzi Quatro, Devo, Deep Purple, Nik Kershaw, T'Pau, Human League, Eurythmics, Wang Chung, EMF, Mott the Hoople, Heaven 17, Jesus Jones, Johnny Hates Jazz, Carter the Unstoppable Sex Machine, Chesney Hawkes and many, many more.
Links to book:
---
TESTIMONIALS SO FAR
"Team Philpott's masterful oeuvre, with their infallibly astute and uncannily insightful interpretation of popular songs, has raised the world of pop-music criticism to the level of 'high' literary art! (Which is also the recommended state for fully appreciating their comic genius!) – Dean Friedman
"Having not had that many hits in my 40 years in pop, I assume this is possibly the last I'll be hearing from you…still, it's been fun!"
Henry Priestman, The Christians
"Thanks for the brilliant work and for allowing me to fence with such a couple of formidable comic swordsmen"
David Was, Was Not Was
"Thank you for your letter. It has changed my life.
I folded it up and used it to stop my coffee table from wobbling"
Stan Cullimore, The Housemartins
"a gateway between our normal glamorous botoxed lives and your mundane world – a lovely post-modernist way of us bonding"
The Doctor – Dr. & The Medics
"I meant every word of it. At least I think I did."
Richard Jobson, The Skids
"I have passed your letter on to my lawyer, a restraining order will shortly be in place. Let that be the end of it. What wonderful madness"
Glenn Gregory, Heaven 17
"Thanks for a madcap slant on the serious lyricist; as for myself, I am from a very musical family – even our sewing machine was a singer."
Phil – Paper Lace (original)
"Derek… stop wasting my ****ing time" !!!!"
Owen Paul
"If you don't like this book, then you're no friend of mine"
Ivan, Men Without Hats
"These remarkable pedants have been the bane of my life in recent years; one can only wonder at what they would possibly glean from such works as T.S. Eliot's "The Wasteland", or "The Ballad Of Tam O' Shanter" by the great bard Burns his self. On behalf of all concerned, please don't do a poetry book, we implore you."
Well done again and all the very best.
Jo Callis (Mrs.) On behalf of The Human League (also Mrs.).
"Derek, hopefully sales will be more robust than your intellectual rigour should the proposed 'Dementia Tax' come to realisation"
Bruce Thomas, Elvis Costello and The Attractions
"'My oh my Derek', when this is over then 'Everyday will 'hurt' without you!! I need to pick me up a Strange Little Girl!!" xx
Dave, Sad Cafe
Sirs:
I can only repeat my response to your last enquiry on this subject: I'm sorry, but I am NOT interested in purchasing your book, "comic" though it may be.  I trust this puts an end to the matter, and I will have no need to write you a third ti– oh, wait a second, I might have gotten…Congrats on your new book!
Eagerly awaiting my copy, I remain as ever,
Berton Averre, The Knack
I will forever associate you with my wife's wonderful words- 'Have you replied to that bloke yet?'
Kimberley Rew
"Does this have anything to do with the copper top frying pan I ordered? If so, can you include the 3 finger oven mitt… Thanks, James Lowe, Electric Prunes
"It's not often the drummer in the band gets to speak, apart from "Where's my bleedin' wages ?". So thank you chaps for the opportunity to spout off a load of ol' drivel for your hilarious project.
The pleasure was all mine."
Gary Long, Tadpole Tuna
Being the most successful pop musician in the suburb of Royal Leamington Spa known as Milverton…which is in need of more social housing for young families…I can only applaud x
Mark Tibenham, The Maisonettes
Dear Team Philpott – Your book is going to change my life – I shall probably never work again
Bruce Woolley
""In which I answer the musical question…erm…what was the question?"
Chris Butler, The Waitresses
"This is fantastic"
Jesus Jones
"Just perfect. Proper silly..Proper funny"
Chesney and Chip Hawkes
"It was a thrill to receive your enquiry and an honour to be able to respond," Will Birch, Kursaal Flyers
---

Dear Middle Of The Road,
Re: 'Chirpy Chirpy Cheep Cheep'
I write pertaining to the sudden disappearanceof both this momma and papa on the very same night.
Sadly, not in the same sense as your June 1971 chart-topper, it would appear that they have been the subjects of a 'hit', most likely either gang or Mafia-related. That the now orphaned infant is referred to as Little Baby Don, implying an early initiation as the new Godfather of a flourishing crime empire, only serves to confirm that its parents are not far,far away, but more likely sleeping with the fishes.

Furthermore, it is feared that 'mama singing a song' could have been misinterpreted, unless of course the panicked mole was singing like a canary, to use the slang term for providing valuable information to a non-allied third party.

Yours,

Derek and Dave Philpott

Dear The Philpotts,

Our secret has been rumbled. No one was meant to know.I Hope the 'Fuzz' do not read your epistle.
Since the 'disappearance' of our guardians, we have been continually dominated by 'Baby Don' screaming forimmediate sweets, fizzy drinks & popcorn. He threatens lots of terrible consequences if we do not appease him and agree to his demands.

He even threatens to write a follow-up to 'Chirpy'… what a terrifying thought… sometimes it makes us want to lie lengthways in the literal interpretation of our band name.
We have no option but to agree to his increasing demands!

Ian 'Tweedle Dum' McCredie, MOTR
---

---

Derek and Dave Philpott are the noms de plume of two ordinary members of the public, working with help from a worldwide social networking community.