ShortBookandScribes #BlogTour #Extract from A Theatre for Dreamers by Polly Samson #RandomThingsTours
It's my stop on the blog tour for A Theatre for Dreamers by Polly Samson and I have an extract to share with you today. My thanks to Anne Cater of Random Things Tours for the place on the tour. I've been lucky enough to also receive a copy of the book from the publishers, Bloomsbury, for which I'm very grateful. It sounds like such a wonderful read.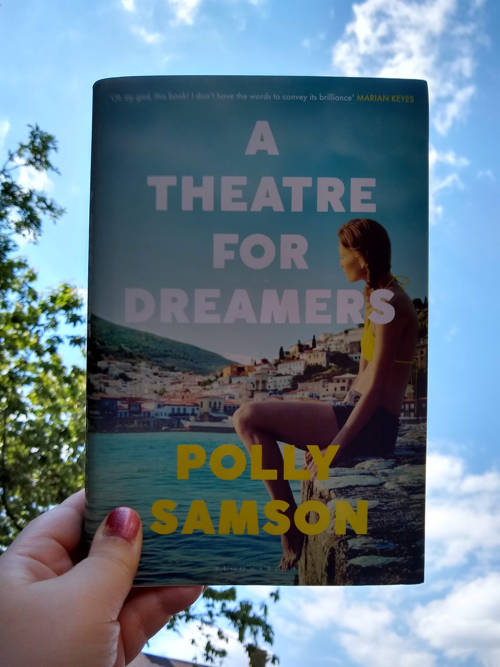 ---

---
A Theatre for Dreamers is a novel about a place and a circle that have transfixed the world for decades.

1960. The world is dancing on the edge of revolution, and nowhere more so than on the Greek island of Hydra, where a circle of poets, painters and musicians live tangled lives, ruled by the writers Charmian Clift and George Johnston, troubled king and queen of bohemia. Forming within this circle is a triangle: its points the magnetic, destructive writer Axel Jensen, his dazzling wife Marianne Ihlen, and a young Canadian poet named Leonard Cohen.

Into their midst arrives teenage Erica, with little more than a bundle of blank notebooks and her grief for her mother. Settling on the periphery of this circle, she watches, entranced and disquieted, as a paradise unravels.

Burning with the heat and light of Greece, A Theatre for Dreamers is a spellbinding novel about utopian dreams and innocence lost – and the wars waged between men and women on the battlegrounds of genius.
---

---
It's a climb from the port and I take the steps of Donkey Shit Lane at a steady pace, a heart-shaped stone in my pocket. I walk alone and, though there's no one to witness, I resist the urge to stop and rest at the standing posts after the steepest part. I watch my step, a stumble can so easily become a fall, a thought that disgusts the gazelle still living within my stiffening body.

The marble slabs shine from centuries of use; the light is pure. Even on a morning gloomy as this, with the sky low enough to blot out the mainland and clouds crowding in on the harbour, these whitewashed streets dazzle.

Two young lads skip, arm in arm, down the steps towards me. I'm as anonymous as a shepherd or a muleteer in Dinos's ancient tweed jacket, my hands bulging its pockets, my boots comfortably laced. The lines on my face have been deepened by these years in the sun and my hair hasn't seen dye, or even the hairdresser's scissors, for who-knowshow-long, but so what? It's off my face, in a loose tail, the way I've always done it. I'm still here, a little bruised, a little dented, but remarkably the girl who first set foot on this island almost sixty years ago remains. I suspect only those who knew me then can see through the thickening patina and it breaks my heart how rapidly the crowd of seers is diminishing.

The call about Leonard came last night. I sat quietly for a while, listened to the owls. I took out my old notebooks, the threepenny jotters that came with me to the island in 1960, found him in my hopeful, curly scrawls. My neck got cricked. The cocks crowed all through the night. I slept badly.

The summer visitors are long gone; there's unrest in Athens as austerity bites, refugees, lost children, fires in the street. Boats are going out, pulling people from the water. There's plenty for us to chew over so you might think we'd let the American election slide by. But at the port this morning, as I idled with my one good bitter espresso of the day, watching the mules being led away from the boats with their cargoes, the news of the new President found me. It slithered from the water with the morning pages and spread rapidly like a stench along the agora. There were horrified groans, even from the donkeys, disbelieving splutters from every table, passer-by and boat. For a moment it was a comfort to think that at least Leonard has been spared this.

I stop outside Maria's shop at Four Corners and listen for voices. I would feel a fool if anyone saw me approaching his front door with my heart-shaped stone and I prepare to walk straight past as I turn the corner from Crazy Street. The street isn't actually named Crazy but something that sounds similar and that's what we heard when Leonard came fresh from the notary, pulled off his sixpenny cap and landed the deeds to his house beside it on the table, his grin a little bashful at first, self-conscious, like we might all think he was showing off.

Later that day we came armed with borrowed pails and long-handled brushes for whitewash and Leonard had new batteries for the gramophone that he'd placed in the centre of the stone floor. Some of his records had warped like Dali's clocks and become unplayable but there was Ray Charles and Muddy Waters and a woman singer I liked but whose name I don't remember. Later still, a fire of lumber among the lemon trees on the terrace, jugs of retsina, a little hashish, dancing. Paint-spattered shorts, brown limbs, bare feet. War babies, most of us even younger than him. We lapped up the freedom our elders had fought for and our  appetites  reached well beyond their narrow, war shattered shadows.

Was it drugs and contraception that made change seem possible? Was it a conscious revolution? Or were we simply children who craved languor and sex and mind alteration to ease the anxiety that was etched into our DNA, detonating in each of our young brains its own private Hiroshima?

Ha! To my dad I was a bloody beatnik.

We asked little of this island except days sunny and long enough to keep the Cold War from biting, a galloni of wine for six drachmas, and a solid white house for two pounds and ten shillings a month. We paid only lip service to its name: Hydra. A name that means 'water' though an ancient earthquake buried its springs and turned it dry but for a few sweet wells.

In Greek myth, the monstrous Hydra is doorman to the Underworld.

'A many-headed serpent with halitosis so bad it kills with one breath,' I say when it's my turn to set a riddle.
---

---
---

---
Polly Samson is the author of two short story collections and two previous novels. Her work has been shortlisted for prizes, translated into several languages and has been dramatized on BBC Radio 4. She has written lyrics to four number one albums and is a Fellow of the Royal Society of Literature.