ShortBookandScribes #BlogTour #Extract from A Country Rivalry by Sasha Morgan @SashaMorgan_ @Aria_Fiction
Welcome to my stop on the blog tour for A Country Rivalry by Sasha Morgan. I have a lovely extract to share with you today. My thanks to Vicky Joss from Aria Fiction for the place on the tour.
---
Life in the beautiful Cotswolds village of Treweham could never be described as boring, but the arrival of a documentary film crew means that things are even busier than normal.

For the ever-so dashing Lord of the Manor Tobias Cavendish-Blake and his new wife Megan, it's a great advertising opportunity as they've recently opened up their home, Treweham Hall, to the public. And for the chef at the local pub The Templar, Finula, the arrival of the brooding director Marcus Devlin, means her love life is looking up.

Whilst at the racing stables, jockey and trainer Dylan Delaney is hoping the exposure will help him find new owners and horses for him and his partner Flora to train. But there is more to Marcus Devlin than meets the eye, and he has very personal reasons for heading to the Cotswolds.

And once his plans become clear, life in Treweham may never be the same again.
Buy Links:
---

Even so, he was ever mindful of the media's presence. Not wanting to alarm his new wife, Tobias had secretly had the French B & B 'looked over' before arriving, and he had it on good authority that the only guests staying in the five-star hotel were genuine holidaymakers like themselves. The staff had been made well aware of the high profile of their visitors, although Tobias and his new wife were at pains not to give any clues to their status. Tobias had wanted the two of them to blend in anonymously, so that he and Megan could enjoy a much-needed peaceful honeymoon.

The last few months had been hectic with Treweham Hall opening for the first time to the public, and the renovation of the old stable block into a superb racehorse training yard, which his friend Dylan had taken over. Dylan Delany was the most famous jockey on the circuit. His dark, gypsy looks, black curls and piercing blue eyes made him the most attractive, too. His reputation matched that of his best friends, Tobias and Seamus, although there had been a shift in the sand of late. It appeared even Dylan was on the verge of calming down, if his relationship with his pretty, fresh-faced assistant trainer, Flora, was anything to go by. Together they were working every hour God sent to make the stable yard work. Dylan was seriously hoping to make Delany's Racing Yard a huge success and Tobias was more than happy to collect the rent his renovated stable block and land would bring. When he had first assessed the estate's accounts last spring, Tobias had been astounded at the state his late father, Lord Richard Cavendish-Blake, had left them in. With mounting debts threatening to close the Hall, Tobias had had to put urgent financial plans in place and thankfully he had started to turn things round.

'How are you feeling?' Tobias asked yet again, looking towards his wife's stomach.

'Fine. Really.' She could tell he wasn't convinced, hardly surprising when she had started with morning sickness two days into their honeymoon.

Once the first few hours of the morning had passed, and after keeping most of her breakfast down, Megan's face had started to regain colour and they were able to enjoy the rest of the day. Although they wanted to keep her pregnancy secret for a little while longer, Megan feared that when they returned to live in Treweham Hall, with Tobias' mother, brother and a team of staff, it would be hard to conceal, especially if she was throwing up most mornings. She imagined the look of disdain on Henry, the butler's, face and couldn't help but laugh to herself. It was going to take some adjustment, living in such a grand place, especially when comparing the greatness of the Hall to the humble cottage that her gran had bequeathed her.

Megan couldn't bear the thought of selling. Bluebell Cottage. It held such fond memories of her beloved grandmother and she had treated it as a second home since she was little. Tobias had promised that they would still have their privacy and they were going to have the rooms in the south wing of the Hall. Megan was looking forward to choosing the décor and really making it their own, although she wasn't confident she would have the final say, as Tobias ran his own property development business and it was second nature for him to get involved.

'Looking forward to going home?' he smiled, admiring her beautiful face in the moonlight. They were sitting on the small balcony of their room and a lantern flickered brightly on the table. It was mid-September, but luckily the summer was proving hard to shake off and the air was still pleasantly warm.

'Yes, but if I'm honest, a bit apprehensive.' Megan had always been made to feel welcome at Treweham Hall, but even so, the thought of having staff permanently on call was nerve-racking and she feared they would be intrusive. Little had she known when first arriving in the picturesque village of Treweham that she would end up being Lady Cavendish-Blake, living in Treweham Hall. It still felt surreal.

Then she turned to her husband, who had become her rock; the reassurance, kindness and care he had shown her meant she couldn't help but fall for him. That and the fact she'd found him utterly irresistible with those mesmerising green eyes that twinkled with mischief and blazed with passion. He still made her heart flutter and she couldn't imagine a time when he wouldn't.

Tobias understood Megan's apprehension and he was anxious for his wife to settle at Treweham Hall. He knew she was popular with the staff, having seen her interact with them. Megan had overseen the guided tours of the Hall when it had first opened, along with the tearoom and gift shop, into which he had converted part of the ground floor. She was a natural with the staff; even his butler was finally succumbing to her charm.

'Don't worry, my darling, everything will be fine. We have our own rooms waiting for you to furnish.' He took her hand in his and squeezed it.

'I think I'll start with the nursery,' she replied with a smile.

'Good idea.' He kissed her lingeringly on the lips. 'And now, let's go to bed,' he whispered in her ear.
---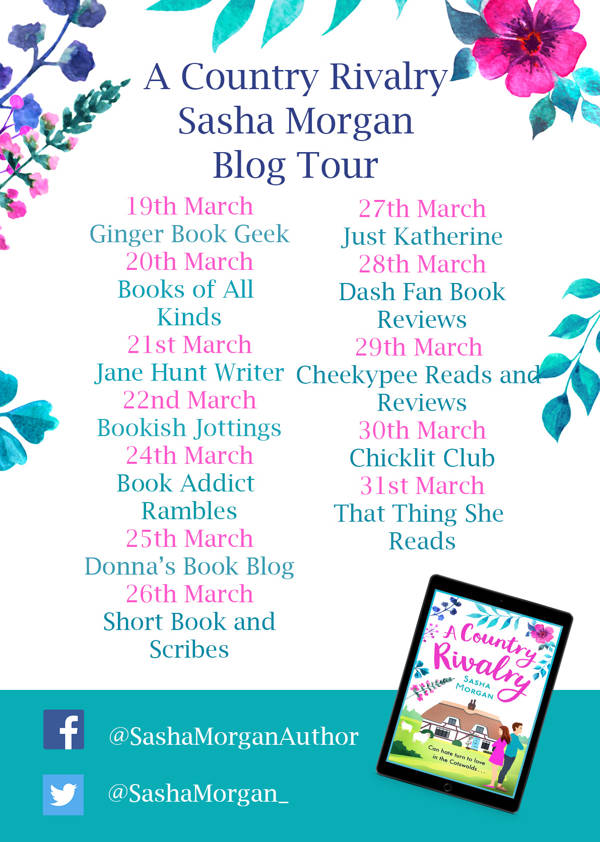 ---

Sasha lives in a rural, coastal village in Lancashire with her husband and Labrador dog. She has always written stories from a very young age and finds her fictional world so much more exciting than the real one.
Follow Aria