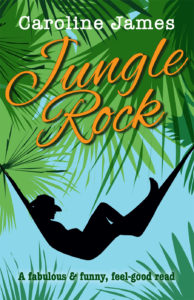 #bookblitz – Jungle Rock by Caroline James @CarolineJames12 @rararesources #GuestPost #giveaway
It's my pleasure today to be posting about Jungle Rock by Caroline James as part of the 1st birthday celebrations. I actually reviewed this novella last year and really enjoyed it. If you like I'm a Celebrity then this is a perfect read for you. You can read my review by clicking here.
I've got a fab guest post from Caroline for you today along with details of a giveaway but first here's what the book is about:

Handsome young chef Zach Docherty is feeling the heat. Following an exposé in a national newspaper, his fiancée Poppy Dunlop has broken their engagement. Heartbroken at the thought of life without Poppy, Zach drowns his sorrows and, when his agent suggests that Zach becomes a contestant in a reality TV show, Jungle Survival, he reluctantly agrees. Plunged deep in the jungle, into a bizarre mix of talent and trials, Zach meets glamour model Cleo Petra, and the cameras go crazy. Will Zach survive and be crowned Jungle King? Or will his latest exploits push Poppy further away…

"If you're looking for a highly entertaining story, look no further."

Linda's Book Bag

"Another really good book from Caroline James."

Rachel's Random Reads

"A fun romantic read – 5 stars!"

My Chestnut Reading Tree

"Fans of 'I'm A Celebrity Get Me Out of Here' will love this book!"

Nikki Ashton, best-selling romcom author
Sound good? Well just follow this link to get yourself a copy.
---

I asked Caroline how she would cope if she took part in Jungle Survival and what techniques she would use. Would she be able to stick her hand in a box or eat goodness knows what? How far does she think she would go in the jungle? This is what she said:
My biggest fear of going into the jungle would be, how big does my bum look in these horrible red shorts? As a competitor, I think I would enjoy the experience but it would be a worry to leave home without a hairdryer and I can't imagine how terrible I would look after a day or two in camp.
Setting vanity aside, I'd give this my best shot. Anything can be overcome if you put mind over matter (says one who has never been in a rat-infested tank nor eaten rotting fish-guts). It all seems so easy as we sit on our sofa sipping a cocoa, willing the celebrities on but would I want to be in their place as they jump out of planes and hang perilously off high wires? Yes – I would!
There is nothing like a challenge to make you feel better. If you can face your fears and overcome, you can conquer anything in life. No wonder the contestants all say it is the best experience they've ever had when they cross that bridge (to a welcoming glass of champagne). I'd give the trials everything I've got, after all, they never last for long and you have hungry camp mates to think of if you don't bring back the kangaroo haunch, so to speak. Shaun Ryder got bitten by a snake but hardly moved a muscle as two medics rescued him – such a stoic attitude (on camera at least!).
I'd like to be camp-cook as I love anything to do with cooking and am quite good with a one-pot meal and limited ingredients but I'd be just as happy to collect logs or clean and even empty the dunny, keeping busy would be my approach to getting through. I'm not sure how far I would get but each day would be a bonus and I'd look on the experience as a holiday and pretend I was in a spa. After all, with such limited rations, my bum might not look so bad in those horrible red shorts after three weeks in the jungle…
Thank so much for hosting me on your lovely blog, happy reading everyone.
Caroline xx
Thank you so much, Caroline. I think you're right about conquering something being incredibly empowering. I'm not sure it would be an experience I would like though. Readers of the blog, Caroline and I would love to know how you would cope in the jungle.
---

Win a £20 Amazon Voucher
Sign up to Caroline James' mailing list to be entered into a draw to win a £20 Amazon voucher.  Giveaway open internationally and closes 30th November 2017. Winner will be announced by Caroline via email.
Caroline James Author Mailing List
---

Caroline James has owned and run businesses encompassing all aspects of the hospitality industry – a subject that features in her novels. She is based in the UK and spends her time writing, climbing mountains and running a consultancy business. Caroline has a great fondness for the Caribbean and escapes to the islands whenever she can. She is a public speaker, reviewer and food writer and loves cooking and baking, especially cake. Her next novel, The Best Boomerville Hotel is coming soon…