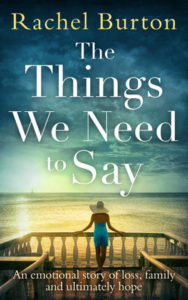 #BlogTour #Extract from The Things We Need To Say by Rachel Burton @bookish_yogi @NeverlandBT #giveaway
Welcome to my stop on the blog tour for The Things We Need to Say by Rachel Burton. I will be sharing an extract with you today and there's also a fabulous giveaway. Thank you to Jenny Marston from Neverland Blog Tours for the place on the tour.
Sometimes the things we never say are the most important.

Fran loves Will with all her heart. They had a whirlwind romance, a perfect marriage and a wonderful life. Until everything changed. Now Fran needs to find her way again and teaching a yoga retreat in Spain offers her just that. Leaving behind a broken marriage she has some very important decisions to make.

Will needs his wife, he needs her to open up to him if they're to ever return to the way things once were. But he may have damaged any possibility he had of mending their relationship and now Fran is in Spain and Will is alone.

As both Fran and Will begin to let go of a life that could have been, fate may just find a way of bringing them back together.

From the best-selling author of The Many Colours of Us comes an emotional story perfect for fans of Katie Marsh, Amanda Prowse and Sheila O'Flanagan.
---

EXTRACT 1

Standing at the bottom of the gravel driveway waiting for her taxi, Fran takes a deep breath. It's just after five in the morning and the sun is beginning to appear over the horizon. The rain of the previous day has subsided and the sky is a thousand shades of orange and pink. Another day is dawning, the birds singing, life is continuing. The cycles of nature don't care that Fran's world will never be the same again.

One of the things she has always loved about living in Suffolk is the size of the skies. They always feel as if they go on for ever and, on a good day, the sunsets are as beautiful as anything she's seen in more exotic locations. The size of the sky at her in-laws' estate had taken her breath away the first time she'd seen it. She'd still been living in Cambridge then, where the sky always seems so close, almost oppressive in comparison. There's a freedom in the Suffolk skies that makes Fran feel beautifully insignificant.

She hears Will's footsteps on the gravel drive behind her. She knew he would never be able to just let her leave. She doesn't turn to look at him.

'Don't do this, Fran,' he says quietly. The whole village is still asleep. It feels as though they are the only two people in the world.

'I have to,' she replies.

'You could go tomorrow,' he says. 'You can get a flight direct to Reus tomorrow. We need to talk.'

Still she doesn't look at him. She wishes the taxi would come.

'Please, Fran.'

There is something about his tone of voice, something about the way he sounds that almost breaks her. She turns to look at him. He stands in front of her still in his pyjamas, his hair tousled, his brow furrowed in that way she knows means he still has a headache. The shadows under his eyes indicate how little sleep he's had. She wants to reach out and touch him – she almost does – but the taxi arrives suddenly with a screech of brakes.

'I have to go today,' she says. 'You know I do.'
---

---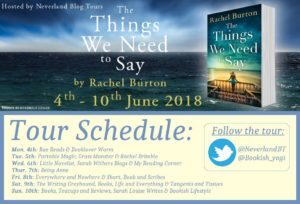 ---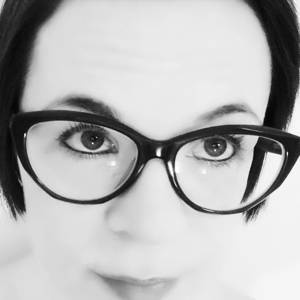 Rachel Burton has been making up stories since she first learned to talk. After many false starts she finally made one up that was worth writing down.
After graduating with a degree in Classics and another in English, she didn't really know what to do when she grew up. She has worked as a waitress, a paralegal and a yoga teacher.
She has spent most of her life between Cambridge and London but now lives in Leeds with her boyfriend and three cats. The main loves of her life are The Beatles and very tall romantic heroes.
Her debut novel THE MANY COLORUS OF US was an Amazon Kindle bestseller. Her second, THE THINGS WE NEED TO SAY, is out in May 2018. She is currently working on her third book about a woman who followed the love of her life to a city in northern England. It has no autobiographical elements at all…..maybe.
Find her on Twitter & Instagram as @bookish_yogi or search Facebook for Rachel Burton Author. She is always happy to talk books, writing, music, cats and how the weather in Yorkshire is rubbish. She is mostly dreaming of her next holiday…