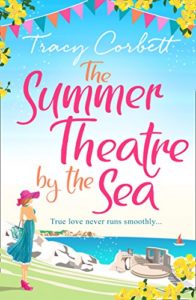 #blogtour #extract from The Summer Theatre by the Sea by Tracy Corbett @tracyacorbett @AvonBooksUK
I'm delighted to be able to share with you today an extract from The Summer Theatre by the Sea by Tracy Corbett, which sounds like an absolutely lovely book for summer. I'd like to thank Sabah Khan from Avon Books for the place on the tour.

A summer to remember…

Charlotte Saunders has always loved the buzz of city life. So, when she finds herself abruptly fired, dumped and forced to leave London to move in with her sister Lauren in Cornwall, she thinks the world is ending.

To keep herself busy in the quiet coastal town, Charlotte agrees to help the local drama club. Designing sets for their performance of A Midsummer Night's Dream, just for the summer, while she figures out her next career move. But could days at the beach, new friends and a dashingly handsome doctor, change Charlotte's mind? Suddenly Cornwall doesn't look so boring after all…

The perfect summer romance for fans of Lucy Diamond and Rachel Lucas.
You can buy the ebook now and the paperback from 3rd May.
---

With a certain amount of apprehension, Charlotte Saunders watched her boss adjust the front of his pale-pink tie, his matching silk handkerchief folded into the pocket of his pinstriped suit jacket.

'He said you assaulted him.'

Charlotte felt her indignation rise another notch. 'I did no such thing.' Why was she getting the third degree? It should be Dodgy Roger in here getting it in the neck, not her.

Lawrence raised a knowing eyebrow. It was a trait she'd become familiar with. It usually preceded a right royal bollocking. Fortunately for her, she'd rarely been on the receiving end of one of his rants. She was his protégé; the grad student he'd spotted at an exhibition and taken a chance on. She couldn't believe her luck when he'd offered her a position with his high-flying design company – a position most designers twice her age would kill for – and now it was under threat, all thanks to Dodgy Roger.

'It was hardly assault, Lawrence.' She felt her cheeks colour. 'I tapped him on the forehead with my notebook. He was asleep on the job.' As she'd already told him.

Lawrence reacted with a disappointed tut. 'He also said you called him a moron.'

She cringed. Not exactly her finest moment.

'A poor choice of words, I admit, but I was upset.' Charlotte straightened in her chair, wishing she'd stopped off to buy painkillers on her way over. The pounding in her head was getting worse. She wasn't sure whether it was the same headache as yesterday, or a new one.

When it came to using CAD, SketchUp or Photoshop, she was an expert – all those late nights studying and unpaid internships had culminated in a first-class honours degree in Interior Design. But nowhere amongst space planning and selecting soft furnishings had it covered dealing with Neanderthal workmen who knew they could get away with murder because the boss was family and the young designer they'd been assigned to work with was still trying to prove herself in a highly competitive industry.
---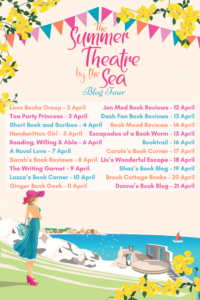 ---

Tracy grew up in Berkshire with her large, noisy and adorable family. She now lives in Surrey with her partner and started writing in her late twenties, song lyrics, sketches for pantomimes and short stories, before venturing into the wonderful world of novel writing. She describes her writing style as modern tales of romance, with engaging quirky characters, who overcome adversity, grow as people and conclude in satisfying optimistic endings. When Tracy isn't writing, she enjoys amateur dramatics and can regularly be found dressing up in various strange costumes and prancing about the stage pretending to be all manner of odd characters!
The Forget-Me-Not Flower Shop was Tracy's debut novel and she's delighted that her second novel The Summer Theatre by the Sea is also now available!