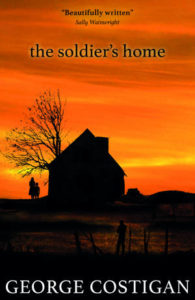 #Blogtour #Extract from The Soldier's Home by George Costigan @urbanebooks #LoveBooksGroupTours
Welcome to my stop on the blog tour for The Soldier's Home by George Costigan. I have an extract from the book to share with you today. My thanks for Kelly from Love Books Group Tours for the place on the tour.
The Soldier's Home is the stunning sequel to the bestselling debut, The Single Soldier, by actor and writer George Costigan. The war is over and his home was built…but a home is just a set of empty rooms without people and love. After surviving the devastation, secrets, lies and tragedies of a community under German occupation, can people now rekindle their lives, and rediscover their reasons for surviving? As the soldier waits for the return of his love, the world keeps moving, threatening to leave his hopes and dreams behind….
History, secrets and painful truths collide in this astonishingly human, warm and emotive sequel from writer George Costigan.
The book is available now in ebook and paperback.
---

thirty-one

DEAR JACQUES,

Did you know about Lafayette and his help during the American Revolution? No – me neither! But when I made a first tentative enquiry to see if I even could teach – they greet me with open arms – because I'm French. Did you know the French gave America The Statue of Liberty? So, when they discovered I speak and teach German they fell over themselves. I was given a list of fifteen (!) schools, for me to choose from. I've chosen the one nearest here -Hester Street Junior and Senior High and they've promised to take Jack when he's 5.

I worried about my legal status but no-one else did – they're short of teachers – and there's The Displaced Persons Act for those who fled either the Nazis or The Russians. Americans seem paranoid about Russia, which is bizarre – they just defeated a common enemy and when we got here I saw posters of Russian soldiers and – in big letters – This Is A Friend. Not any more… It feels, and I could have this wrong, that if the working-people (paysans to me and you) ask for higher wages they're branded Communists – and that seems to be the new dirtiest word in the American language.

This city! You can go shopping at midnight!

I have days when I'm glad he's growing here because if you can survive this you can survive anything.

His birthday? He needs shoes. His feet are like courgettes – never stop growing. He needs trousers. He does not need guns. I 'lost' the one Susie gave him and he made three new ones out of breakfast cereal packets. I think the teacher at nursery showed them how. You read the papers and there are gun murder stories every day. Their films are guns. Their History is guns. Guns are glamorous. And I think of the soldiers who came to Puech – and the guns that killed my mother and father. They're destruction.

Not here. I don't understand and I don't want to.

His present, father? A letter – he'd love that more than anything money could buy.

I've just read this through and it's all of a ramble – like New York. And – I forgot! – I start teaching in September!

You said I'd be a teacher! You promised.

What else can you see? Can you see this smile? Hey!! Come with me now – come on, come Jacques – I want to show you something. Round this partition, move that red curtain aside – gently – shh, there! There's the last of your curls. Doesn't he smell warm, eh? One kiss and no more or you'll wake him and he hates that!

Sleep now, us parents.

Simone.
---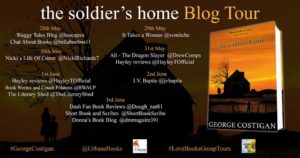 ---

George Costigan is best known for Rita, Sue and Bob Too and more recently Happy Valley, his acting career has included working with Sally Wainwright, Willy Russell, Alan Clarke and Clint Eastwood. He has directed Daniel Day-Lewis and Pete Postlethwaite, and his writing for the stage includes several Liverpool Everyman pub shows and 'Trust Byron', for which he was nominated for Best Actor at the Edinburgh Festival. He and partner Julia North have three sons and one grandson and live in York.