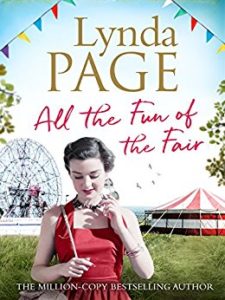 #blogtour – All the Fun of the Fair by Lynda Page @Canelo_co #extract
Welcome to my stop on the blog tour for All the Fun of the Fair by Lynda Page. Thank you to Ellie Pilcher from Canelo for the place on the tour.
I have an extract to share with you today but first, here's what the book is all about.

Genre: Historical Fiction, Saga, Women's Fiction

Release Date: 19th February 2018

The unmissable new saga from bestselling author Lynda Page

It's the 1950s and Grundy's Travelling Fair arrives in town with a bang.

When night falls, the local town is drawn to the Fair. But when the fairgoers head home, the Grundys are left behind. Hours are long and the work back-breaking. But family and friends hold things together.

Gemma married into the lifestyle, her reliable husband Solomon making the work worthwhile. Solly's Dad Samson is still the boss, but his other son, known as Sonny, is getting a reputation…

Times are changing. Can the family – and the fair – survive?

A saga with a twist, join the Grundy family in a gritty but heartwarming novel of love, friendship and secrets. Perfect for fans of Kitty Neale, Lyn Andrews and Rosie Goodwin.
Links to Book:
---

Seventy-year-old, wiry, silver-haired Sam Grundy, dressed in a 1920s-style red-and-yellow striped jacket and black trousers – his trademark outfit as ringmaster – sported the battered face of a fist fighter; damage he had received over the years from defending his people and business from outsiders hell-bent on bringing down the fair for whatever reason they had at the time. He was leaning against the safety barrier that circled the big wheel, smoking a pipe and watching his youngest son skipping expertly between the racing dodgems to help a punter who had gotten themselves stuck onto another after crashing into them.

He saw Solly's good humour and easy-mannered banter with the punter in the car defuse their annoyance at not being able to unlock one car from the other, which was eroding into his time on the ride. Solly lived and breathed the fair, would wither and die if the life was taken away from him, just the same as it was for Sam himself, his own father too and back down the line of Grundys. It was a pity that the same couldn't be said for his eldest son, Sonny, who would inherit the business in the not-too-distant future when Sam's own life came to an end. He couldn't fault Sonny for the way he never failed to pitch in and do what was necessary in keeping the business running, but it was his way to boss others around, to assert his authority against Solly's opinion, which in fact mirrored his own. They all worked together for the same end, and he should ask instead of command.

Sonny hadn't always been like this; up until his twentieth birthday he had been very much like his brother in nature but then suddenly, overnight in fact, he had changed into a surly individual that gave the impression he felt the world was against him. No matter how much his family tried to get to the bottom of why Sonny's personality should go through such a sudden, dramatic change, either Sonny didn't know himself or wouldn't disclose what had happened to him to bring this about; they had no choice but to accept him as he was now and hope that someday he had an equally sudden change back to being the affable young man he'd been before. That, though, had never happened and after all these years didn't now seem very likely to.

Sam sighed, a frown furrowing an already deeply lined brow. Now the end of his life was getting closer, the future of the fair was becoming more of a problem for him. Fair tradition dictated that the eldest son of fair owners inherited the main business and the next male in line a ride each or whatever the owner thought suitable; nothing in some cases where there was discord between father and son. Sonny was his eldest living offspring and therefore should be the one to become its ringmaster when he died. The trouble for Sam was that he felt Sonny hadn't the right temperament for the job itself or for keeping harmony amongst the Grundy community, which was equally as important to him. Solly, though, did. Sam felt that, under Sonny's management, there was a great danger that Grundy's would not flourish and prosper in the way he had striven for it too. Whereas under Solly, Sam knew, without doubt, it definitely would. Did he then break with tradition and make Solly his main heir or follow fairground tradition and leave it to Sonny? Showmen traditions were cast in stone to Sam but, as Solly had proved to him over his marriage to outsider Gemma, there are occasions when traditions need to be ignored.

He ran a gnarled hand through his profusion of wiry silver-grey hair. Time to make a decision over the fair's future leader was not on his side. He was three score and ten now, in good health apart from arthritis riddling its way through him, but any time now he could be struck down. Only a few weeks ago Harry Sparrow, a robust-looking, energetic man in his late fifties who had worked for him for years, an all-rounder who could turn his hand to anything, suddenly dropped dead as he'd been helping to unload a lorry after arriving at a new site. He needed to discuss the problem. Nell, his beloved wife, had always been his listening ear, whose advice and judgement he had trusted beyond reproach, and she would have helped him arrive at the right conclusion, but now she was gone and her wisdom along with it. Luckily for him though there was one person amongst the Grundy community whose friendship over the years he had come to value highly, especially since Nell's death when without her to turn to he doubted he'd have managed to get on with his life without her in it. Nell had thought very highly of her too. Maybe it was time he took her into his confidence and asked for her guidance on his problem. He would do that at the first opportunity so he could put this worrying matter to bed and enjoy what days he had remaining to him without it hanging over his head.

He felt so proud though that through his hard work, at times literally shedding blood, sweat and tears, he was leaving his sons a business that was in a far better state than when he had himself taken over. Before he did die, though, he wanted to see Sonny happily settled with a good woman, same as Solly was. But, if he ever did have any relationships with women, he kept them very much to himself.
---

---

Bestselling author Lynda Page has written over thirty books, and is a well-loved and critically acclaimed saga author. Born and raised in Leicester, where many of her novels take place, she began her prolific writing career in her forty-five minute lunch breaks. Best known for her Jolly's Holiday Camp series, Lynda is writing a new series exploring life at a travelling fair in the 1950s for Canelo, with the first book, All the Fun of the Fair, out in February 2018.