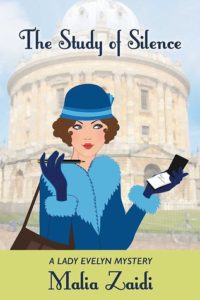 #blogblitz – The Study of Silence by Malia Zaidi @MaliaZaidi @NeverlandBT #extract
Welcome to my stop on the blog blitz for The Study of Silence by Malia Zaidi. Such a pretty cover! Thank you to Jenny from Neverland Blog Tours for the place on the blitz.
I have an extract to share with you today but first, let's see what the book is about:

Lady Evelyn Carlisle has returned home to England, where she is completing her degree at St. Hugh's, a women's college in Oxford. Her days are spent poring over ancient texts and rushing to tutorials. All is well until a fateful morning, when her peaceful student life is turned on its head. Stumbling upon the gruesome killing of someone she thought she knew, Evelyn is plunged into a murder investigation once more, much to the chagrin of her friends and family, as well as the intriguing Detective Lucas Stanton. The dreaming spires of Oxford begin to appear decidedly less romantic as she gathers clues, and learns far more than she ever wished to know about the darkness lurking beyond the polished veneer. Can she solve the crime before the killer strikes once more, this time to Evelyn's own detriment?
Buy links:
---

Excerpt 2

Time passes strangely in this place. Moments become hours become days, when the door opens again. I am pulled to my feet by rough, calloused hands; hands not used to kindness. Words are spat at me. I do not hear, do not speak. I am only a spirit. I am jerked out of the door, along a passageway, up cold stone stairs. My feet scrape the ground. I do not feel pain. I am denied even my last walk. Another door. Up wooden steps, this time. Tiny splinters dig into the soft soles of my bare feet.

"Stand!" he commands and lets go of my arm. I try, but these legs are no longer mine and betray me, buckling like those of a newborn foal. He mutters a cruel word, hissed in anger, in hatred he cannot possibly feel, for he does not know me. None of them know me. How can we hate what we do not know? Do I hate him? His touch the last my skin will ever feel, his words the last my throbbing ears will hear . . .

I see faces before me, staring. Their eyes bulge hungrily, looking like creatures, not human at all. Then they are gone. My world is black. Rough fabric scratches my face. I am pulled back. Secured. I hear words, hollow, sharp, final.

I—
---

Malia Zaidi is a writer and painter, who grew up in Germany and lives in the US. An avid reader and traveler, she decided to combine these passions, and turn her long-time ambition of writing into a reality. The Study of Silence is the third book in The Lady Evelyn Mysteries.