Seven Day Spotlight – week ending 12/02/17
This week I have done a cover reveal for what looks to be a fab new book from Rachel Amphlett called Will to Live. And I've reviewed two very different books, both of which I thought were brilliant. The Heart's Invisible Furies by John Boyne is an epic masterpiece following the life of an Irish man to the age of 70 and The Breakdown by B A Paris is a terrifying and tense psychological thriller.
And now to acquisitions:
The Watcher by Netta Newbound – I keep hearing great things about this one – currently 99p.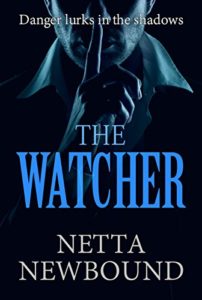 Life couldn't get much better for Hannah. She accepts her dream job in Manchester, and easily makes friends with her new neighbours.

When she becomes romantically involved with her boss, she can't believe her luck. But things are about to take a grisly turn.

As her colleagues and neighbours are killed off one by one, Hannah's idyllic life starts to fall apart. But when her mother becomes the next victim, the connection to Hannah is all too real.

Who is watching her every move?

Will the police discover the real killer in time?

Hannah is about to learn that appearances can be deceptive.
The Choir on Hope Street by Annie Lyons
The best things in life happen when you least expect them.

Nat's husband has just said the five words no one wants to hear – 'I don't love you anymore'.

Caroline's estranged mother has to move into her house turning her perfectly ordered world upside down.

Living on the same street these two women couldn't be more different. Until the beloved local community centre is threatened with closure. And when the only way to save it is to form a community choir – none of the Hope Street residents, least of all Nat and Caroline, expect the results…

This spring, hope is coming!
What You Don't Know by JoAnn Chaney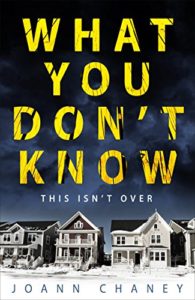 JoAnn Chaney's dark debut, What You Don't Know, tells the story of the three victims the murderer didn't kill but whose lives he ruined all the same . . .

A crime like this isn't only about the killer. There are others to consider . . .

Seven years ago, Detective Paul Hoskins and his larger-than-life partner solved one of the biggest serial killer cases of the decade. They dug up 31 bodies in a crawlspace belonging to the beloved Jacky Seever, a pillar of the community and a successful businessman. Sammie Peterson was the lead reporter on the case. Her byline was on the front page of the newspaper every day. Seever's wife, Gloria, claimed to be as surprised as everyone else.

But when you get that close to a killer, can you really just move on?

Today, Hoskins has been banished to the basement of the police station, Sammie is selling make-up at the shopping mall, and Gloria is trying to navigate a world where she can't escape condemnation.

Then a series of copycat killings take place, with the victims all connected to Seever. While Gloria is determined not to be forced into the spotlight again, Hoskins and Sammie see a chance to get their lives back. But it could mean forfeiting their humanity in the process . . .

It isn't over. It'll never be over.
The Flower Arrangement by Ella Griffin – it's got a shop in it and therefore I had to have it.
Every bouquet tells a story…

And every story begins at Blossom & Grow, a tiny jewel-like flower shop in the heart of Dublin. Here, among the buckets of fragrant blooms, beneath the flickering candles and lanterns, florist Lara works her magic, translating feelings into flower arrangements, changing hearts and lives. Whether its bridal posies, anniversary bouquets or surprise deliveries from secret admirers, Lara arranges the flowers for all manner of life-changing moments.

No stranger to heartbreak herself, Lara knows flowers say more than words ever can. But can the flowers that heal the customers work their magic on Lara?
The Killer Next Door by Alex Marwood – I've been after this one for a while.
No. 23 has a secret. In this bedsit-riddled south London wreck, lorded over by a lecherous landlord, something waits to be discovered. Yet all six residents have something to hide.

Collette and Cher are on the run; Thomas is a reluctant loner; while a gorgeous Iranian asylum seeker and a 'quiet man' nobody sees try to stay hidden. And watching over them all is Vesta – or so she thinks.

In the dead of night, a terrible accident pushes the neighbours into an uneasy alliance. But one of them is a killer, expertly hiding their pastime, all the while closing in on their next victim…

As a cloying heatwave suffocates the city, events build to an electrifying climax in this dark, original and irresistibly compelling thriller.
The Silent Kookaburra by Liza Perrat
All eleven-year-old Tanya Randall wants is a happy family. But Mum does nothing besides housework, Dad's always down the pub and Nanna Purvis moans at everyone except her dog. Then Shelley arrives –– the miracle baby who fuses the Randall family in love for their little gumnut blossom.

Tanya's life gets even better when she meets an uncle she didn't know she had. He tells her she's beautiful and could be a model. Her family refuses to talk about him. But that's okay, it's their little secret.

Then one blistering summer day tragedy strikes, and the surrounding mystery and suspicion tear apart this fragile family web.

Embracing the social changes of 1970s Australia, against a backdrop of native fauna and flora, The Silent Kookaburra is a haunting exploration of the blessings, curses and tyranny of memory.
Everything You Do Is Wrong by Amanda Coe
'Do You Know This Girl?'

Harmony's teenage craving for drama is answered when a body is discovered by her aunt Mel on Evensand beach. But the naked, lifeless young woman turns out – problematically – to be alive. Unable to speak or remember where she came from, the woman is named Storm by her nurses.

Surrounded by doctors, psychiatrists and policemen, Storm remains provocatively silent. Harmony is desperate to fill in the gaps in Storm's story, while the responsibility Mel feels for the woman she rescued begins to skew the course of her own settled life. Their efforts to solve the mystery clash with the efforts of rookie constable Mason, assigned to the case and determined to help this damsel he feels to be very much in distress.

Will any of them be able to find out who Storm really is? And what if the distress belongs to everyone but her?

Everything You Do Is Wrong is a compelling exploration of how this enigma sets a family's good and bad intentions crashing into each other, with unforgettable consequences.
The People at Number 9 by Felicity Everett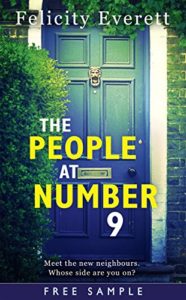 Meet the new neighbours. Whose side are you on?

When Gav and Lou move into the house next door, Sara spends days plucking up courage to say hello. The neighbours are glamorous, chaotic and just a little eccentric. They make the rest of Sara's street seem dull by comparison.

When the hand of friendship is extended, Sara is delighted and flattered. Incredibly, Gav and Lou seem to see something in Sara and Neil that they admire too. In no time at all, the two couples are soulmates, sharing suppers, bottles of red wine and childcare, laughing and trading stories and secrets late into the night in one another's houses.

And the more time Sara spends with Gav and Lou, the more she longs to make changes in her own life. But those changes will come at a price. Soon Gav and Lou will be asking things they've no right to ask of their neighbours, with shattering consequences for all of them…

Have you met The People at Number 9? A dark and delicious novel about envy, longing and betrayal in the suburbs…
The Broken Ones by Sarah A. Denzil
A shadow follows Sophie.

Watching.

Waiting.

Her instinct tells her that it's someone she knows. But who? The man she met internet dating? The nurse caring for her ill mother? Or is her mother faking her illness?

The only thing she knows is that she can't trust anyone.

Sophie must delve into a dark history to reveal her stalker. But there are some stories that should never be told…
Hush Little Baby by Joanna Barnard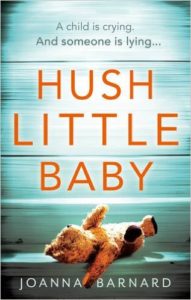 When baby Oliver breaks his arm, no-one can (or will) say how it happened.

His mother is exhausted.

His father is angry.

His older sister is resentful.

And they all have something to hide.
The Thief of Time by John Boyne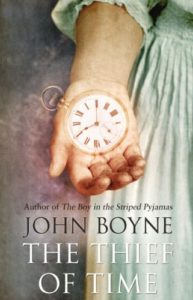 Matthieu Zela has lived his life well. In fact, he's lived several lives well. Because Matthew Zela's life is characterised by one amazing fact: his body stopped ageing before the end of the eighteenth century.

Starting in 1758, a young Matthieu flees Paris after witnessing his mother's brutal murder. His only companions are his younger brother Tomas and one true love, Dominique Sauvet. The story of his life takes us from the French Revolution to 1920s Hollywood, from the Great Exhibition to the Wall Street Crash, and by the end of the twentieth century, Matthieu has been an engineer, a rogue, a movie mogul, a soldier, a financier, a lover to many, a cable TV executive and much more besides.

Brilliantly weaving history and personal experience, this is a dazzling story of love, murder, missed chances, treachery – and redemption.
September 1919: Twenty-year-old Tristan Sadler takes a train from London to Norwich to deliver a clutch of letters to Marian Bancroft. Tristan fought alongside Marian's brother Will during the Great War. They trained together. They fought together.

But in 1917, Will laid down his guns on the battlefield and declared himself a conscientious objector, an act which has brought shame and dishonour on the Bancroft family.

The letters, however, are not the real reason for Tristan's visit. He holds a secret deep within him. One that he is desperate to unburden himself of to Marian, if he can only find the courage. Whatever happens, this meeting will change his life – forever.
Keep Me Safe by Daniela Sacerdoti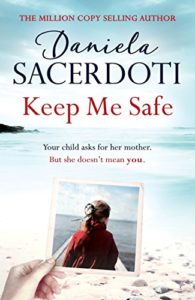 My daughter wants to go home…
When Anna's partner walks away from their relationship, she is shattered. But it is her little girl Ava who takes it hardest of all. The six year old falls silent for three days. When she does speak, her words are troubling. Ava wants to go home. To a place called Seal. To her other mother.
Anna knows to unravel the mystery she must find Seal and take Ava there. She hopes this tiny island will unlock her daughter's memories. But could it also offer a new life… and unexpected love… for Anna too?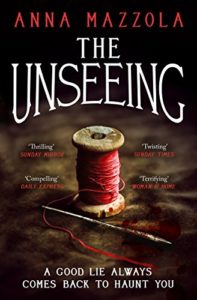 Set in London in 1837, Anna Mazzola's THE UNSEEING is the story of Sarah Gale, a seamstress and mother, sentenced to hang for her role in the murder of Hannah Brown on the eve of her wedding. Perfect for any reader of Sarah Waters or Antonia Hodgson. After Sarah petitions for mercy, Edmund Fleetwood is appointed to investigate and consider whether justice has been done. Idealistic, but struggling with his own demons, Edmund is determined to seek out the truth. Yet Sarah refuses to help him, neither lying nor adding anything to the evidence gathered in court. Edmund knows she's hiding something, but needs to discover just why she's maintaining her silence. For how can it be that someone would willingly go to their own death?
Has anybody read any of these or are you tempted to buy any of them after reading the blurb? I'd love to hear from you.