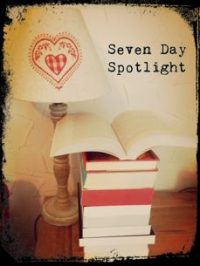 Seven Day Spotlight – week ending 06/11/16
So this week I finished two books.  I read the absolutely brilliant upcoming release from Belinda Bauer, The Beautiful Dead, which I reviewed here and just this morning I finished The Mountain in My Shoe by Louise Beech which is a beautiful read.  Look out for my review coming soon.
What will be a characteristic of this (what is to be) weekly post is that my 'out' books, as in those I have read during the week, will be a lot less than my 'in' books, my new acquisitions.  I long ago accepted I will never read all the books I add to the pile but I also long ago stopped caring.  I enjoy buying and receiving books almost as much as reading them.
This is what came in this week:
From Amazon Vine, what looks like a gripping psychological thriller, Tattletale by Sarah J Naughton.
The perfect brother. The perfect fiance. The perfect revenge.
A thriller you won't be able to predict.

One day changes Jody's life forever.
She has shut herself down, haunted by her memories and unable to trust anyone. But then she meets Abe, the perfect stranger next door and suddenly life seems full of possibility and hope.

One day changes Mags's life forever.
After years of estrangement from her family, Mags receives a shocking phone call. Her brother Abe is in hospital and no-one knows what happened to him. She meets his fiancé Jody, and gradually pieces together the ruins of the life she left behind. But the pieces don't quite seem to fit…
A couple of Kindle freebies (when I bought them):
Dark Mirrors by Siobháin Bunni
Esmée Myers, once an impassioned woman, is living a life where her only excitement is the laundry and the children. Her relationship with her husband leaves a lot to be desired, but she is content to focus on providing emotional stability and security for her two young children.

For her husband, Philip, she is no more than a housekeeper, childminder and cleaner, easy to betray but not so easy to fool . . .

When Esmée becomes convinced that Philip is having an affair, she secretly plans to leave him and set up a new home with the children. Finally making the break, she feels she can look forward to a bright and fulfilling future.

Then Philip disappears without trace, leaving only his car standing on a clifftop. Though no body is found, the police deduce he has committed suicide. Esmée, however, thinks otherwise.

What begins as a carefully planned escape from a maudlin and tedious relationship descends into something much darker as layer by layer Esmée strips back the last ten years of her life with a man it turns out she never really knew.
and Where There's a Will by Mary Malone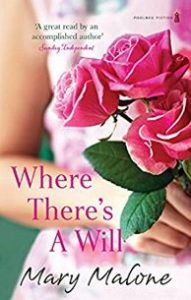 Inheritance – a sharp knife cutting through a family unit.

Kieran Dulhooly is shocked to discover he's the sole beneficiary of his Aunt Polly's will, inheriting her valuable West Cork home as well as a substantial amount of saving. But his windfall comes with a legal clause: he must live in the house for a period of 12 months before reviving rightful ownership. Kieran's euphoria is short-lived, his aunt's conditions stifling for her wanderlust nephew.

Waiting in the wings and next in line to inherit are Kieran's sisters, Beth and Charlotte. Having already earmarked Polly's money, financially distress Beth sets out on a course of destruction, determined to get her share – one way or another. In this, she has the full support of her mother Marian.

Will Kieran walk away from such an opportunity? Is settling in one place for a year beyond possible? Or will the spark he feels for the vulnerable girl next door prompt him to take a chance and accept Aunt Polly's challenge?
Souper Mum by Kristin Bailey is a book I keep seeing so I decided this was the week it would meet the rest of my TBR pile.  I think it's a really eye-catching cover.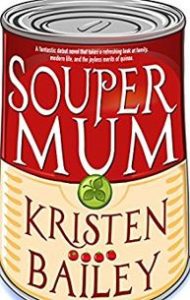 A fantastic debut novel that takes a refreshing look at family, modern life, and the joyless merits of quinoa.

Monday morning can't get any worse for harassed mum-of-four Jools Campbell when, after a frantic school run, she's cornered in the supermarket by pompous celebrity chef Tommy McCoy, who starts criticising the contents of her trolley. Apparently the fact that she doesn't make her own bread or buy organic is tantamount to child abuse. In a hurry and short of patience, she berates McCoy for judging her when she hasn't the time or the money to feed her family in line with his elitist ideals.

Unbeknownst to Jools, her rant has been filmed and immediately goes viral on YouTube, making her a reluctant celebrity overnight. With McCoy determined to discredit her by delving into her personal life, Jools decides it's time to fight her corner in the name of all the fraught mums out there who are fed up with being made to feel bad by food snobs like him. Armed with some fish fingers and her limited cooking repertoire, Jools must negotiate the unfamiliar world of celebrity while staying true to her instincts as a mum.
Is anybody else an absolute sucker for books with café or shop in the title?  I tried to resist The Cherry Tree Café by Heidi Swain but this one just made me buy it (that and encouragement from Jill at Jill's Book Café).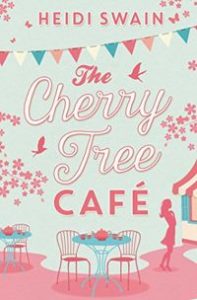 Cupcakes, crafting and love at The Cherry Tree Cafe… Perfect feel-good summer reading for fans of Great British Bake-Off
Lizzie Dixon's life feels as though it's fallen apart. Instead of the marriage proposal she was hoping for from her boyfriend, she is unceremoniously dumped, and her job is about to go the same way. So, there's only one option: to go back home to the village she grew up in and to try to start again.

Her best friend Jemma is delighted Lizzie has come back home. She has just bought a little cafe and needs help in getting it ready for the grand opening. And Lizzie's sewing skills are just what she needs.
With a new venture and a new home, things are looking much brighter for Lizzie. But can she get over her broken heart, and will an old flame reignite a love from long ago…?

For everyone who loves settling down to watch Great British Bake-Off, the Great British Sewing Bee, or curling up to read Milly Johnson or Jenny Colgan,The Cherry Tree Cafe is a coffee-break treat.
Next up, from Netgalley, a book that seems to have a lot of buzz around it, Good Me Bad Me by Ali Land.  I hope it lives up to all the hype.
'Annie's mother is a serial killer.The only way she can make it stop is to hand her in to the police.But out of sight is not out of mind.As her mother's trial looms, the secrets of her past won't let Annie sleep, even with a new foster family and name – Milly.A fresh start. Now, surely, she can be whoever she wants to be.But Milly's mother is a serial killer. And blood is thicker than water.Good me, bad me.She is, after all, her mother's daughter…
The Speech by Andrew Smith caught my attention because of the legendary Enoch Powell speech.  I like books that are set around real life events.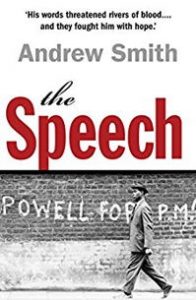 His words threatened rivers of blood…and they fought him with hope….

April 20th, 1968: Enoch Powell, MP for Wolverhampton South West, gives a speech that shakes a community — and Britain — to its very core. Words that provoke, that divide …. that profoundly affect the lives of those they touch.
Mrs. Georgina Verington-Delaunay is an administrator working in the Conservative riding office of Enoch Powell. Frank and Christine are art students inadvertently caught in an undercurrent of intolerance. Nelson and his Aunt Irene are Jamaican immigrants striving to make a life for themselves in a turbulent atmosphere.
In the shadow of Powell's speech, a violent crime brings these disparate characters together as they struggle to find their places in the swiftly changing society of 1960s Britain. Set against a background of 'subversive' music, radical fashions, and profound change in 'moral values', they attempt against all odds to bring a fair conclusion to an unjust investigation. As they work together against murky elements of self-interest and bigotry, they're forced to confront their own consciences and prejudices, and the reader is taken on a compelling journey into the beating heart of a community in turmoil.
Dark Angel by Geoffrey Archer is set in what I think is an interesting time, just after the Second World War.
Tom Sedley's idyllic summer vacation in a leafy post war suburb of north London came to an abrupt and shocking end on the 14th September, 1948 when his sister was brutally murdered in woodland near his house.

A tramp was arrested for the crime but for the young boy it was the end of childhood and the beginning of a lifelong search to discover what had actually happened that late summer day.

Marcus Warwick was Tom's neighbour and best friend but the murder changed their relationship forever: suspicion clouded Tom's mind and they drifted apart. Unknown to each other they were both sent to Korea two years later, Warwick an officer, Sedley as a humble radio man: and when they met in the chaos of war they both had to acknowledge a gulf of distrust and class had opened between the two.

Their new relationship was tested in the savagery of the combat that swept up and down the peninsula that first winter. When Tom and Marcus met again it was in combat and it soon became apparent that the one could barely trust the other with his life. The bitterness of what they experienced scarred them for the rest of their lives.

Only years later when Tom stumbles across his sister's secret diary do the events of 1948 once more leap into sharp focus and allow him to seek final justice for her murder.
Two more from Netgalley: Miss Treadway & the Field of Stars (couldn't resist the cover!)
How do you find a missing actress in a city where everyone's playing a role?

A mystery, a love-story and a darkly beguiling tale of secrets and reinvention set in 1960s London.

Soho, 1965.

In a tiny two-bed flat above a Turkish café on Neal Street lives Anna Treadway, a young dresser at the Galaxy Theatre.

When the American actress Iolanthe Green disappears after an evening's performance at the Galaxy, the newspapers are wild with speculation about her fate.

But as the news grows old and the case grows colder, it seems Anna is the only person left determined to find out the truth.

Her search for the missing actress will take her into an England she did not know existed: an England of jazz clubs and prison cells, backstreet doctors and seaside ghost towns, where her carefully calibrated existence will be upended by violence but also, perhaps, by love.

For in order to uncover Iolanthe's secrets, Anna is going to have to face up to a few of her own…
and The Phantom Tree by Nicola Cornick, which sounds right up my street.
"My name is Mary Seymour and I am the daughter of one queen and the niece of another."

Browsing antiques shops in Wiltshire, Alison Bannister stumbles across a delicate old portrait – supposedly of Anne Boleyn. Except Alison knows better… The woman is Mary Seymour, the daughter of Katherine Parr who was taken to Wolf Hall in 1557 as an unwanted orphan and presumed dead after going missing as a child.

The painting is more than just a beautiful object from Alison's past – it holds the key to her future, unlocking the mystery surrounding Mary's disappearance, and the enigma of Alison's son.

But Alison's quest soon takes a dark and foreboding turn, as a meeting place called the Phantom Tree harbours secrets in its shadows…
And finally, another book that I'm seeing all over the place – The Harbour Master by Daniel Pembrey.
Henk van der Pol is a 30-year-term policeman, a few months off retirement. When he finds a woman's body in Amsterdam Harbour, his detective instincts take over, even though it's not his jurisdiction. Warned off investigating the case, Henk soon realises he can trust nobody, as his search for the killer leads him to discover the involvement of senior police officers, government corruption in the highest places, Hungarian people traffickers, and a deadly threat to his own family…
So there you have it.  I'd love to hear thoughts on these or what you have bought this week.