Seven Day Spotlight – week ending 02/04/17
Gosh, we're into April already! This year is flying by. This week I read a lovely book called A Life Between Us by Louise Walters – you can read my review here. I was over the moon when Matador Publishing used a quote from it. It was my first time being quoted so you can imagine how excited I was.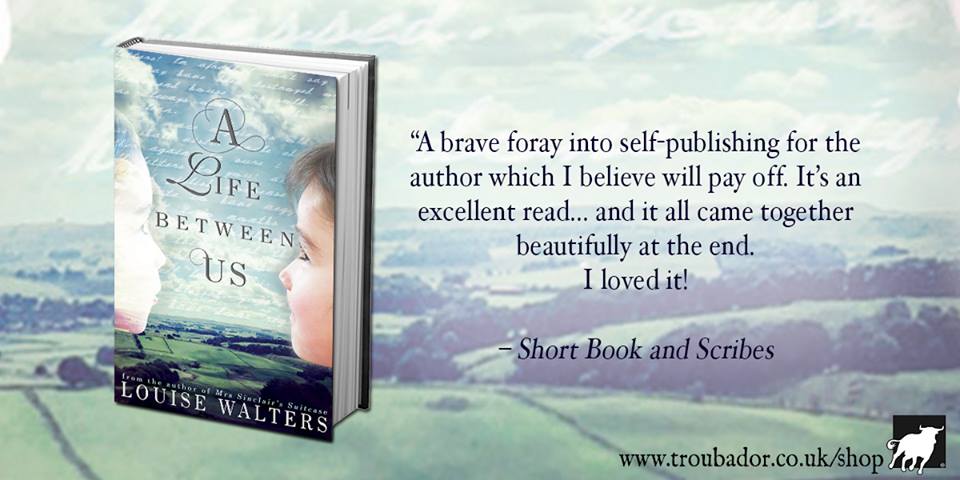 Also this week I had a fab guest post from Susan Elliot Wright, talking about her inspiration for her next book and a brilliant extract from It's Killing Jerry by Sharn Hutton. On that post I've got a giveaway running to win a copy of the book, a flat man bookmark and a yummy Lindt chocolate bunny so please do go and enter.
I've just finished Close to Me by Amanda Reynolds which has been a riveting read so look out for my review coming soon.
---
Also this week I've had a fantastic bit of post from new publishers Hideaway Fall. Obviously it had my name and address on but I've removed it for obvious reasons.
Inside was a fabulous looking package that I couldn't wait to unwrap.
There was a fantastic survival kit with journal and pens, candles, a little light, a pocket survival tool, bookmarks, postcards, tea bags and a fab bag to put it all in.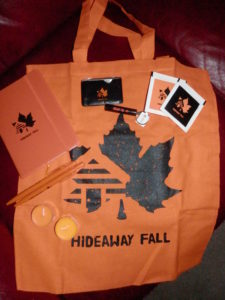 And on the back of the leaflet is a teaser of the book that they will be sending out to review soon. Big thanks to Hideaway Fall for such a brilliant bit of post!
---
And now to this week's acquisitions:
Alice by K.L. Loveley – in readiness for the blog tour coming soon.
Alice is near breaking point. Floods have left her beautiful dream home a damaged mess, her step children's lack of respect is giving her migraines and, worst of all, her husband is giving her no support to lean on. Her life is slowly spiralling out of control.
When Alice's daughter, Anne Marie, repeatedly falls victim to aggressive vandals, Alice finally can take no more. She decides to take control of the mess that has become her life, and finally frees herself from the chaos that has been bringing her down.
Freedom, however, isn't as sweet as Alice first thought it might be. She finds herself yearning for something she can't quite put her finger on. In her quest to find it, Alice finds herself turning to alcohol.
Little Teashop of Horrors by Jane Lovering – a look at the cover and a read of the first page left me unable to resist this one. Only 99p for Kindle folks.
Secrets, lies, carrot cake – and an owl called Skrillex!
Amy Knowles has always been the plain sidekick to her pretty best friend Jules. And whilst the tearoom they both work in on the Monkpark Hall estate in Yorkshire is not exactly awash with eligible bachelors, it's obvious where the male attention is concentrated – and it's not just on the cakes!
There is one man who notices Amy. Joshua Wilson also works at Monkpark, where he flies his birds of prey for visitor entertainment. He lives a lonely existence but he has reasons for choosing isolation – and, in Amy, he may have found somebody who understands.
Then a management change brings slick and well-spoken Edmund Evershott to Monkpark. He's interested in Amy too, but for what reason? Josh suspects the new manager is up to no good – but will Amy? Because Edmund could leave her with much worse than a broken heart
Little Gold by Allie Rogers – this is one of those books that just appealed straightaway. Gorgeous cover.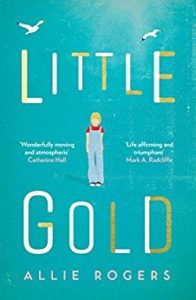 The heat is oppressive and storms are brewing in Brighton in the summer of 1982. Little Gold, a boyish girl on the brink of adolescence, is struggling with the reality of her broken family and a home descending into chaos. Her only refuge is the tree at the end of her garden.

Into her fractured life steps elderly neighbour, Peggy Baxter. The connection between the two is instant, but just when it seems that Little Gold has found solace, outsiders appear who seek to take advantage of her frail family in the worst way possible. In an era when so much is hard to speak aloud, can Little Gold share enough of her life to avert disaster? And can Peggy Baxter, a woman running out of time and with her own secrets to bear, recognise the danger before it's too late?
A Vintage Wedding by Katie Fforde – I do enjoy a Katie Fforde novel. They're so uncomplicated to read.
In a small Cotswold country town, Beth, Lindy and Rachel are looking for new beginnings.

So they set up in business, organising stylish and perfectly affordable vintage weddings.

Soon they are busy arranging other people's Big Days.

What none of them know is that their own romances lie waiting, just around the corner …
Did You See Melody by Sophie Hannah – this new, standalone, psychological thriller is creating quite a buzz.
Pushed to breaking point, Cara Burrows abandons her home and family and escapes to a five-star spa resort she can't afford. Late at night, exhausted and desperate, she lets herself into her hotel room and is shocked to find it already occupied – by a man and a teenage girl.

A simple mistake on the part of the hotel receptionist – but Cara's fear intensifies when she works out that the girl she saw alive and well in the hotel room is someone she can't possibly have seen: the most famous murder victim in the country, Melody Chapa, whose parents are serving life sentences for her murder.

Cara doesn't know what to trust: everything she's read and heard about the case, or the evidence of her own eyes. Did she really see Melody? And is she prepared to ask herself that question and answer it honestly if it means risking her own life?
Friend Request by Laura Marshall – another one with quite a buzz around it.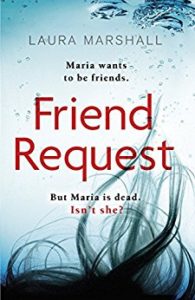 Maria wants to be friends.
But Maria is dead.
Isn't she?

When Louise Williams receives a message from someone left long in the past, her heart nearly stops.

Maria Weston wants to be friends on Facebook.

Maria Weston has been missing for over twenty-five years. She was last seen the night of a school leavers' party, and the world believes her to be dead. Particularly Louise, who has lived her adult life with a terrible secret.

As Maria's messages start to escalate, Louise forces herself to reconnect with the old friends she once tried so hard to impress. Trying to piece together exactly what happened that night, she soon discovers there's much she didn't know. The only certainty is that Maria Weston disappeared that night, never to be heard from again – until now. . .
When We Danced at the End of the Pier by Sandy Taylor – I read Sarah Hardy's review on her blog By the Letter Book Reviews and was sold.
Brighton 1930: Maureen O'Connell is a carefree girl, but her family is on the brink of tragedy, war is looming and life will never be the same again.

Jack and Nelson have always been dear friends to Maureen. Despite their different backgrounds, they've seen each other through thick and thin.

As Maureen blossoms from a little girl into a young woman, the candle she's always held for Jack burns bright. But just as she's found love, war wrenches them apart. The man she cherishes with all her heart is leaving.

When the bombs start to fall, Maureen and her family find themselves living in the most dangerous of times. With Jack no longer by her side and Nelson at war, Maureen has never felt more alone. Can she look to a brighter future? And will she find the true happiness she's dreamt of?
The Beauty Shop by Suzy Henderson sounds like such a wonderful read and another 99p bargain.
England, 1942. After three years of WWII, Britain is showing the scars. But in this darkest of days, three lives intertwine, changing their destinies and those of many more.

Dr Archibald McIndoe, a New Zealand plastic surgeon with unorthodox methods, is on a mission to treat and rehabilitate badly burned airmen – their bodies and souls. With the camaraderie and support of the Guinea Pig Club, his boys battle to overcome disfigurement, pain, and prejudice to learn to live again.

John 'Mac' Mackenzie of the US Air Force is aware of the odds. He has one chance in five of surviving the war. Flying bombing missions through hell and back, he's fighting more than the Luftwaffe. Fear and doubt stalk him on the ground and in the air, and he's torn between his duty and his conscience.

Shy, decent and sensible Stella Charlton's future seems certain until war breaks out. As a new recruit to the WAAF, she meets an American pilot on New Year's Eve. After just one dance, she falls head over heels for the handsome airman. But when he survives a crash, she realises her own battle has only just begun.

Based on a true story, "The Beauty Shop" is a moving tale of love, compassion, and determination against a backdrop of wartime tragedy.
The Readers of Broken Wheel Recommend by Katarina Bivald – I can't resist a book about books.
Sara has never left Sweden but at the age of 28 she decides it's time. She cashes in her savings, packs a suitcase full of books and sets off for Broken Wheel, Iowa, a town where she knows nobody.

Sara quickly realises that Broken Wheel is in desperate need of some adventure, a dose of self-help and perhaps a little romance, too. In short, this is a town in need of a bookshop.

With a little help from the locals, Sara sets up Broken Wheel's first bookstore. The shop might be a little quirky but then again, so is Sara. And as Broken Wheel's story begins to take shape, there are some surprises in store for Sara too…
My Sister and Other Liars by Ruth Dugdall – I don't very often choose a Kindle First book but when the choices came through this one was a no-brainer for 99p.
Sam is seventeen, starving herself and longing for oblivion. Her sister, Jena, is mentally scarred and desperate to remember. Between them, they share secrets too terrible to recall.

Eighteen months earlier, Sam was still full of hope: hope that she could piece together Jena's fragmented memory after the vicious attack that changed their family forever. But digging into the past unearthed long-hidden lies and betrayals, and left Sam feeling helpless and alone in a world designed to deceive her.

Now, in a last bid to save her from self-imposed shutdown, Sam's therapist is helping her confront her memories. But the road to recovery is a dangerous one. Because Sam has not only been lying to her doctors: she's been hiding dark secrets from herself.
The Witchfinder's Sister by Beth Underdown – another steal at 99p
'The number of women my brother Matthew killed, so far as I can reckon it, is one hundred and six…'

1645. When Alice Hopkins' husband dies in a tragic accident, she returns to the small Essex town of Manningtree, where her brother Matthew still lives.

But home is no longer a place of safety. Matthew has changed, and there are rumours spreading through the town: whispers of witchcraft, and of a great book, in which he is gathering women's names.

To what lengths will Matthew's obsession drive him?
And what choice will Alice make, when she finds herself at the very heart of his plan?
Undercurrent by J.A. Baker – I saw this one only this morning on Emma the Little Bookworm's blog and loved the sound of it – another 99p bargain.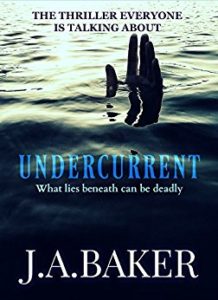 Phoebe and her disabled husband, Martyn, move into a new house in a village on the edge of County Durham. They plan to lead a quiet existence, a set up that suits them both.

Then Anna, who lives over the road and is bored of spending her days alone, seeks friendship with Phoebe and events take a dark turn.

Phoebe has secrets and is haunted by her past and Anna's arrival in her life may prove to be the catalyst for her undoing.

What is Phoebe hiding and why are she and her husband so reclusive?

When Anna gets caught in a storm and is rescued by Phoebe the truth becomes apparent and Anna is thrown into danger.

Is there a difference between madness and evil?

Some friendships can be murder.
I'd love to hear any comments on these books.