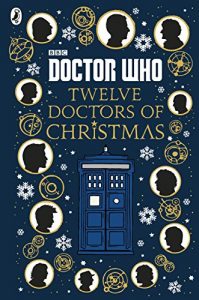 Twelve Doctors of Christmas by Various @PuffinBooks
A beautifully illustrated collection of new Doctor Who stories, each featuring one of the twelve Doctors on a festive adventure in theTARDIS.

Written by six authors and with a full-page colour illustration for each story, these tales are full of magic, mystery, wonder, excitement – and everything else that fans love about a Doctor Who Christmas special.
This is a beautifully presented clothbound book containing twelve stories of twelve doctors.  Starting from the first one we move through each regeneration until we are right up to date.  It's a festive collection so we have stories like The Grotto, where the Seventh Doctor meets an alien in Santa's Grotto in Macy's department store in New York.  Or The Ghost of Christmas Past where the Eighth Doctor receives a message from the past.
What was really nice was that each incarnation of the doctor was very recognisable so if you enjoy the television series then this will appeal to you.  As a more recent viewer I liked the later stories featuring doctors I know, but I also particularly enjoyed the first story in which a Christmas wish for the doctor's companion is granted.
There is a stunning high-gloss illustration to accompany each tale showing a scene from the story and this is an all-round lovely book to behold.
This is definitely not just for children.  It's ideal for any Doctor Who fan and each story is just as strong and interesting as the previous one.
Twelve Doctors of Christmas by Jacqueline Rayner, Colin Brake, Richard Dungworth, Mike Tucker, Scott Handcock and Gary Russell was published on 13th October 2016 by BBC Children's Books.