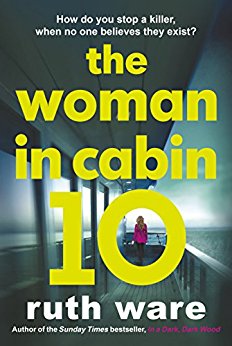 The Woman in Cabin 10 by Ruth Ware
Laura 'Lo' Blacklock is a travel journalist. She's invited onto the inaugural voyage of a small boutique cruise ship. It comes at just the right time after she is burgled at her London flat and she's glad to get away. But from day one on the ship things go badly for Lo. She hears a body being thrown into the sea from the next door cabin but when she goes to investigate she finds that that cabin was never occupied. What's going on and who did she hear being tipped overboard?
I enjoyed this book, which is a twist on the classic locked room mystery. As with a lot of these psychological thrillers, to make the story work the author sometimes has to compromise on plausibility but I was sufficiently interested in Lo's story to keep reading to the end. The cruise ship makes for an interesting and different setting and it's a clever story idea, even if it did sort of descend into a daft end. Lo is an unreliable narrator and is ever so slightly irritating but she's more likable than the rest of the characters.
An oppressive murder mystery, I found it very readable.
4/5
The Woman in Cabin 10 was published by Harvill Secker on 30th June 2016.