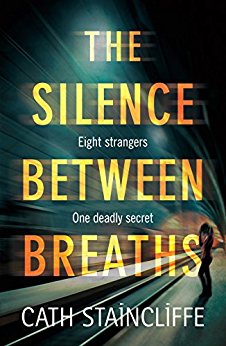 The Silence Between Breaths by Cath Staincliffe
I'm a big fan of Cath Staincliffe's books so was really looking forward to reading The Silence Between Breaths. Most of it takes place on the 10:35 train from Manchester Piccadilly to London Euston where we follow a group of people who don't know each other. Each chapter is told by a different character and this works really well as we hear from them and then see them through a different person's eyes later on. A particular favourite of mine is Jeff, a young unemployed man heading to London for an interview for an apprenticeship. His self-deprecatory humour had me smiling to myself many times in what is ultimately a very sad story.
For sitting amongst the passengers is a young man with a rucksack, ready to cause destruction. The later parts of the story deal with what happened afterwards.
This is such a brilliant book. It's so easy to read and yet so deep and moving. I found it very poignant and had tears in my eyes on quite a few occasions. Staincliffe is an emotive and empathetic writer and she gets to the heart of the feelings of her characters. This is also a topical book and certainly made me think "what if?".
This is a really fantastic book. I don't think this author can do anything wrong for me!
5/5
With thanks to the publishers and Netgalley for the review copy.  The Silence Between Breaths was published on 22nd September 2016 by Constable.