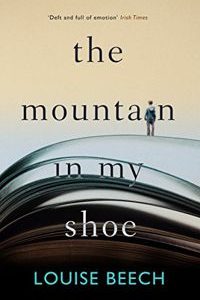 The Mountain in My Shoe by Louise Beech
The Mountain in My Shoe is the story of Bernadette and Conor.  Conor is a 10 year old boy who has been pushed from pillar to post through the care system. His mum can't look after him properly and he has never known who his dad is, but at least now he has a stable home with his long-term foster carer, Anne.  Bernadette is a volunteer for Befriend for Life and has been a friend to Conor for the last five years, meeting him once a fortnight and taking him out and generally being a supportive adult influence for him.  All in one night, Conor goes missing, Bernadette's husband, Richard, doesn't come home, and Conor's lifebook, which people have been adding to all his life, also goes missing.
This is a beautifully written, imaginative and profound book, told from the viewpoints of Conor and Bernadette, and interspersed with sections from the lifebook, which help to explain certain things or set the scene.  Louise Beech has perfected the art of showing and not telling the reader what is happening.  Her characters are so well drawn that I felt like I got to know them and what they were thinking, and I completely empathised with the main players.  Conor is a lovely boy but, probably unlike many other readers of this book, Bernadette was the person who I most wanted to hear from.  I thought she was a lovely person and I wanted her to be happy.
The backdrop to the story is well-written too.  The trees outside Bernadette's home and the river play their own parts in the story.
I'm a bit surprised to find it has been called a psychological thriller.  It has psychological aspects to it but I don't think it's a thriller.  It's a moving piece of literary fiction.  It's a complex story but it feels effortless to read and never complicated.  There was something so quietly involving about it, it sort of crept up on me and I got to the end and felt completely satisfied.
I think that Louise Beech is one to watch in the future.
Thank you to the publishers and Nudge/New Books magazine for providing a copy for review.  The Mountain in My Shoe was published on 30th September 2016 by Orenda Books.