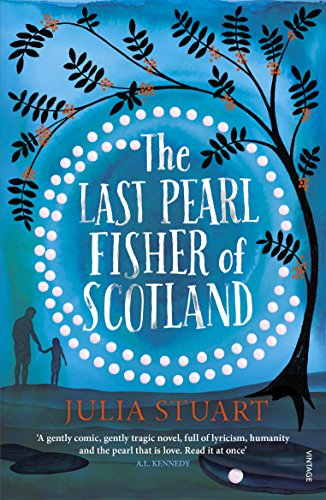 The Last Pearl Fisher of Scotland by Julia Stuart
I read Balthazar Jones and the Tower of London Zoo a few years ago and thought it was a lovely, quirky read. So when I saw that Julia Stuart had a new book out I snapped it up. The Last Pearl Fisher of Scotland is just as charming and lovely and I really enjoyed it.
Brodie McBride is the last full time pearl fisher in Scotland, scouring the rivers for mussel shells and checking them for pearls. He's looking for the one that he needs to finally complete a necklace for his wife, Elspeth. Their daughter, Maggie, senses things aren't quite right at home. Pearls are getting harder to find and the money coming into the house is scarcer and scarcer. Maggie does something that has far-reaching consequences for not just her family but everybody in Nether Isla, where they live.
This is an original and unusual story with some very likable characters. It's very endearing and it made me smile with its gentle humour throughout, although there are also plenty of moving moments too. Very charming and beautifully written. I've now ordered the Julia Stuart books that I haven't read as I'm sure they are more of the same.
5/5
With thanks to the publishers and Amazon Vine for the review copy.  The Last Pearl Fisher of Scotland was published on 25th August 2016 by Vintage.