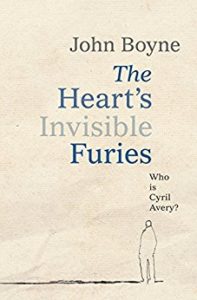 The Heart's Invisible Furies by John Boyne @john_boyne @TransworldBooks @DoubledayUK
Cyril Avery is not a real Avery or at least that's what his adoptive parents tell him. And he never will be. But if he isn't a real Avery, then who is he?

Born out of wedlock to a teenage girl cast out from her rural Irish community and adopted by a well-to-do if eccentric Dublin couple via the intervention of a hunchbacked Redemptorist nun, Cyril is adrift in the world, anchored only tenuously by his heartfelt friendship with the infinitely more glamourous and dangerous Julian Woodbead.

At the mercy of fortune and coincidence, he will spend a lifetime coming to know himself and where he came from – and over his three score years and ten, will struggle to discover an identity, a home, a country and much more.

In this, Boyne's most transcendent work to date, we are shown the story of Ireland from the 1940s to today through the eyes of one ordinary man. The Heart's Invisible Furies is a novel to make you laugh and cry while reminding us all of the redemptive power of the human spirit.
I'm a huge fan of John Boyne's writing. Although probably best known for The Boy in the Striped Pyjamas, he's also written Crippen, This House is Haunted, A History of Loneliness and many more.  What links his books is the sheer quality of the writing, what sets them apart is they are all so different. He's such a versatile writer.
I understand that Boyne has avoided writing about his native Ireland in the past but he did venture there in A History of Loneliness, his last novel. However, in The Heart's Invisible Furies he places Ireland at the very heart of the story and doesn't hold back. At the end there is a note which finishes with a comment that this is considered to be his most ambitious work to date and I would most definitely agree with that.
The book tells the story of Cyril Avery (not a real Avery, as his adoptive parents keep reminding him) almost from conception to the age of 70. Cyril is a bit hapless and seems to lurch from one disaster to another but there is also a real sense of sadness for the reader. Cyril is homosexual in a country that can barely imagine such a thing, let alone tolerate it. He struggles to deal with his feelings and longs to be free of his shackles. The influence of the Catholic Church is in no doubt throughout this book.
There is some truly fantastic writing. I laughed out loud many times and I have to quote a couple of extracts because it's just inspired writing.
"….and as he turned his head away he noticed me sitting outside and offered an apologetic wave, four of his fingers dancing despondently in the air like an imprisoned pianist forced to play one of Chopin's more depressing sonatas from memory."
" 'Can I help you?' asked Maude, turning to her with all the warmth of Lizzie Borden dropping in to say goodnight to her parents."
Cyril is a great protagonist. Sometimes I just wanted to shake my head at him, other times I was rooting for him.  But I liked him immensely. He's a good guy, mostly a victim of his circumstances.
As the story commenced and I had almost 600 pages of reading ahead of me I did briefly wonder if this would be the one book by John Boyne that wouldn't quite hit the spot for me but after a slightly slow start I was absolutely engrossed.
The Heart's Invisible Furies is one epic tale of a life with many ups and downs. There are some amazing coincidences in the story but instead of making me think it was a bit unrealistic, I actually loved how it all came together.  Boyne is unflinching in his searing depiction of his country and its people. The book covers many important events such as 9/11 and the referendum in 2015 to legalise gay marriage.  It's Cyril's memoir, his life. I absolutely adored it. There are some authors who can do no wrong for me and Boyne is one of them.
Thank you to the publishers, Amazon Vine and Netgalley for the review copies.  The Heart's Invisible Furies is published on 9th February by Doubleday.