#shortbookscribe #bookreview – One Summer in Italy by Sue Moorcroft @SueMoorcroft @AvonBooksUK #BlogTour
I'm delighted to welcome you to my stop on the blog tour for One Summer in Italy by Sue Moorcroft today. She's an author I've been wanting to try for a while so I'd like to thank Sabah Khan from Avon Books for the place on the tour and the review copy.
When Sofia Bianchi's father Aldo dies, it makes her stop and look at things afresh. Having been his carer for so many years, she knows it's time for her to live her own life – and to fulfil some promises she made to Aldo in his final days.

So there's nothing for it but to escape to Italy's Umbrian mountains where, tucked away in a sleepy Italian village, lie plenty of family secrets waiting to be discovered. There, Sofia also finds Amy who is desperately trying to find her way in life after discovering her dad isn't her biological father.

Sofia sets about helping Amy through this difficult time, but it's the handsome Levi who proves to be the biggest distraction for Sofia, as her new life starts to take off…
You can get One Summer in Italy now in ebook and paperback.
---

The bestselling author, Katie Fforde, says that she "loves all of Sue Moorcroft's books". High praise indeed and I can't echo her sentiment, purely because this is my first Moorcroft. However, I really can't see it being my last so maybe at some point I will be able to say something along the same lines. I've heard so many good things about this author that I jumped at the chance to read One Summer in Italy, especially as Italy is one of my very favourite places. I was, as they say, sold!
Sofia Bianchi is a woman in her thirties who has never had much of a life. She spent over half her life caring for her Italian father who had a weak heart. Her English mother had passed away when she was only 5 and she was unaware of any family left in Italy until just before her father died. This prompts her to go to his home village in Umbria, and to get a job working in a hotel for the summer.
She meets Amy, an 18 year old running away from upsetting news at home, and also Levi, a guest who sticks up for Amy and most definitely catches Sofia's eye.
I thought One Summer in Italy was a charming read. I loved Sofia, level-headed, calm in the face of all kinds of adversity and a steadying influence on the volatile and immature Amy, who I didn't take to quite as much. I recognise that she had to be immature and selfish for the storyline to work though. Now Levi, well, I did take to him. He's such a lovely character and I loved the way he behaved around Sofia.
Also, I can't not mention the setting. As I said, Italy is somewhere I love and I so enjoyed reading the descriptions of the area and the views. I could just imagine myself there, sipping a glass of Orvieto Classico or even limoncello (which I did actually have a drink of whilst I was reading this book, just for an authentic reading experience, you understand).
I found One Summer in Italy to be a really enjoyable, light read and yet it did address some deeper issues. The perfect combination, perhaps. It's a story with lots of ups and downs and all I wanted for the characters was a happy ending. You'll have to read it yourself to see if that's what they got. I'd definitely recommend it for your summer reading pile.
---

---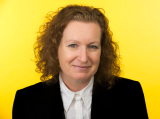 Sue Moorcroft is a Sunday Times bestselling author, an international bestselling author and has held the #1 spot in the UK Kindle chart. She writes contemporary fiction with sometimes unexpected themes.
Sue has won a Best Romantic Read Award, received two nominations at the Romantic Novel of the Year Awards and is a Katie Fforde Bursary winner. Her short stories, serials, articles, columns, courses and writing 'how to' have sold around the world.
An army child, Sue was born in Germany then lived in Cyprus, Malta and the UK. She's worked in a bank, as a bookkeeper (probably a mistake), as a copytaker for Motor Cycle News and for a digital prepress. She's pleased to have now wriggled out of all 'proper jobs'.