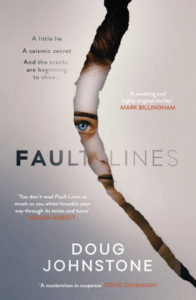 #shortbookscribe #bookreview – Fault Lines by Doug Johnstone @doug_johnstone @OrendaBooks #RandomThingsTours #BlogTour
I'm so pleased today to be reviewing Fault Lines by Doug Johnstone as part of the blog tour organised by Anne Cater of Random Things Tours. I'd like to thank Anne for the place on the tour and Orenda Books for the review copy. Once again, this is an Orenda book that totally hit the spot for me.

A little lie … a seismic secret … and the cracks are beginning to show…

In a reimagined contemporary Edinburgh, where a tectonic fault has opened up to produce a new volcano in the Firth of Forth, and where tremors are an everyday occurrence, volcanologist Surtsey makes a shocking discovery.
On a clandestine trip to new volcanic island The Inch, to meet Tom, her lover and her boss, she finds his lifeless body, and makes the fatal decision to keep their affair, and her discovery, a secret. Desperate to know how he died, but also terrified she'll be exposed, Surtsey's life quickly spirals into a nightmare when someone makes contact – someone who claims to know what she's done…
You can get the ebook of Fault Lines for just 99p and it's also available in paperback.
---
I wasn't completely certain what to expect from Fault Lines but it intrigued me so much, and given that I'd heard some great things about it, I knew I wanted to give it a go. I wasn't disappointed, in fact I loved this book.
Surtsey McKenzie lives in Edinburgh. But this is not Edinburgh as we know it. In this Edinburgh there is a volcanic island in the Firth of Forth called The Inch. Surtsey is part of a volcanology team studying the island and one day she discovers the body of her lover, Tom, there. This sets in motion a chain of events in which Surtsey finds herself lurching from one shocking event to another.
This is such a clever and engrossing read. The different, but so similar, landscape is fascinating and the idea that there could be a volcanic island in the UK and earthquakes happening all the time is a little freaky. I think what worked so well for me was that it was so plausible in that it was worked into the story as just part of everyday life, something that the locals saw every day.
Then there's Surtsey, with the fabulous name (she was named after an Icelandic volcanic island). She's mid-20s, pretty difficult to like, prickly and as volatile as a volcano, and yet I did rather like her. She's very strong, very confident and I liked that about her. I didn't take to any of the characters particularly, but I don't care about that and don't need to like characters when the story is so strong and so well plotted.
Fault Lines is a thriller and a murder mystery. It really did thrill me. It is a short read at 215 pages and I shot through it. Short chapters helped as it was always a case of just one more, just another one. I was so drawn into the suspense and needed to know what was going to happen.
The ending was a real wow ending. Not something I was expecting to happen at all, (although perhaps I should have) and a very imaginative way to round up one particular character's role. I thoroughly enjoyed my time reading this imaginative and intense story.
---

---

Doug Johnstone is a writer, musician and journalist based in Edinburgh. His seventh novel, The Jump, was published by Faber & Faber in August 2015. Gone Again (2013) was an Amazon bestseller and Hit & Run (2012) and was an Amazon #1 as well as being selected as a prestigious Fiction Uncovered winner. Smokeheads (2011) was nominated for the Crimefest Last Laugh Award. Before that Doug published two novels with Penguin, Tombstoning (2006) and The Ossians (2008). His work has received praise from the likes of Irvine Welsh, Ian Rankin, William McIlvanney, Megan Abbott and Christopher Brookmyre.
In September 2014 Doug took up the position of Royal Literary Fund Fellow at Queen Margaret University in Edinburgh. Doug was writer in residence at the University of Strathclyde 2010-2012 and before that worked as a lecturer in creative writing there. He's had short stories appear in various publications and anthologies, and since 1999 he has worked as a freelance arts journalist, primarily covering music and literature. Doug is currently also working on a number of screenplays for film and television. He is also a mentor and manuscript assessor for The Literary Consultancy.
Doug is one of the co-founders of the Scotland Writers Football Club, for whom he also puts in a shift in midfield. He is also a singer, musician and songwriter in several bands, including Northern Alliance, who have released four albums to critical acclaim, as well as recording an album as a fictional band called The Ossians. Doug has also released two solo EPs, Keep it Afloat and I Did It Deliberately.
Doug has a degree in physics, a PhD in nuclear physics and a diploma in journalism, and worked for four years designing radars.
He grew up in Arbroath and lives in Portobello, Edinburgh with his wife and two children.