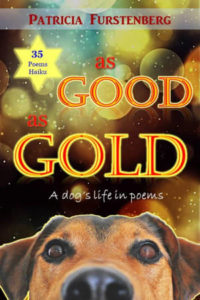 #shortbookscribe #bookreview – As Good As Gold by Patricia Furstenberg @PatFurstenberg #poetry #BlogTour
Welcome to my stop on the blog tour for As Good As Gold, a new book of poems and haiku by Patricia Furstenberg. Thank you Patricia for asking me to be a part of it and for providing a review copy.
As engaging as a tail wag

Celebrating the simple things in life as seen through the eyes of our old time favourite furry friends, "As Good as Gold" is a volume of poetry revealing the talent and humour we always knew our dogs possessed.

Dogs are full of questions, yet they are famed sellers of innocence especially when it comes to explaining their mishaps and often foolish effervescence through ponderings such as "Why IS a Cat Not Like a Dog", "As Brown as Chocolate", "Silver Stars and Puppy Tail" or, best yet, "Dog or Book?"

A book with an enormous heart for readers of all ages, it includes 35 poems and haiku accompanied by expressive portraits of our canine friends.
Amazon and Book links:
---

I'm not a great reader of poetry, but when I do read it, it has to be accessible and easy to read otherwise I'm lost. I couldn't resist this compilation of poems about dogs though and I can say that it is definitely full of accessible and very sweet poetry.
It's made up of 35 poems and haiku and is separated into sections with the headings: Questions, Colours, Musings and Haiku. The very first poem is one of the Questions and is called Why, Hedgehog? It's a lovely start to the collection and is one of several similar poems, with dog questioning why. In between each poem is a gorgeous photo of a dog.
I think my favourite poem was probably Dog or Book from the Musings section. As a book lover and an animal lover I thought it was quite lovely. Another favourite was Why, Cat. The relationship between cat and dog in the same household can be quite difficult and I thought this poem about them learning to live together was particularly fine. I also must say that I really liked the haiku – these short bursts of Japanese poetry really intrigued me.
All in all, it's a lovely book. I think it would appeal to any dog lover or animal lover, children and adults alike.
---

---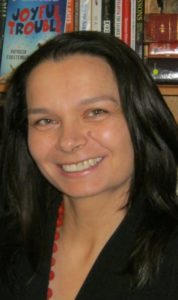 Patricia Furstenberg came to writing through reading. She always carries a notebook and a pen, although at times she jots down her ideas on the back of till slips or types them on her phone.
Patricia enjoys writing for children because she can take abstract, grown-up concepts and package them in humorous, child-friendly ideas while adding sensitivity and lots of love. What fuels her is an exhilarating need to write and… coffee: "How many cups have had this morning?" "None." "Plus?" "Five cups."
Between her books you can find the beloved Joyful Trouble, The Cheetah and the Dog, Puppy, 12 Months of Rhymes and Smiles.
She is a Huffington Post contributor and pens the Sunday Column for MyPuppyclub.net as well as dabbing in freelancing. After completing her Medical Degree in Romania she moved to South Africa where she now lives with her husband, children and their dogs.
Pat's books on Amazon UK / Amazon US / Amazon Canada