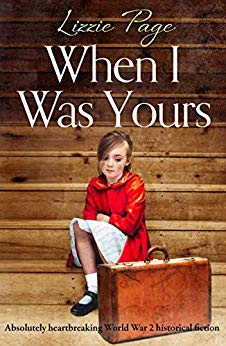 ShortBookandScribes #PublicationDay #BookReview – When I Was Yours by Lizzie Page @LizziePagewrite @bookouture
You may remember from last year's top reads that Daughters of War by Lizzie Page was one of my favourite books of 2018, so I obviously jumped at the chance to read When I Was Yours which is published today. Happy publication day, Lizzie! Read on for my thoughts. My thanks to Bookouture for the review copy via Netgalley and thank you, Lizzie, for mentioning me in the acknowledgements!!!
---
We stand in the back of the hall as the children troop in. Big ones, little ones. Straggly hair, cropped hair, curls… the adults surge forward to choose and soon there is just one child left, a little girl sitting on the floor. She is thin as a string bean and her sleeve is ragged and damp – like she's been chewing it.

1939. War has broken out – hundreds of children are evacuated to the countryside to keep them safe from the bombs raining down on the cities. Wrenched from her family in the East End and sent more than a hundred miles away, seven-year-old Pearl Posner must adapt to a new life away from everything familiar.

Vivienne didn't ask for an evacuee child. In fact, she's not sure her heart can take it. So many years, so many disappointments… Vivi's ability to feel love left her the day she learned the truth about her husband Edmund, and when she made the worst decision of her life and left her cherished sister to her fate. But like it or not, Pearl is here to stay, and what with the rumours about what's happening to children in mainland Europe, it might be the last safe place for her.

As Pearl and Vivi learn how to live together, they discover that they have a connection that runs more deeply than they could ever have guessed – from before Pearl was born, and deep into Vivienne's past. And will it be Pearl – the little girl who says so little and sees so much – who forces Vivi to finally confront what happened in her marriage… and to the long-lost sister she loved so dearly and let fall so far, just when she needed Vivi most?

A beautiful and emotional wartime historical novel – heartbreaking, moving and unforgettable. Perfect for fans of Orphan Train and Before We Were Yours.
---

I'm a big fan of Lizzie Page's writing and enjoyed this, her third book, so very much. The three books kind of make up a trilogy of war fiction but don't worry about reading them in order as each story is completely standalone (but with some lovely little touches that I will talk about later).
So When I Was Yours. This one appears, from the blurb, to be set during the Second World War. The previous two books were set in the First World War. I wondered to myself how the author would fare writing about the second war when her writing had previously been very much entrenched in the first. Well no worries at all, as it happens, for two reasons. The first is that Page is a wonderful writer, one that draws me in to the story completely and utterly (by the end of the first chapter I thought to myself that I was going to love this book). The second reason is that this is actually a dual timeline novel with one strand set during World War Two and the other during World War One so the familiarity from the previous books remains.
In her notes at the end of the book Page states that she wanted to explore one character living during both of the wars and that character is Vivienne. In 1939, she finds herself taking in an evacuee from London, Pearl. Vivienne is living a half life with her husband, Edmund, and it turns out that Pearl being around gives Vivienne the chance to try and make her life whole again.
Back in 1915, Vivienne and her sister, Olive, had been FANYs (the First Aid Nursing Yeomanry), ambulance drivers in France during the carnage of the first war. This is where the author is back on familiar ground as her first two books had similar themes. I really liked how the two strands came together, in alternating chapters, so that I could see how what had happened previously was affecting what was happening 'now'. At times, I wanted to put my hands into the book, get hold of Vivienne and give her a damn good shake. She's a lovely person, but my goodness, also naive and capable of making some really bad decisions.
One thing that I absolutely love about Lizzie Page's books is the way she always weaves some real life characters and events into the story. This time, she has Olive Mudie-Cook, a renowned war artist and, for the purposes of this book, Vivienne's younger sister. And she also has Ivor Novello when he was still called David, and Lena Guilbert Ford, actually composing Keep the Home Fires Burning (one of my favourite wartime songs ever). It makes for fascinating reading along with the return of one or two characters from The War Nurses. I love this sort of thing!
When I Was Yours has it all going on. It has wonderful characters (despite what I said earlier, I loved Vivienne), is brilliantly plotted with a delightfully intertwined story, it has the heartbreak of war and a gorgeous love story. Once again, Lizzie Page has written a book that transported me off to the hell of the war front but this time adding the stoicism of the home front. I thought it was fantastic.
---

I love reading ALL the books, and I've always loved reading the adventures of women in the past so it seemed natural to me to write historical fiction.
'The War Nurses' is the first in a trilogy inspired by Elsie Knocker and Mairi Chisholm who served on the Western Front during World War One.
There is romance, there is love, but mostly this is a story about a fierce friendship and how differently we respond to major events beyond our control.
'Daughters of War' is the second book in the trilogy – but don't be put off, it is a standalone book (although some old friends may well pop up here!) The story was inspired by the American writer, poet, political 'influencer', Mary Borden. It fictionalizes her time working in a hospital in the Somme and being apart from her children. If I had to sum it up in five words, I would say it's about the search for belonging.
'When I Was Yours' is my third novel – and I can't wait to hear what you think. It's a dual timeline story. The main character, Vivienne, takes in an evacuee during the second world war and reflects on her time during the First World War. The story was inspired by several real-life characters including the fascinating American songwriter, Lena Guilbert Ford, and the fabulous war-artist, Olive Mudie-Cooke. And also my Dad, who was evacuated from the East End of London to Leicester for most of the war. 🙂
I hope the series helps shine a light on the achievements, love and relationships of twentieth-century women, and that you find all the books both entertaining and moving.
Author bio and photo taken from Amazon