ShortBookandScribes #PublicationDay #BookReview – The Storyteller of Casablanca by Fiona Valpy #BlogTour
Welcome to my stop on the blog tour for The Storyteller of Casablanca by Fiona Valpy. It's publication day so congratulations Fiona! My thanks to Rhiannon Morris from FMcM Associates for the place on the tour and for sending a proof copy of the book and a jar of honey. Why honey, you might ask? It was to make Ghoribas which one of the characters makes in the book. They're a kind of Moroccan cookie and I did give it a go. Whilst I don't think they're quite right, they're still quite tasty.
---

---
In this evocative tale from the bestselling author of The Dressmaker's Gift, a strange new city offers a young girl hope. Can it also offer a lost soul a second chance?

Morocco, 1941. With France having fallen to Nazi occupation, twelve-year-old Josie has fled with her family to Casablanca, where they await safe passage to America. Life here is as intense as the sun, every sight, smell and sound overwhelming to the senses in a city filled with extraordinary characters. It's a world away from the trouble back home―and Josie loves it.

Seventy years later, another new arrival in the intoxicating port city, Zoe, is struggling―with her marriage, her baby daughter and her new life as an expat in an unfamiliar place. But when she discovers a small wooden box and a diary from the 1940s beneath the floorboards of her daughter's bedroom, Zoe enters the inner world of young Josie, who once looked out on the same view of the Atlantic Ocean, but who knew a very different Casablanca.

It's not long before Zoe begins to see her adopted city through Josie's eyes. But can a new perspective help her turn tragedy into hope, and find the comfort she needs to heal her broken heart?
---

---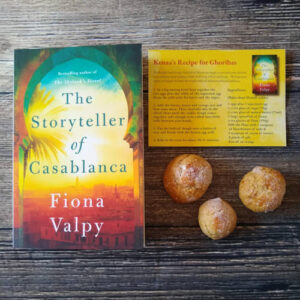 I don't think I've ever read a book set in Morocco before and Fiona Valpy brings Casablanca to life beautifully in this book. I got a real sense of what it would be like to live there, both in 1941 and in 2010, with the shimmering heat, the warren of streets, the markets, the food, the smells.
In 2010, Zoe and her husband, Tom, have just moved to Casablanca. It's an attempt at a new start for the two of them as it's clear that this is a marriage that is struggling. One day, Zoe finds a Sandalwood box beneath the floorboards in the attic of their new home. It contains some treasures and a journal written by Josie, a 12 year old French girl whose bedroom the attic was when her family left war-torn France for Casablanca, with America being the end goal. Zoe reads Josie's journal and learns the story of her time in Casablanca and it helps her to begin to settle in herself.
I felt that this was a book with two distinct sections. Not Zoe's story and Josie's story, but more the build up and the denouement. It's clear that Josie's story, set as it is during wartime, may be quite dramatic and it's also clear that there's more to Zoe and Tom's arrival in Casablanca than the reader is initially privy to. Much of the book is given over to scene-setting, building up the story and characters, and then along comes the finale with one or two unexpected twists in the tale.
This is a gentle read, one that is quite melancholic and poignant. I found Josie to be a brave and clever narrator in the face of leaving all she knew behind. Zoe is more of a closed book and as such it took a little longer to get to know her. The two stories intermingle well and I thought the author wound up the story as a whole perfectly.
If you want to be transported to Morocco then The Storyteller of Casablanca will take you there. It's evocative and moving, tender and thoughtful.
---

---
---
---
Fiona spent seven years living in France, having moved there from the UK in 2007, before returning to live in Scotland. Her love for both of these countries, their people and their histories, has found its way into the books she's written.
She draws inspiration from the stories of strong women, especially during the years of the Second Word War, and her meticulous historical research enriches her writing with an evocative sense of time and place.
An acclaimed Number 1 bestselling author, Fiona Valpy's books have been translated into more than a dozen languages worldwide.