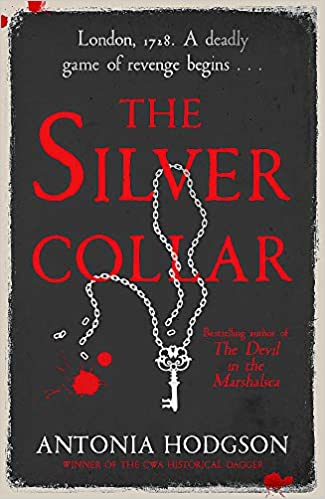 ShortBookandScribes #PublicationDay #BookReview – The Silver Collar by Antonia Hodgson
I'm reviewing The Silver Collar by Antonia Hodgson today, publication day! Congratulations to the author and publishers. I loved this book and am so happy to have met up with Thomas Hawkins again. My thanks to Veronique Norton of Hodder & Stoughton for sending me a copy of the book for review purposes.
---

---
Autumn, 1728. Life is good for Thomas Hawkins and Kitty Sparks. The Cocked Pistol, Kitty's wickedly disreputable bookshop, is a roaring success. Tom's celebrity as 'Half-Hanged Hawkins', the man who survived the gallows, is also proving useful.

Their happiness proves short-lived. When Tom is set upon by a street gang, he discovers there's a price on his head. Who on earth could want him dead – and why?

With the help of his ward, Sam Fleet, and Sam's underworld connections, Tom's investigation leads to a fine house in Jermyn Street, the elegant, enigmatic Lady Vanhook and an escaped slave by the name of Jeremiah Patience.

But for Tom and Kitty, discovering the truth is only the beginning of the nightmare.

A powerful, deeply immersive thriller, The Silver Collar is both a celebration of love and friendship, and a terrifying exploration of evil.
---

---
The Silver Collar sees a welcome return for Thomas 'Half-Hanged' Hawkins. This is book four of his adventures and it can be read as a standalone story as everything that came before is explained in enough detail. However, I can heartily recommend books 1-3 if you want to start at the beginning.
The Silver Collar begins with Thomas living happily with Kitty Sparks at her (rather scandalous) bookshop, The Cocked Pistol. The year is 1728. However, I would have been amazed if Antonia Hodgson let Thomas live carefree for long. Trouble seems to follow him around and he has the most incredible escapades. He is the very definition of a loveable rogue, living on his wits and his charm. He's an absolutely brilliant protagonist.
Indeed, his contentment is short-lived. Why does somebody want him dead and who is the mysterious Lady Vanhook? Well, there's a lot beneath the surface in this story, and Kitty takes a step forward into the limelight this time as her past returns to haunt her. With themes of slavery as well, this is a book that is packed full of intriguing tales and capers galore.
Hodgson writes such an engaging narrative for her characters. There was a lot that made me giggle (Thomas and Kitty are a naughty pair) and the book is such an enjoyable romp, but there are also very serious and thoughtful strands too. With settings to thrust the reader right into the heart of the 18th century, a storyline that both delights and dismays, and characters that provoke strong feelings, The Silver Collar is an utterly engrossing read.
I hope we'll see Thomas and Kitty again in a fifth instalment of their exploits. I feel there are lots more tricky situations they could find themselves in. I sincerely hope so!
---
---
Antonia Hodgson was born and grew up in Derby. She is the author of the bestselling Tom Hawkins historical crime series, set in the 1720s. Her first novel, The Devil in the Marshalsea, won the CWA Historical Dagger Award 2014, and was shortlisted for the Theakston's Crime Novel of the Year, the HWA Debut Crown and the CWA John Creasey First Novel Award. It was also selected for the Richard & Judy book club.
Its sequel, The Last Confession of Thomas Hawkins, was chosen by Publishers Weekly as one of the top 10 Mystery/Thrillers of the year. Antonia's third novel, A Death at Fountains Abbey, was published in August 2016 to critical acclaim. The Express declared that it 'cements Hawkins' place as the most lovable rogue in historical fiction'.
Antonia lives in London. She can be found – occasionally – on Twitter, under the mysterious code name of @antoniahodgson.