ShortBookandScribes #PublicationDay #BookReview – The Last Train Home by Elle Cook
Happy publication day to Elle Cook for The Last Train Home! It's published by Century and is available now in paperback, eBook and audiobook. My thanks to the publishers for the proof copy.
---

---
On the last train home you expect to find…

– Standing space only
– Drunk people singing
– The overpowering smell of McDonalds

You never expect to find love.

When Abbie and Tom cross paths traveling home after a night out, their eyes meet across a crowded carriage and their connection is unmistakable.

What they don't know is that moments later they'll both be caught up in an event that will change them forever.

It is one that will bring them together. But it will also tear them apart.

A lot can happen in seven seconds. A lot can happen in seven years.

Can they find their way back to each other?
---

---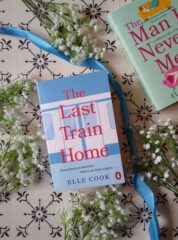 What if you met the right person but at the wrong time?
Abbie and Tom get chatting on the last tube train home one night. They really hit it off but moments later something happens that will change their lives forever. It will bring them closer together but circumstances will keep them apart. Over the course of seven years we follow the lives they make for themselves and the choices they make.
I thought this was a truly gorgeous read. It's such a lovely story that pulled me in right from the very beginning and I loved Tom and Abbie who felt so real to me as they traversed their way through life's challenges and delights. Elle Cook has a way of writing that is so easy to read and pacy and yet conveys so accurately what it's like to make life-changing decisions and live with the consequences. The story is told in first-person narrative by Tom and Abbie and so we really get to the root of how they feel about each other and about other people in their lives.
At the heart of the book is an enduring love and that's what made it such a wonderful read for me. I do love a good love story and this is a VERY good love story. It's romantic, it's heartfelt, it's emotional and it's joyful. I've read both of Elle Cook's books now and I adored them both. She excels at 'spanner in the works' plots and I need more! The Last Train Home is a beautiful storyline with superb writing and characters that I didn't want to let go.
---
---
Elle Cook worked as a journalist and in PR before becoming a full-time novelist. The Last Train Home is her second contemporary romance novel and her follow-up to The Man
I Never Met was her first contemporary novel.
Lorna is also the author of five historical timeslip novels under her real name, Lorna Cook. The Girl from the Island, The Dressmaker's Secret and The Hidden Letters have sold over 200,000 copies combined. She lives in coastal Essex with her husband and two daughters