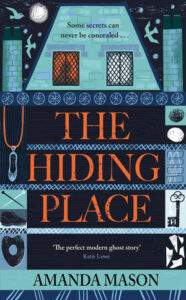 ShortBookandScribes #PublicationDay #BookReview – The Hiding Place by Amanda Mason #BlogTour
It's my stop on the blog tour for The Hiding Place by Amanda Mason and it's also publication day so huge congratulations to the author and publishers. My thanks to Zaffre for the proof copy of the book for review purposes and to Tracy Fenton of Compulsive Readers for the place on the tour.
---

---
Some secrets can never be concealed . . .

Nell Galilee, her husband and twelve year old step-daughter Maude rent a holiday cottage by the sea, needing time and space away from home. Nell grew up in this small, wind-blown town and has mixed feelings about returning, and it isn't long before she is recognised by a neighbour, seemingly desperate to befriend her. The cottage has been empty for some time, and from the start Nell feels uncomfortable there. Something isn't quite right about this place . . .

Maude, furious about being brought here against her will, soon finds herself beguiled by the house's strange atmosphere. There are peculiar marks in the roof beams above her bedroom, and in another room, a hiding place, concealing a strange, unnerving object.

As the house gradually reveals its secrets, Nell becomes increasingly uneasy – and Maude spellbound. But these women – and the women that surround them – are harbouring their own secrets too, and soon events will come to a terrible head . . .

A brilliant, unsettling and chilling novel of mothers and daughters, truth and deception and the lengths people will go to, to obtain power over their own lives, The Hiding Place is the second chilling novel from the acclaimed author of The Wayward Girls.
---

---
The synopsis of The Hiding Place had a lot to draw me in. The Whitby setting and the house full of secrets were enough to entice me into reading this well-drawn and quite eerie story.
Nell Galilee is a jewellery designer and one half of Galilee Clarke, a gallery selling art and jewellery, with her husband Chris. When Nell's stepdaughter, Maude, has to take time away from school they decide to head to Whitby, Nell's childhood home, for an extended break at Elder House, a newly renovated holiday cottage. I always think there is something so interesting about holiday cottages, many of which have a lot of history between their four walls. Elder House lured me with its setting within a Whitby Yard, an almost secret area containing houses close together around a shared yard with lots of history. It's fair to say the house itself has a rather sinister feel to it. Nell feels it in particular, the little footsteps, the knocking, the sense that something isn't right. I had a pervading feeling of unease from fairly early on. Whitby itself is also portrayed well, which is no surprise as the author lives there. I've only been a few times but I recognised it easily from the descriptions.
Alongside Nell's story and the growing difficulties she has with Maude, are the stories of Evie, another resident of the yard and the daughter of a woman who recognises Nell from school (the recognition is not reciprocated which adds to Nell's unease), and Kym, whose grandmother, Gina, lives in an even more hidden spot close to Elder House. These two teenagers have their own reasons for being wary of Elder House and their stories become woven together with the main narrative of Nell and her family.
There's a lot of atmosphere created between the pages of this book. The crux of the story is motherhood and what people will do to achieve it but it's also about the history of a house. I think Amanda Mason has done a great job with this book. It's a compelling story with fascinating characters and a truly mesmerizing setting.
---

---
---
---
Amanda Mason was born and brought up in Whitby, North Yorkshire. She studied Theatre at Dartington College of Arts where she began writing by devising and directing plays. After a few years earning a very irregular living in lots of odd jobs, and performing in a comedy street magic act, she became a teacher and has worked in the UK, Italy, Spain and Germany. She now lives in in North Yorkshire and has given up teaching for writing.
Her short stories have been published in several anthologies, including collections from Parthian Books, Unthank Books, and The Fiction Desk, and her debut novel, The Wayward Girls was published in 2019. The Hiding Place is her second novel.