ShortBookandScribes #PublicationDay #BookReview – The Echo Chamber by John Boyne
My review today is of The Echo Chamber by John Boyne which is an amazing read. My thanks to Patsy Irwin of Doubleday for the proof copy of the book. It's published today in hardcover, eBook and audiobook.
---

---
What a thing of wonder a mobile phone is. Six ounces of metal, glass and plastic, fashioned into a sleek, shiny, precious object. At once, a gateway to other worlds – and a treacherous weapon in the hands of the unwary, the unwitting, the inept.

The Cleverley family live a gilded life, little realising how precarious their privilege is, just one tweet away from disaster. George, the patriarch, is a stalwart of television interviewing, a 'national treasure' (his words), his wife Beverley, a celebrated novelist (although not as celebrated as she would like), and their children, Nelson, Elizabeth, Achilles, various degrees of catastrophe waiting to happen.

Together they will go on a journey of discovery through the Hogarthian jungle of the modern living where past presumptions count for nothing and carefully curated reputations can be destroyed in an instant. Along the way they will learn how volatile, how outraged, how unforgiving the world can be when you step from the proscribed path.

Powered by John Boyne's characteristic humour and razor-sharp observation, The Echo Chamber is a satiric helter skelter, a dizzying downward spiral of action and consequence, poised somewhere between farce, absurdity and oblivion. To err is maybe to be human but to really foul things up you only need a phone.
---

---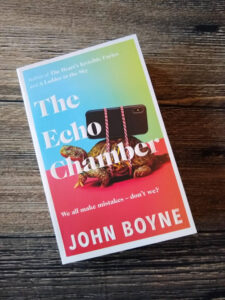 I'll start this review by saying what I always say after I've read a John Boyne book: he is an incredibly versatile author who seems to be able to turn his hand to any style and each book is a new triumph. The Echo Chamber is an absolutely brilliant read.
This is the story of the Cleverley family. George Cleverley is a chat show host (think Parkinson). He's interviewed all the greats over the years but he's getting a little out of step with the modern world. His wife, Beverley, (yes…..Beverley Cleverley) is a writer of romantic novels, or at least she used to be until she started getting somebody to do it for her. Their three children, Nelson, Elizabeth and Achilles, are quite messed up and over-privileged. An ill-judged tweet from George sets the family on a downward spiral, although I'm pretty sure they were getting there quite well without his help.
The Echo Chamber is a sharply satirical novel, metaphorically sticking two fingers up to the idiosyncrasies of modern life and its reliance on social media. It's fairly clear that Boyne is reflecting quite heavily on his own experiences in writing this book and whilst it may be considered quite controversial in places it's also hugely entertaining and extremely insightful. It sets out to show just how ridiculous some aspects of society have become. It's easy to see both sides. We should be aware of what we are saying, particularly in these social media happy days when a tweet can go viral in minutes. But at the same time, it's easy to take it too far and to make people afraid of expressing an opinion, of being (unbelievably) 'cancelled'.
None of the characters in this book are likeable but I loved reading about every single one of them. I thought it was brilliant how each went on their own personal journey, almost as though they had to implode to be reborn again. This is a book that is so current and so relevant, and it's also absolutely hilarious. I laughed so much at this family of caricatures, portraying themselves in one way whilst living so differently away from the cameras, the tweets, the grid posts and the TikToks.
The Echo Chamber is a fantastic, cutting and raw read, with ridiculous scenarios and characters that actually felt all too real. I loved it.
---
---
John Boyne was born in Ireland in 1971. The winner of three Irish Book Awards, he is the author of thirteen novels for adults, six for younger readers and a collection of short stories. The international bestseller The Boy in the Striped Pyjamas was made into a Miramax feature film and has sold more than eleven million copies worldwide. His novels are published in over fifty languages. He lives in Dublin.