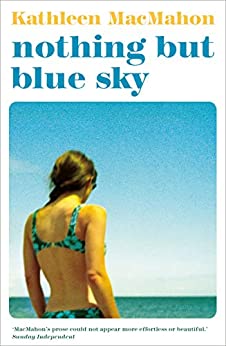 ShortBookandScribes #PublicationDay #BookReview – Nothing But Blue Sky by Kathleen MacMahon
Today I'm sharing my review of Nothing But Blue Sky by Kathleen MacMahon which is published today by Sandycove (Penguin Random House). My thanks to Chloe Davies for sending me a copy of the book for review purposes.
---

---
Is there such a thing as a perfect marriage?

David thought so. But when his wife Mary Rose dies suddenly he has to think again. In reliving their twenty years together David sees that the ground beneath them had shifted and he simply hadn't noticed. Or had chosen not to.

Figuring out who Mary Rose really was and the secrets that she kept – some of these hidden in plain sight – makes David wonder if he really knew her. Did he even know himself?

Nothing But Blue Sky is a precise and tender story of love in marriage – a gripping examination of what binds couples together and of what keeps them apart.
---
---
Nothing But Blue Sky is the story of a marriage, seemingly perfect, but is anything actually really as good as it seems when you are forced to confront the memories of it?
This is David's story of his life with Mary Rose. Married for 20 years, theirs was a brilliant relationship. They complemented each other, a foil for one another. Where David sometimes used cruel humour (which he didn't really mean), Mary Rose was a more caring person. David was a journalist with all the hard edges that job brings with it, whereas Mary Rose was a neonatal nurse, caring for premature babies. In every way that they were alike or different, they just worked as a couple.
So when Mary Rose dies unexpectedly it leaves David not only cast adrift and lonely, but questioning his life with her. Did he always tell her he loved her? Did he sometimes take her for granted? How much of what he didn't say did Mary Rose actually know, both good and bad?
This is a beautifully written story of life, love and loss as David looks back over his marriage. His feelings for Mary Rose and his grief at her death come through very strongly in Kathleen MacMahon's searing narrative. It felt very much to me as though David and Mary Rose formed one piece of a jigsaw that was suddenly ripped apart leaving a gap where there shouldn't have been one.
It's very much a character-driven book but I did also enjoy the strong sense of place. David and Mary Rose are Irish and their Dublin life plays its part well. However, the strongest setting is that of Aiguaclara in Catalonia, the place where they spent their annual holidays, where they became a part of the community every year, where they made up little stories for the people they saw. I thought it was really clever how the author weaved all this together for the later parts of the book.
This is not the easiest of reads with its very introspective nature, and certainly not one I could whizz through, but I found it so insightful, tender, honest and brave.  I enjoyed it very much.
---

---
Kathleen MacMahon is a former radio and television journalist with Ireland's national broadcaster, RTE. The grand-daughter of the distinguished short story writer Mary Lavin, Kathleen lives in Dublin with her husband and twin daughters. The hardback edition of This is How it Ends, her first novel, was a No.1 bestseller in Ireland for five consecutive weeks and spent nine weeks in the Top Ten bestseller list.