ShortBookandScribes #PublicationDay #BookReview – Looking for Eliza by Leaf Arbuthnot
I'm really pleased to be sharing my thoughts about Looking for Eliza by Leaf Arbuthnot today. It's also publication day so I'd like to send congratulations to the author. My thanks to Alainna Hadjigeorgiou from Trapeze for sending me a gorgeous hardback copy of the book for review purposes.
---

---
Ada is a widowed writer, navigating loneliness in Oxford after the death of her husband. She has no children. No grandchildren. She fears she is becoming peripheral, another invisible woman.

Eliza is a student at the university. She finds it difficult to form meaningful relationships after the estrangement of her mother and breakup with her girlfriend.

After meeting through Ada's new venture, 'Rent-a-Gran', and bonding over Lapsang Souchong tea and Primo Levi, they begin to find what they're looking for in each other. But can they cast off their isolation for good?

An exquisite story of connection and loss, and how a person can change another person's life. Full of heartache yet joyful and life-affirming, this is for fans of Normal People, Expectation and Sarah Winman's Tin Man.
---
---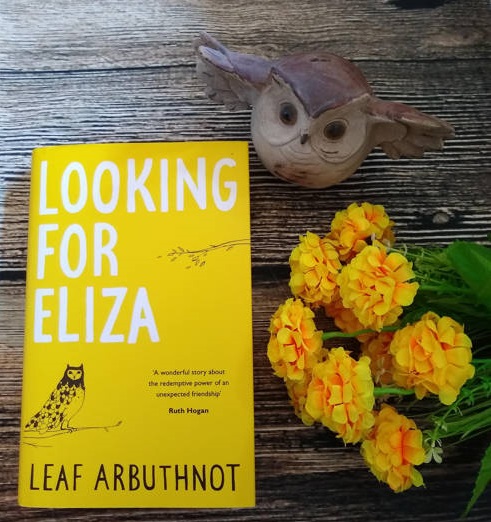 Looking for Eliza is a thoughtful story of loneliness and friendship, one which really touched me in places.
Ada Robertson's husband died. They were a tight unit, just the two of them, and she's not only lonely, she's been cast adrift, bobbing around on a sea of solitude with no sign of dry land. She's a poet but hasn't written anything in years. She needs a purpose so she sets up a Rent-A-Gran business. I loved the sections where she met with her clients and I thought it was a brilliant idea, both as a business and as a storyline.
Eliza is also lonely. She's at Oxford University doing a DPhil in Italian literature and trying to recover from a toxic relationship with her ex-girlfriend. Somehow these two women, so vastly different in age, make their way to each other and become unlikely, but perfectly balanced, friends.
I have to say that I found Eliza a difficult character to engage with for quite a bit of the book. Ada seemed more likeable somehow and I felt like I understood her better. As the story progressed though, I started to take to Eliza more and particularly liked how Ada's nurturing brought her out of herself, and how Eliza did the same for Ada.
Leaf Arbuthnot has a delightful turn of phrase, a poetic way of writing that for the most part flowed really well. One bit that stood out for me early on is when Ada is looking back at her husband's funeral, feeling in a daze and hearing people comment about him without being able to identify the speaker.
She was left holding the phrases in her hands, carefully, like injured birds.
Looking for Eliza is a tender and poignant debut, one of salvation and companionship. It's an appealing and intelligent read.
---

---
Leaf Arbuthnot is an author and journalist. Her first novel, Looking for Eliza, is about an unlikely friendship between a cranky widowed poet, Ada, who starts a business in Oxford selling her services as a grandmother for hire, and her neighbour Eliza, a skint, bisexual Cumbrian doing a doctorate.
Leaf has written for the likes of The Sunday Times, The Guardian and Vogue. Subjects of her interviews include Hilary Mantel, Prince Charles, Jilly Cooper and Ellen Page, and she is a judge in this year's Forward Prizes for Poetry. She studied modern languages at Cambridge and lives in south London.