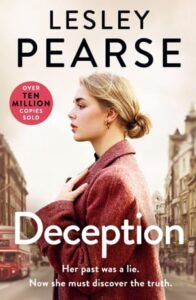 ShortBookandScribes #PublicationDay #BookReview – Deception by Lesley Pearse #BlogTour #LoveLesley30
It's my stop on the blog tour for the 30th book by one of my favourite authors, Lesley Pearse. Congratulations, Lesley! Deception is out today, published by Penguin Michael Joseph in hardback, priced £20 and also in eBook and audiobook.
My thanks to edpr and Michael Joseph for the proof copy of the book and gorgeous biscuit.
---

---
What happens when the person closest to you has led a life of deception?

After the funeral of her mother, Sally, Alice Kent is approached by a man named Angus Tweedy. He claims to be her father and tells her that he served time in prison for marrying Sally bigamously.

What does he hope to gain by telling her this now, thirty years on?
How can her adored dad Ralph not be her true father?
And why did her mother betray her so badly?

She had accepted Sally's many faults, and her reluctance to ever speak of the past. But faced with this staggering deception, Alice knows she must uncover the whole truth about her mother.

Whatever the cost.

As Alice journeys into the past she discovers her mother may never have been the woman she claimed to be . . .
---
---
Deception is Lesley Pearse's 30th book. What an achievement! She's been a favourite of mine since the beginning and I think that Deception is the best of her most recent books. It has what I love about Pearse's books: the tough upbringing, the family dramas, and a thumping good storyline.
This is a dual-timeline story which opens with Alice on her way to her mother's funeral. When a man approaches her and says he's her real father, Alice is horrified but as she starts to uncover Sally's secrets she realises that there was so much that she didn't know. Interspersed with Alice's story in 2015 is that of her mother from childhood onwards. Both threads are absolutely engrossing. I particularly enjoyed how Alice discovered details from her mother's life that she would never have known had she not met that stranger at the funeral. Pearse weaves the two stories together seamlessly and to brilliant effect.
Deception is a book that I didn't want to put down. I raced through it, finding it so easy to read but also gritty and gripping. I liked the social aspects of down-at-heel London, Bristol and Devon, over the course of 40 or so years. Sally had quite a life and it made for fascinating reading.
Once again, Lesley Pearse has produced a page-turner of a book with strong female protagonists who have to pull themselves up by their bootstraps and get on with it, and a whole range of other enthralling characters which combined to make this a thoroughly absorbing read. I really loved it.
---

---
---

---
Lesley Pearse was three years old when her mother died. With her father in the Royal Marines, Lesley and her older brother spent three years in orphanages before her father remarried and Lesley and her older brother were brought home again. They were joined by two other children who were later adopted by her father and stepmother, and a continuing stream of foster children. The impact of constant change and uncertainty in Lesley's early years is reflected in one of the recurring themes in her books which she returns to again in Deception: how can emotional damage inflicted on children impact the rest of their lives?
Lesley had an extra-ordinary childhood and skilfully marries the pain and unhappiness of her early experiences with a unique gift for storytelling. Lesley left home at 15 and headed to London where she worked her way through many jobs – from corsetry sales in Cooks of St. Pauls (featured in Dead to Me), to musician's muse (her second husband was a musician managed by Don Arden), to bunny girl to nanny; from gift shop owner to
dressmaker – finally finding her true vocation when she became a published author age 49. Since then, Lesley has become an internationally bestselling author, with over 10 million copies of her books sold worldwide.
A true storyteller and a master of gripping storylines, there is no set formula for a Lesley Pearse novel although strong heroines and difficult circumstances are pervasive. Whether historical adventures such as Gypsy or Never Look Back or the passionately emotive Trust Me, Lesley is inspired by stories of courage and adversity and often gives voice to women lost in history. She is passionate about her research and her stories have taken her far and wide; from Alaska to the Crimea. Lesley now lives in Torquay, Devon where she loves to spend time walking on the beach with her grandchildren. A fantastic speaker and committed and passionate fundraiser for the NSPCC, Lesley is a much sought-after guest at literary lunches, library events and festivals up and down the country.
Novels by Lesley Pearse:
1. Georgia
2. Tara
3. Charity
4. Ellie
5. Camellia
6. Rosie
7. Charlie
8. Never Look Back
9. Trust Me
10. Father Unknown
11. Till We Meet Again
12. Remember Me
13. Secrets
14. A Lesser Evil
15. Hope
16. Faith
17. Gypsy
18. Stolen – No.1 Bestseller
19. Belle – No.1 Bestseller
20. The Promise – No.2 Bestseller
21. Forgive Me – No.1 Bestseller
22. Survivor – No.1 Bestseller
23. Without a Trace – No.1 Bestseller
24. Dead to Me – No.3 bestseller
25. The Woman in the Wood – No.2bestseller
26. The House Across the Street – Top 5 bestseller
27. You'll Never See Me Again – Top 5 bestseller
28. Liar – No.2 bestseller
29. Suspects – No.2 bestseller
30. Deception – published 7th July 2022