ShortBookandScribes #PublicationDay #BookReview – Come Again by Robert Webb
This is a book that was eagerly anticipated by me and I was not a bit disappointed. It's a fabulous read and it's published today! Wishing Robert Webb a very happy publication day! My thanks to the team at Canongate for sending me a proof copy of the book for review purposes.
---

---
You can't fall in love for the first time twice . . .

Kate's husband Luke – the man she loved from the moment she met him twenty-eight years ago – died suddenly. Since then she has pushed away her friends, lost her job and everything is starting to fall apart.

One day, she wakes up in the wrong room and in the wrong body. She is eighteen again but remembers everything. This is her college room in 1992. This is the first day of Freshers' Week. And this is the day she first meets Luke.

But Luke is not the man that she lost: he's still a boy – the annoying nineteen-year-old English student she first met. Kate knows how he died and that he's already ill. If they can fall in love again she might just be able to save him. She's going to try to do everything exactly the same . .
---
---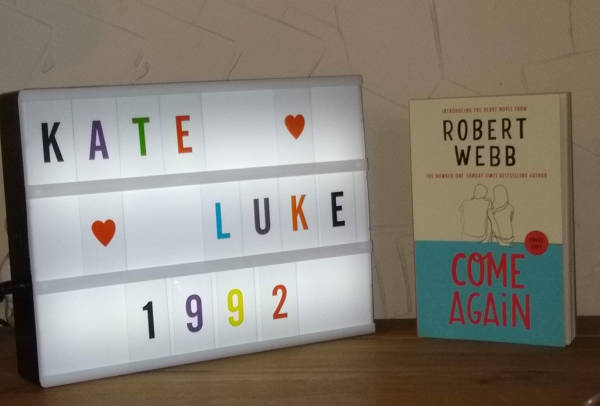 This book is EVERYTHING.
The End.
I know I need to say a bit more about it but really it just has it all going on. It's no secret that I love a time travel book so this one was a must read for me. By page 33 I had laughed and cried and I knew this was going to be a pretty special read.
Kate is dealing with grief and she's struggling. Her husband, Luke, has died after 28 years together. One day she finds herself back in 1992 on the day she first met him. Knowing what she knows now she thinks she can change the course of time.
This is the sort of book I want to make notes on as I read. I rarely do that. It made me ponder on the fragility of life, the idea that our fate might be preordained by what's already inside of us. I really enjoy the way time travel gets me thinking.
I loved Kate. I loved how she defied all the barriers of stereotyping in 1992 and 2020. I also loved that she was only a year older than me and so I could really take myself back to 1992 along with her. I thought the author excelled with his supporting characters too; a bunch of more eclectically fabulous people you couldn't hope to find.
The book is divided into three parts: Kate now, in the past, and then returning to the present. I have to say I was not sure how the author could possibly sort out a certain issue in part three and I was just starting to really worry when he pulled it back with aplomb. Not an easy thing to do, wind up a time travel story, but I thought it was superb.
In case you hadn't guessed, I loved the whole damn thing. Robert Webb is a talented writer. I haven't read his memoir but I suspect I would like it, and I'd definitely read any future novels that he writes. He has a wickedly funny blokeiness to his prose but also writes feelings so well. Highly recommended!
---

---
Robert Webb is best known for his work as the Webb half of Mitchell & Webb in the Sony award-winning That Mitchell & Webb Sound and the Bafta award-winning That Mitchell & Webb Look, and as permanent man-boy Jeremy in the acclaimed Peep Show. In 2017, his call-to-arms memoir How Not To Be a Boy was a number one Sunday Times bestseller. Robert has been a columnist for the Daily Telegraph and the New Statesman, and now lives in London with his wife and daughters. Come Again is his first novel.