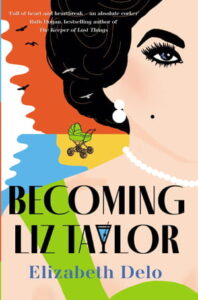 ShortBookandScribes #PublicationDay #BookReview – Becoming Liz Taylor by Elizabeth Delo
It's publication day for Becoming Liz Taylor. Congratulations to the author, Elizabeth Delo. It's now available in hardcover, ebook and audiobook and is published by Allen & Unwin. My thanks to the publishers for the proof copy.
---

---
Val, a widow living in Weston-super-Mare, spends lonely evenings dressing up as the movie star Elizabeth Taylor. It seems to be a way of coping with the loss and sadness she has experienced in her life. One day, when Val sees a pram left unattended on the seafront, on a whim she kicks off the brake and walks away with it…

Set in the present and the 1970s, BECOMING LIZ TAYLOR is a vivid and touching depiction of love, loss and bereavement – thought-provoking, moving fiction for fans of Rachel Joyce, Emma Healey and Ruth Hogan.
---

---
The incredibly eye-catching cover and title were the first things that attracted me to Becoming Liz Taylor by Elizabeth Delo, but once I read the blurb as well I was 100% sold on this book.
Val leads a lonely life in Weston-super-Mare. She hasn't seen her son for years and her husband died a long time ago. The only hint of joy in her day-to-day life is when she dresses up as Elizabeth Taylor and spends an evening at home imagining herself as the Hollywood star. It's her way of escaping the bad memories and remembering the good ones. A  baby in a pram left unattended changes Val's life quite substantially when she makes off with it in a moment of madness.
This is such a wonderful book. Whilst you may imagine it to be difficult to sympathise with somebody who takes a baby, Val is such a well-drawn, desperate yet likeable character that I couldn't help but feel sorry for her. Delo portrays her as a faded woman, one who had it all and who lost it all, the baby giving her back a semblance of a full life, one in which she is needed and feels fulfilled. I was rooting for her all along and although it's a sad story it never felt unbearably so.
It's billed as the perfect book club pick and I agree. I'd love to chat with someone about it, especially the ending which I was a little surprised by but which felt quite hopeful. There's lots to consider with regard to the moral aspects of the story and why Val acts as she does. For me, it was just superb, an incredible debut that moved me and gripped me from start to finish. The writing is accomplished and the story multi-faceted, focusing on family, loss and ways of coping. I just adored it.
---
---
Elizabeth Delo trained as a teacher and has worked in schools in London, Birmingham, Paris and Somerset. After writing fiction in her spare time for many years, Elizabeth took a break from teaching to do a Master's degree in Creative Writing at Bath Spa University, graduating with Distinction. She runs creative writing classes and has worked as a freelance editor.
Elizabeth has a degree in French from Goldsmiths in London. She has travelled in Europe, Asia and the United States, but always returns to her beloved France. She loves cities, cinema and dance.
She lives in Somerset with her husband and has three children.