ShortBookandScribes Paperback #PublicationDay #BookReview – Celebrations for the Woolworths Girls by Elaine Everest #BlogTour
It's my stop on the blog tour for Celebrations for the Woolworths Girls and I'd like to wish Elaine Everest a very happy paperback publication day. My thanks to Chloe Davies from Pan Macmillan for the review copy and the place on the tour.
A search of my blog using the search box will bring up reviews of all the other books in this series along with a Q&A with Elaine and a guest post of her top ten favourite things about Woolworths.
---

---
It's 1952 and with a new Monarch about to ascend the throne, The Woolworths Girls will face fresh new challenges . . .

At The Erith Store there is a new temporary Manager and Sarah is getting more than a little concerned by problems he seems to be creating. The whole mess is enough to make her want to resign.

Meanwhile, Ruby is extremely worried about her friend Vera, and with illness causing a problem from her past to come flooding back, Vera knows it's going to take a lot of strength and willpower to do what needs to be done.

Then there is Freda, looking forwards to the birth of her first child but sick with worry that her Tony won't have returned home in time for the birth of his child, let alone to be back to run the Erith store.

As Coronation Day for young Queen Elizabeth ll approaches, the girls from Woolworths celebrate friendship, family and overcoming anything that life can throw at them . . .

Celebration for the Woolworths Girls is the ninth novel in Elaine Everest's bestselling Woolworths series.
---

---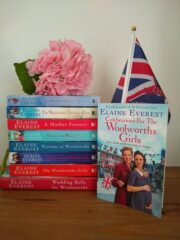 A new Woolworths book is always a cause for celebration for me and this time the girls are celebrating too, although that comes later in the book. The book opens on a momentous day in history as the death of King George VI is announced and although this is sad news, there's a coronation, a wedding and a birth in the offing so there is much to celebrate.
Some of the characters have moved on from Woolworths over the years and the course of the series, but the store is always there as a character in its own right. I love the tales of life on the shop floor and upstairs in the offices. Sarah Gilbert is struggling with the new temporary manager, who is a thoroughly nasty piece of work, not like when Betty Billington was in charge. Betty would like to come back to work but Freda's husband, Tony, is also looking for his own store to manage and it looks likely to be a bone of contention between the friends.
It was lovely to catch up with all the characters again. Elaine Everest writes about them so warmly and I feel as though I know them all. There's such camaraderie amidst the trials and tribulations of everyday life in the early 1950s. I really enjoy how historical events are weaved into the story, not just the major ones but more local ones too, and such things as the increasing desire for television sets which is good news for Alan Gilbert and his shop.
I'm hoping there's lots more to come for the Woolworths girls. Everest moves the series along skilfully with impeccable plotting which keeps the reader invested in the lives of the characters and their locale. Celebrations for the Woolworths Girls was just as wonderful a read as I knew it would be and the news at the end plus the thread about Vera's past left me wanting to know what will happen next for the residents of Erith. I thought this book was simply splendid.
---

---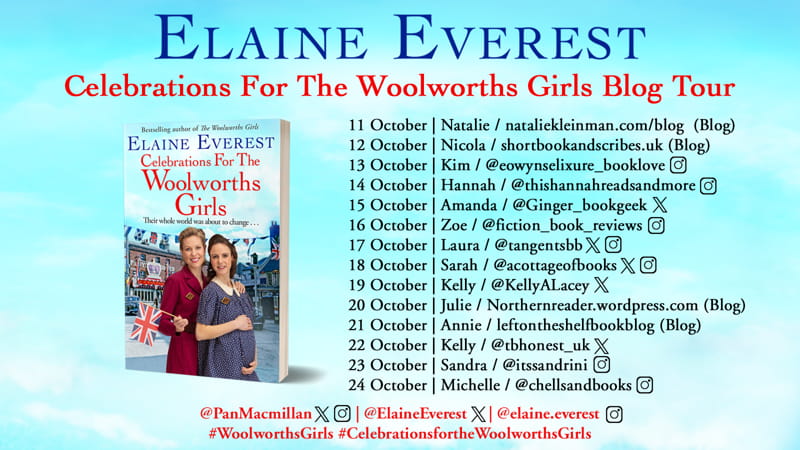 ---
---
Elaine Everest, author of bestselling novels The Woolworths Girls, The Butlins Girls, Christmas at Woolworths and The Teashop Girls, was born and brought up in North-West Kent, where many of her books are set. She has been a freelance writer for twenty-five years and has written widely for women's magazines and national newspapers, both short stories and features. Her non-fiction books for dog owners have been very popular and led to her broadcasting on radio about our four-legged friends. Elaine has been heard discussing many topics on radio, from canine subjects to living with a husband under her feet when redundancy looms.