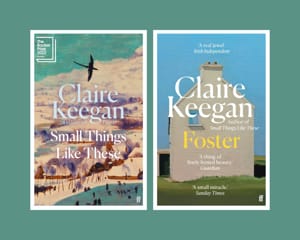 ShortBookandScribes #BookReviews – Small Things Like These and Foster by Claire Keegan
Today I'm sharing my thoughts about Small Things Like These and Foster, both by Claire Keegan and published by Faber & Faber. Both are short reads but pack so much in.
Small Things Like These is currently available in hardcover, eBook and audiobook, with the paperback being published on 3rd November. The copy I read is my own.
Foster is available now in paperback, eBook and audiobook. My thanks to the publishers for the review copy.
---

---
Small Things Like These

It is 1985, in an Irish town. During the weeks leading up to Christmas, Bill Furlong, a coal and timber merchant, faces into his busiest season. As he does the rounds, he feels the past rising up to meet him – and encounters the complicit silences of a people controlled by the Church.
Foster 

A small girl is sent to live with foster parents on a farm in rural Ireland, without knowing when she will return home. In the strangers' house, she finds a warmth and affection she has not known before and slowly begins to blossom in their care. And then a secret is revealed and suddenly, she realizes how fragile her idyll is.

Winner of the Davy Byrnes Memorial Prize, Foster is now published in a revised and expanded version. Beautiful, sad and eerie, it is a story of astonishing emotional depth, showcasing Claire Keegan's great accomplishment and talent.
---

---
Small Things Like These is a novella, just 128 pages, but it's perfectly formed and beautifully written. Set in 1985 in the busy run up to Christmas in a small Irish town, coal merchant Bill Furlong goes about his business and home life with his wife and five daughters. A delivery to the local convent leads Bill to consider the control it has over the town which leaves him feeling uncomfortable.
Without giving too much away, Bill's own situation and what he witnesses have the power to lead him down one of two paths and he has to make the decision based on self-preservation or his conscience. It's a poignant read and one I won't forget in a hurry.
Keegan takes the ordinary day to day life for Bill and the residents of the town and combines it with a hint of the extraordinary, the thing that has a hold over everyone and everything. There is something quite distressing about the storyline but underneath it is a sense of hopefulness, and eventually of change. I'm still thinking about Bill and what might have happened next. I thought it was superb.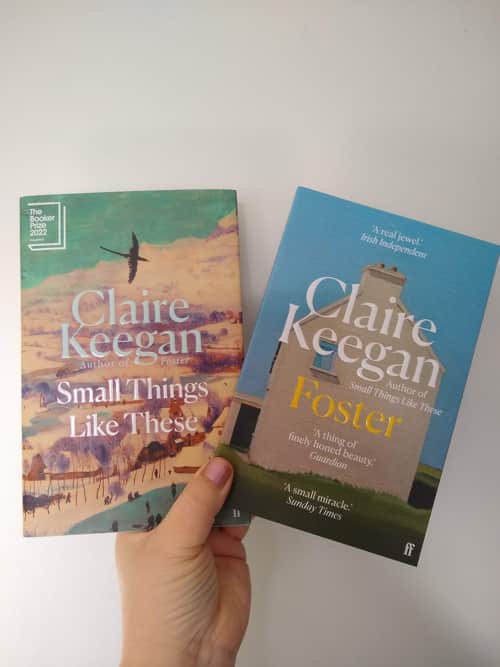 Foster is a short read which could just about be called a novella. It follows a young girl, sent to stay with relatives of her mother that she doesn't know whilst her mother gives birth to yet another baby. I felt for the girl who quietly accepts her situation and gets quite used to living with the Kinsellas. As the summer wears on she begins to realise that it is possible to be doted on and a change starts to come over her.
I thought this was a lovely little read, very evocative of rural Ireland and the communities there. There's a sadness to the story but there's also a warmth created by the coming together of the Kinsellas and the girl. I found the whole thing touching and gentle.
I must confess I didn't at first understand the ending and read it several times to no avail but a quick search on the internet helped me to make sense of what it might have meant. Maybe a tad too vague a finish for me. On the whole though I thought Foster was a sensitive portrayal of childhood and illustrated the effects of different kinds of upbringings.
---
---
Claire Keegan's stories are translated into thirty languages. Antarctica won the Rooney Prize for Irish Literature. Walk the Blue Fields won the Edge Hill Prize, awarded to the best collection of stories published in the British Isles. Foster won the Davy Byrnes Award, one of the richest literary prizes in the world, and was last year chosen by The Times as one of the top fifty works of fiction to be published in the twenty- first century. Small Things Like These was shortlisted for the 2022 Booker Prize, and for the Rathbones Folio Prize, awarded for the best work of literature, regardless of form, to be published in the English language, and won the Kerry Group Irish Novel of the Year Award and the Orwell Prize for Political Fiction.