ShortBookandScribes #BookReview – Would I Lie to You? by Aliya Ali-Afzal #BlogTour
Would I Lie to You has been high on my want to read list since I first heard about it so I'm delighted to be taking part in the blog tour today. My thanks to Avneet Bains from Head of Zeus for the place on the tour and for sending a review copy of the book.
---

---
From fresh new voice Aliya Ali-Afzal, Would I Lie to You? is a page-turning, warm and funny debut about what happens when you have your dream life – and are about to lose it.

At the school gates, Faiza fits in. It took a few years, but now the snobbish mothers who mistook her for the nanny treat her as one of their own. She's learned to crack their subtle codes, speak their language of handbags and haircuts and discreet silver watches. You'd never guess, at the glamorous kids' parties and the leisurely coffee mornings, that Faiza's childhood was spent following her parents round the Tooting Cash'n'Carry.

When her husband Tom loses his job in finance, he stays calm. Something will come along, and in the meantime, they can live off their savings. But Faiza starts to unravel. Raising the perfect family comes at a cost – and the money Tom put aside has gone. When Tom's redundancy package ends, Faiza will have to tell him she's spent it all.

Unless she doesn't…

It only takes a second to lie to Tom. Now Faiza has six weeks to find £75,000 before her lie spirals out of control. If anyone can do it, Faiza can: she's had to fight for what she has, and she'll fight to keep it. But as the clock ticks down, and Faiza desperately tries to put things right, she has to ask herself: how much more should she sacrifice to protect her family?

A tense, funny and page-turning debut from a fresh new voice in fiction, Would I Lie to You? is perfect for readers of Adele Parks, Celeste Ng, and Kiley Reid.
---

---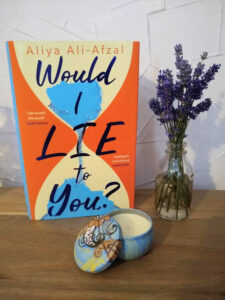 Oh Faiza! What a tangled web you got yourself stuck in. She seems like a typical yummy mummy but it's been a struggle for her to fit in with her friends (well, if you can call most of them that). She's just about cracked it but then her husband, Tom, loses his job in the city and all of a sudden they're reliant on the emergency fund, the one that Faiza has been dipping into for years. The account is empty! It was a hand over the mouth moment for me when I read how she had frittered away £75,000.
Rather than confess all, Faiza tries her damnedest to replace the money but at every turn she seems to face setback after setback. It's a pretty horrendous situation and I kept wondering what I would have said and done if I was her. I have no idea, by the way!
I thought this was a brilliantly addictive read. There were so many of those shocking moments when I felt like shouting out "no Faiza, don't do it". I loved all the scenarios the author created for her and whilst this is a relatively light book in many ways, there are also some serious issues of race, judgement, background and culture differences, prejudice, money worries and harassment at play.
I was punching the air every time I thought Faiza was going to get back on her feet and disappointed for her when things went wrong. For a debut novel this is one accomplished piece of writing. I really cared about Faiza and her family and wanted everything to work out for them. There are so many twists and turns in the story, so many ups and downs, and I just loved reading them. I thought the author plotted it all brilliantly, keeping the momentum going constantly and keeping me completely hooked. It's a fantastic novel and I'm really excited to see what Aliya Ali-Afzal does next.
---

---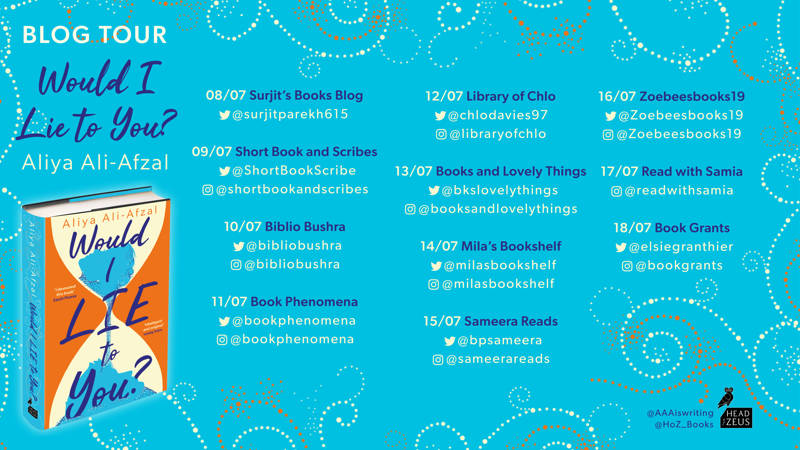 ---
---
Aliya Ali-Afzal lives in London and is studying for an MA in Creative Writing at Royal Holloway, University of London. She is an Alum of the Curtis Brown Creative Novel writing course, and her writing has been longlisted for The Bath Novel Award, The Mslexia Novel Competition, The Mo Prize Hachette UK, and The Primadonna Prize. Aliya has a degree in Russian and German from UCL, University of London. She moved to London from Pakistan as a young child, and has always lived there, first working as a City head-hunter and then retraining as an Executive MBA career coach before becoming a writer.
Follow Aliya on Twitter @AAAiswriting and Instagram aliyaaliafzalauthor